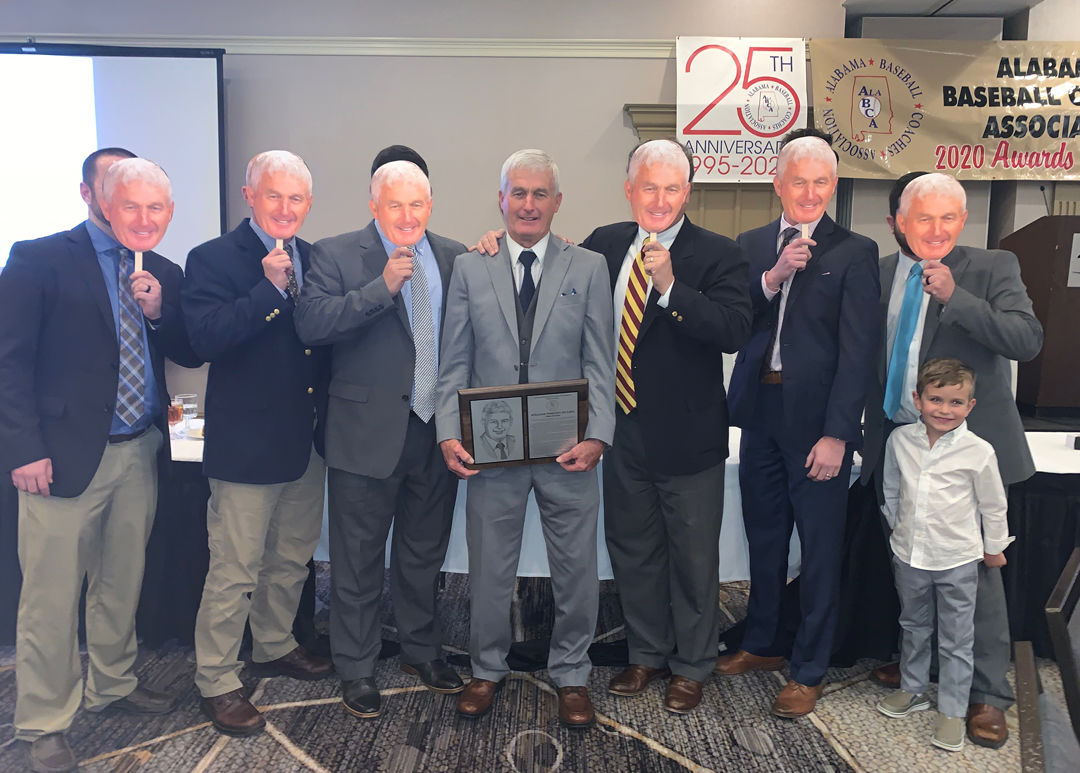 Note: On Friday, Jan. 17, after fighting it for years, former Enterprise State Community College baseball coach Tim Hulsey was inducted into the Alabama Baseball Coaches Association Hall of Fame in Birmingham at the end of a tumultuous week when the Houston Astros, New York Mets and Boston Red Sox were embroiled in sign-stealing controversies that is spreading throughout Major League Baseball and beyond.
In this age of analytics, William Timothy Hulsey is a throwback to the roots of America's Pastime dating back more than a century.
Hulsey has dedicated his professional life to passing on his knowledge of and love for baseball to younger generations, rather than working on his resume or counting on-field wins and losses.
Make no mistake, Hulsey plays and coaches to win and has spent his career thoroughly preparing his players to compete at the next level, in classrooms, on baseball diamonds and in life.
A native of a Birmingham blue collar neighborhood, Hulsey spent his formative years on baseball diamonds totally enamored by the sport.
Hulsey attended Berry High School (now Hoover) where he played for Gerald Gann, with and against numerous athletes who later played collegiate baseball and football.
Hulsey, who's always gone where baseball led him, spent one summer as the lone Caucasian on a Birmingham Industrial League team.
He also spent time with members of one of Birmingham's famous baseball families, the Bragans, absorbing every bit of information he could learn about their sport.
Upon his 1968 high school graduation, Hulsey went to Auburn University where coach Paul Nix allowed him to walk onto the baseball team. According to some of his AU teammates 40+ years later, Hulsey, a '72 letterman, got dirty diving for balls during pre-game, infield drills.
Baseball wasn't his whole life in college; Hulsey met his future wife, Candy Cheeseman, while at Auburn.
After graduating from Auburn, Hulsey was hired by Dan Washburn at Autauga County High School where he coached the state 4A runner-up team, 1973-74.
In 1975-76, Hulsey attended the University of South Alabama to earn a master's degree while serving as a graduate student coach under legendary coaches Eddie Stanky and Jim Crawford.
Hulsey learned baseball from Stanky, who learned from Leo Durocher, who learned from Frankie Frisch, who learned from Rogers Hornsby, who learned from John McGraw, the man responsible for wide belt loops on backs of baseball pants to this day.
Hulsey coached at Opelika High School from 1976-78, then moved back to Birmingham where he coached at Woodlawn High the next school year.
From 1979-86, Hulsey coached and taught at Hewitt-Trussville High School. While there, in addition to coaching future Major League infielder Mike Mordecai, Hulsey served as Jefferson County's East/West coach (1980-83) and vice-president of the Jefferson County Baseball Association (1982-86).
Hulsey's '85 Huskies were Jefferson County and Region 10 champions.
During his years coaching in Birmingham, Hulsey spent time with Magic City resident Ben Chapman, the one-time controversial Philadelphia Phillies manager, who in 1947, razzed Brooklyn Dodgers rookie Jackie Robinson unmercifully, until forced to publicly apologize to the first African-American Major League player in the modern era.
It wasn't until 2013, while watching the move "42" with his ESCC Boll Weevils team, that Hulsey was able to connect all the dots with the impact the Bragan family, Stanky and Chapman had on his approach to teaching baseball.
Bobby Bragan and Stanky were members of the '47 Dodgers who early on befriended Robinson.
Hulsey's next stop was at Enterprise State, where he replaced Ronnie Powell after Powell moved to South Alabama as pitching coach under former ESCC coach Steve Kittrell.
Hall of Famers Powell and Kittrell played for Stanky at South Alabama.
Hulsey found a home in Enterprise where he coached from 1986-2014, while he and Candy raised their three children Heather, Amy and Will.
Hulsey was the 1988-89 Alabama Junior College Conference Southern Division Coach of the Year, and his '97 Boll Weevils were Alabama Junior College Division 2 runners-up.
While in Enterprise, Hulsey re-introduced Lions East/West Baseball to the Wiregrass Area, coached the Alabama Baseball Coaches Association All-Star Game several years at Troy University and conducted baseball camps for years.
Since 2014 Hulsey has worked Homerun Baseball Camps, owned by former Boll Weevil John McCarthy and his brother, Eddie, in Washington, D.C., Brooklyn, New York, and the Dominican Republic.
McCarthy is far from being Hulsey's only success story; scores of his players earned four-year, college degrees.
Dozens of Hulsey's former players later played at four-year colleges and universities: Jeramie Moore, LSU; Chuck Walker and David Collier, South Alabama; and McCarthy, Barry Burns, B. T. Hinson, Earl Garth and Adam Godwin, Troy, among many.
Hulsey's nephew, Kevin Gamble, played at Vanderbilt.
Godwin, McCarthy, Hugh Gulledge, Randy Belyeu, Chris Tolbert and Dan Collier were among Hulsey's drafted players.
One year, of ESCC's 18 sophomores, Dan Collier was drafted, and 16 others played at four-year schools.
Godwin, who played in the Dodgers organization, currently coaches in the Philadelphia Phillies minor league system.
Shelton State softball coach Buddy Boyle played for and coached with Hulsey; current ESCC coach Bubba Frichter played for Hulsey.
High school teams in several states are or have been coached by Hulsey pupils, Mordecai, Ron Dixon, Jamie Cassady, and Ben Thompson, among them.
Typically, Hulsey coached without an assistant coach, but had J.D. Patton, one of the few female coaches in college baseball, for a couple of years.
Note: On Thursday, the San Francisco Giants hired Alyssa Nakken, the first female MLB coach in history.
And Hulsey's son Will, who played for his dad, also helped his dad coach at ESCC three years.
Currently, Tim Hulsey assists Will, who currently coaches baseball at New Brockton High School.
And the veteran coach, who is yet to understand why he's being inducted to the Alabama Baseball Coaches Association Hall of Fame, spends as much time as possible with his four grandchildren, some of whom, already showing interest in baseball and softball, don't know anything about analytics or care what their granddad's record won/loss record was.
Be the first to know
Get local news delivered to your inbox!