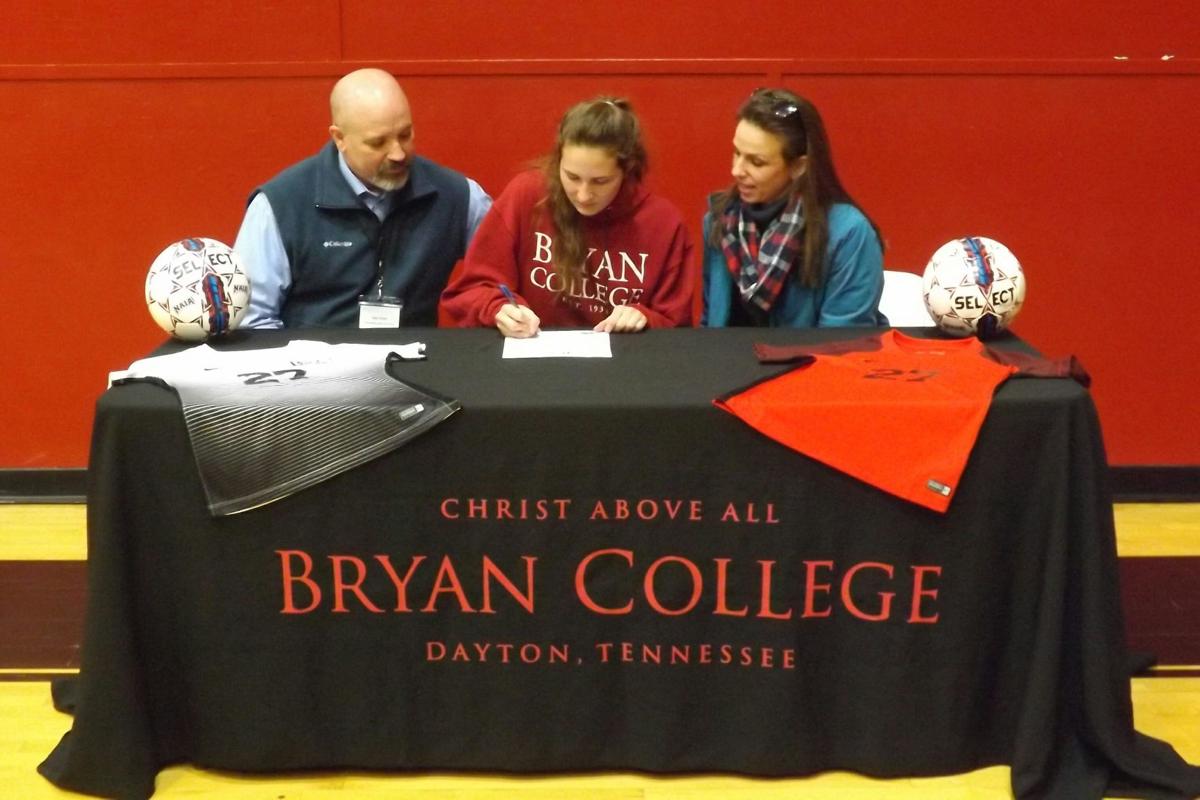 Allie Ward recently signed a scholarship offer to play soccer at Bryan College in Dayton, Tenn.
That's only half of an unusual story. Ward, who is home-schooled, has only been playing the sport for two years — one of those at the Y, the other in Marco Lascano's Enterprise Select Soccer program.
"It's really overwhelming, but at the same time it's super exciting because I'm going to get to learn so much now," Ward said. "I'm excited to learn and just to play."
She said she fell in the love with the game playing recreationally at the Y.
"I wanted to start playing at a higher level, so we were looking for more options. Since I'm home-schooled, I can't really play on a high school team," Ward said. "We saw the club was having tryouts. So I went to the tryouts and they were like, 'Do you want to play for us?' I was like, 'OK, I don't know what I'm doing but I'll try.'"
Asked just how much she did have to learn, Ward was quick with the replay: "A lot."
"I had no idea what I was doing. I knew to stand here and stop the ball," she said. "I really had to learn. I'm still learning defensive properties of the game. I play the back line, just learning how to funnel people in and funnel people out.
"I think the hardest thing was just learning how to move with the team. If nobody really tells you how to do it you just have to pick it up. That's what I had to do. By that time all the kids my age had learned how to do that, so they weren't really going over it as much. I had to pick that up."
She picked it up — and more. The 5-foot-10 Ward has good size and has natural athletic ability. She told her dad, Alan Ward, she'd like to play in college.
They went to ID camp at Bryan last May. At the end of the camp the coaches brought everyone in and thanked them for coming and said they would keep following a couple players who caught their eye.
"Well, that was fun," Allie told her dad as the Wards started walking to the car.
They were called back by the coaches and assured that she was on their radar.
"I had no idea about the college until I went up there. I fell in love with it," she said. "It's such a God-based school and everybody there is very seeking of God's will. They want to do their best to please Him. That's kind of my heart's desire, too. When I saw that, it just fit, like a puzzle piece fell into place. It's awesome."
Since then, Bryan had a coaching change. However, coach Jayson Davidson has the same approach and philosophy and Ward said she is excited to play for him.
"I feel at home on the defensive line. That's me. Thankfully, that's where they have the most openings on the team at Bryan. It fit perfectly," she said.
She's not sure exactly what she will study at Bryan.
"I want to get into forest ranging, so whatever kind of major would fit that job — maybe environmental science or biology, even business," she said.
Be the first to know
Get local news delivered to your inbox!