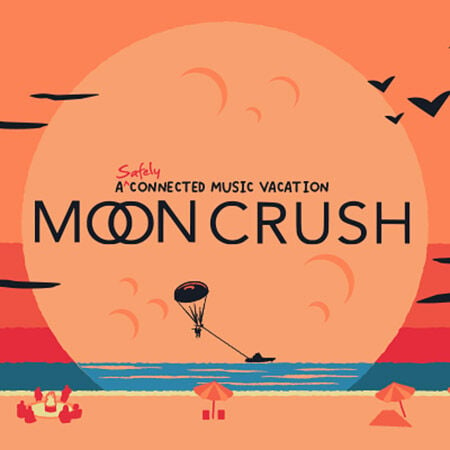 The COVID-19 pandemic forced many people to change the way they do business, from no-contact deliveries to meetings held on Zoom.
But what to do about the throngs of people who gather for musical festivals or large concerts?
Enter the music vacation called Moon Crush in Miramar Beach, Florida.
"I'm a big believer that when the world is upside down, it creates an opportunity to rethink things," said event organizer Andy Levine. "Our whole plan for this event was to demonstrate during COVID that there were some opportunities to make the music vacation."
Moon Crush, so named for the idea of "crushing" on the people you love most under a springtime pink moon, is not a typical music festival, Levine said. Organizers have been very intentional in marketing the event as a full vacation – just with music.
Prices aren't like music festivals because Moon Crush prices include lodging and concert tickets as one price per person for seven nights lodging and five different music concerts with three artists each. The idea is you can play on the beach, visit local stores, do some beach yoga and listen to good music.
But to attend Moon Crush, you have to have proof of a negative COVID-19 test. So far, there are nearly 2,000 people set to attend.
Levine, who managed the band Sister Hazel, is the founder of the Atlanta-based company Sixthman, which specializes in music events that connect artists with their biggest fans, such as on a cruise ship. He's also behind other social event companies like Topeka and, now, Moon Crush.
His work took a big hit during the pandemic, but he found inspiration during a bike ride in Miramar Beach. He spotted a golf course at a resort across from the beach. He had organized events on golf courses before and knew he could create a safe environment for live music. He contacted the golf course resort as well as the property managers of beach houses and condos. Then, he reached out to bands.
Moon Crush will be held in Miramar Beach, located between Seaside and Destin, April 26-May 1 with a lineup that includes Jason Isbell, Grace Potter, Sheryl Crow, Margo Price, Needtobreathe, St. Paul & the Broken Bones and The War and Treaty.
All accommodations are either in walking distance or a golf cart ride away from the actual music stage. Only recently were tickets opened up for sale to residents who live in Walton and Okaloosa counties.
Seating will be spaced out with groups of people vacationing together in their own open-air "coves." A cove might be your family members or a group of trusted friends that you know are COVID-free. Food and drinks can be ordered from your cove and brought to you, or you can arrange for a pre-ordered ice chest with all your favorites. If you leave your cove, you'll have to wear a mask.
Levine hopes to host another event in the fall. And, he said, even with COVID-19 restrictions lifted he thinks some of the offerings at Moon Crush will remain simply because they enhance the experience – such as the pre-ordered ice chest or reserved seating areas. The event has attracted music lovers of all ages – one-third of the expected audience is over age 60, Levine said.
"We're excited to see everyone out there and just having a good time," Levine said. "… We want to see people use Moon Crush as an opportunity to invite the people they care most about to get together every year. If we can do that, we will consider it to be successful."
Another Northwest Florida musical event, the Gulf Coast Jam in Panama City Beach is planned for June 4-6 after being postponed last year due to the pandemic. The event is going cashless this year as one of its COVID safety precautions. Attendees can use credit cards or they can link a credit card number to their festival wristband to make purchases during the festival. Festival organizers have also contracted with 3P America to clean and sanitize surfaces during the festival to minimize exposure to COVID-19.
It's not just large festivals having to rethink things, however.
The Dothan Civic Center and Opera House, for example, have been selling limited seating for events. Dothan Performing Arts Director Marshall Perry said the city is waiting to see how Alabama Gov. Kay Ivey moves forward when the current public health order expires April 9. Ivey has already said the state's mask mandate will not be renewed.
The city has been able to reschedule some concerts canceled last year due to the pandemic and even has scheduled some new events in the summer and fall, Perry told the Dothan Eagle in March. But so far only a portion of seats in both the civic center and opera house have been set aside for tickets to allow for social distancing during events – 156 seats out of 590 in the Dothan Opera House and 893 seats out of the 3,144 seats normally available in the Dothan Civic Center.
Such limited seating has created challenges in setting ticket prices. Perry said promoters seem to understand the challenges for venues. An acoustic concert by Travis Tritt at the Dothan Civic Center in June is selling for $40 to $80 a ticket – but Perry said that's actually less than when Tritt came several years ago.
"We've got to look at this in a whole new formula," Perry said.
Peggy Ussery is a Dothan Eagle staff writer and can be reached at aussery@dothaneagle.com or 334-712-7963. Support her work and that of other Eagle journalists by purchasing a digital subscription today at dothaneagle.com.