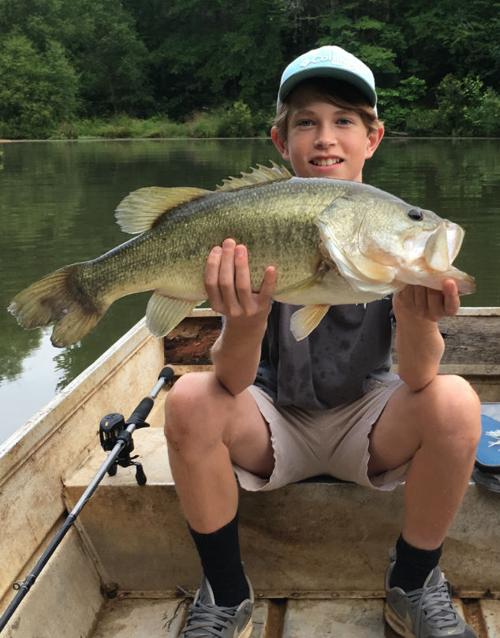 Prime fishing is available year-round in the Alabama Black Belt, and those who are wetting lines this summer are encouraged to enter their catch into the Alabama Black Belt Adventures Association 2020 Best Fish Photo Contest for a chance to reel in the main prize.
Whether it's a lunker bass, a river cat, a mess of crappie or a feisty bream, all fish are welcome in this photo contest as we look to showcase the public and private opportunities available in the Black Belt region of Alabama.
The contest, which opened Saturday and runs to Aug. 15, is eligible only for fish caught in the Black Belt during 2020.
"Fishing is the perfect cure for cabin fever and provides miles of wide-open spaces to enjoy a day in the sun and cool breezes. With the incredible public fishing opportunities, as well as numerous private lakes available in the Black Belt, we encourage everyone to hit the water this summer for top-notch fun and excitement," said ALBBAA director Pam Swanner.
"Don't forget to take along a youngster or someone new to the sport and create long-lasting memories."
The prize package includes a guided fishing trip for two on Lake Eufaula and a boatload of fishing lures.
Tony Adams of Gone Fishing with Tony is providing a half-day fishing trip for two. The winner has the choice of crappie or catfish and the package is valued at $350.
Tru-Turn and Blakemore is also donating a $200 hook and lure prize pack that includes bass and pan fish hooks, Daiichi bass hooks, Randy's Swim-N-Runner for bass, Marabou Pros for pan fish and bass, GOGO Runners for pan fish and crappie, Team Catfish Hooks and Bucktail Pros for bass.
ALBBAA promotes and encourages ethical hunting and fishing practices. These contests were created to further educate the public on the abundance of natural resources found in Alabama's Black Belt region.
The Black Belt includes the following counties: Barbour, Bullock, Butler, Choctaw, Clarke, Conecuh, Crenshaw, Dallas, Greene, Hale, Lee, Lowndes, Macon, Marengo, Monroe, Montgomery, Perry, Pickens, Pike, Russell, Sumter, Tuscaloosa and Wilcox.
Be the first to know
Get local news delivered to your inbox!