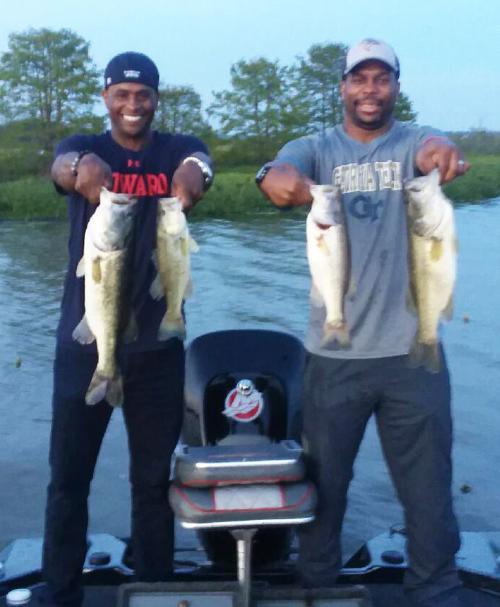 The Eufaula Tribune will publish a Lake Eufaula Fishing Report in each weekend edition with local fishermen discussing local conditions and best tactics. We will also publish pictures when possible. If you'd like to have your fishing photo published, email kmooty@eufaulatribune.com.
Sam Williams — The lake level is holding steady for a change. The water is finally clearing up after all the rain and storms.
Bass are working the shallow cover early and late. Frogs, blade baits in the cover and chatter baits on the edges are working. Plastics on a Texas rigs and shaky heads will get a strike as well. Red shad and green pumpkin are good colors.
Crappie are still on deep structure and eating minnow's for the most part.
Shellcrackers will be on the beds our on the flats on the next full moon. The beds are easy to see now that the water is clearing up.
Catfish are always hungry and eating cut bait on jugs in the creeks.
The lake is getting hotter every day and this weekend's Scott Woodruff Heart Transplant sponsored by the Albany Bass Club promises to be very good. It should take over 20 pounds to win. You can register at the Lake Point Marina store on Saturday morning if you have not registered on line already.
Remember the Alabama Children's Bass Tournament is June 13. You can register at www.alabamachildrensclassic.org or pick up an application at most tackle stores in town. Call 334 355 5057 for information on both tournaments.
Enjoy time on the water with your family, making these memories will be a topic of conversation at family gatherings for tears to come. God has blessed us with a beautiful water way, enjoy it.
Lake Eufaula reading: May 21» Current Level — 188.30
» Water Temperature — Mid-70s
23 — Scott Woodruff Heart Transplant Tournament
30-31 — Georgia Bass Trail
4-6 — Costa FLW Chris Hoover
13 — Alabama Children's Classic
20 — T-H Marina BFL Bulldog
29 — Bass Pro Shops Open Series-Alabama South Division
16-20 — Georgia Bass Federation Top Six
10-11 — Bass Pro Shops Series-Area Championship AL South/GA
13-14 — Alabama Bass Nation State Championship
Be the first to know
Get local news delivered to your inbox!