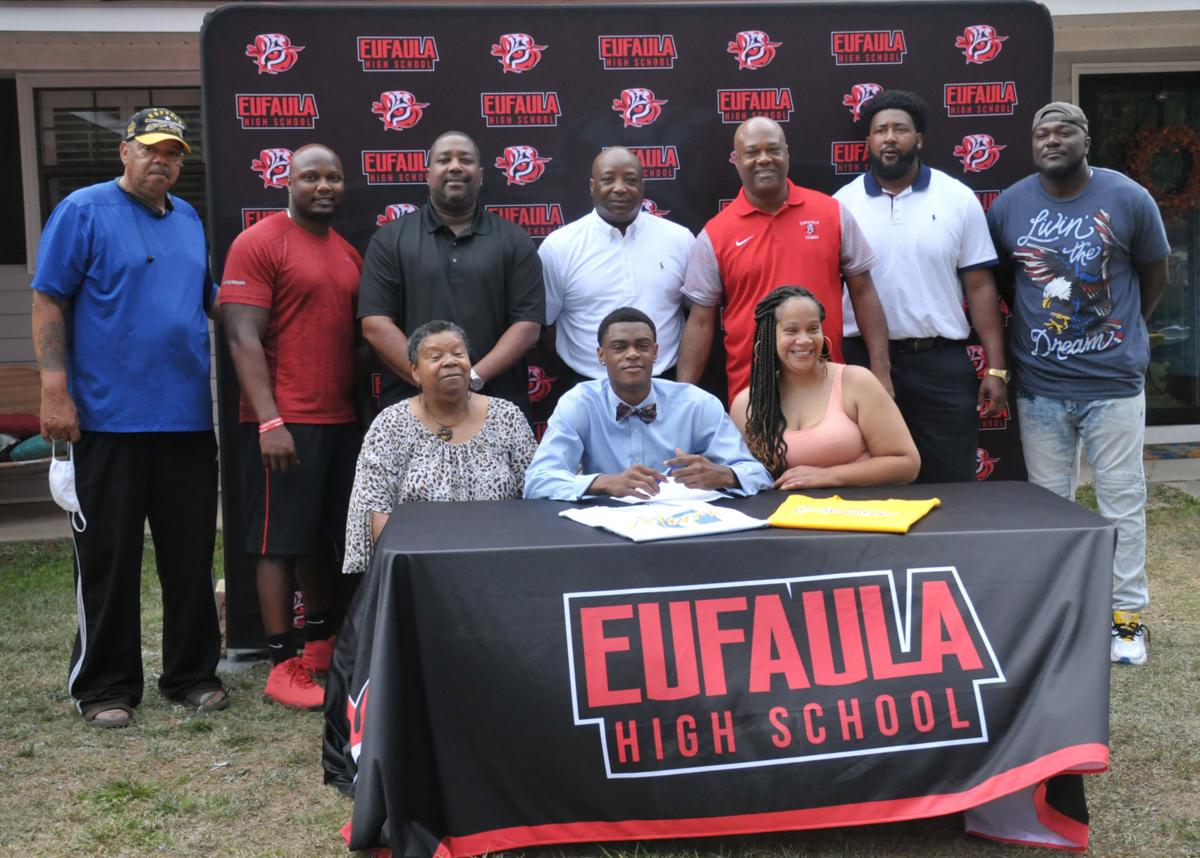 Eiszeric Thomas, who developed into one of Eufaula's star basketball players as a senior to lead the Tigers to the Class 6A Final Four, signed recently with NAIA Morris College of Sumter, South Carolina.
Among those on hand for the signing included coaches of Thomas as far back to his first organized league. They all had similar tales of how Thomas led by example, was a coach's dream, and played hard each and every game.
"(Thomas) wasn't the shortest player on the court but he wasn't the tallest either," Eufaula head coach Michael Smith said. "He played big, and he had length. He has a high energy level. A lot of people don't come with that every night."
Morris, a member of the Eastern Intercollegiate Athletic Conference, didn't have a player from Alabama on its roster last season. The coaches on hand Sunday believe the Hornets will be especially fond of their latest player from Alabama.
"(Thomas) led by example," Smith said. "His leadership was key for us. He went hard... he was always going hard. We're trying to figure out who will replace that for us. He impacted the game more than just scoring.
"It was a pleasurer to coach E.T. the last couple of years. It's gonna be a blessing to see him play at the next level. I know I'm gonna miss 'em."
Thomas was also recruited by Oakwood University in Huntsville and Bishop State Community College in Mobile. Sumter, South Carolina is 408 miles from Eufaula.
"On the road, I always knew at curfew he was gonna be in bed," said Thomas' travel ball coach James Harris.
"I've been coaching him since he was six," said Barbour County Sheriff Tyrone Smith, who said Thomas was like another son to him. "I'm very proud of him."
EHS assistant Robert Brown said Thomas never talked back to coaches. "It was always 'Yes sir, and no sir,' Brown said.
Morris College wants the 6-foot, 3-inch Thomas as either a small or power forward.
As a senior, Thomas averaged 14.9 points, 8.1 rebounds, 2 assists, 2 steals and 1 blocked shot per game. He finished his EHS career with 1,036 points.
"He went from 8 points-a-game as a junior to about 15 this year," Smith said. "That's a big step up. He had a good shooting percentage last year, but he didn't take a lot of shots."
Thomas is the first cousin of former EHS girls' basketball star Jirah Ards, who will play at Valdosta State this season after spending two years at Florida Sothern.
Thomas' mother, Suzanne Thomas, couldn't contain her excitement at Sunday's ceremony. "I'm so happy," she said. "I'm just a proud mama."
Be the first to know
Get local news delivered to your inbox!