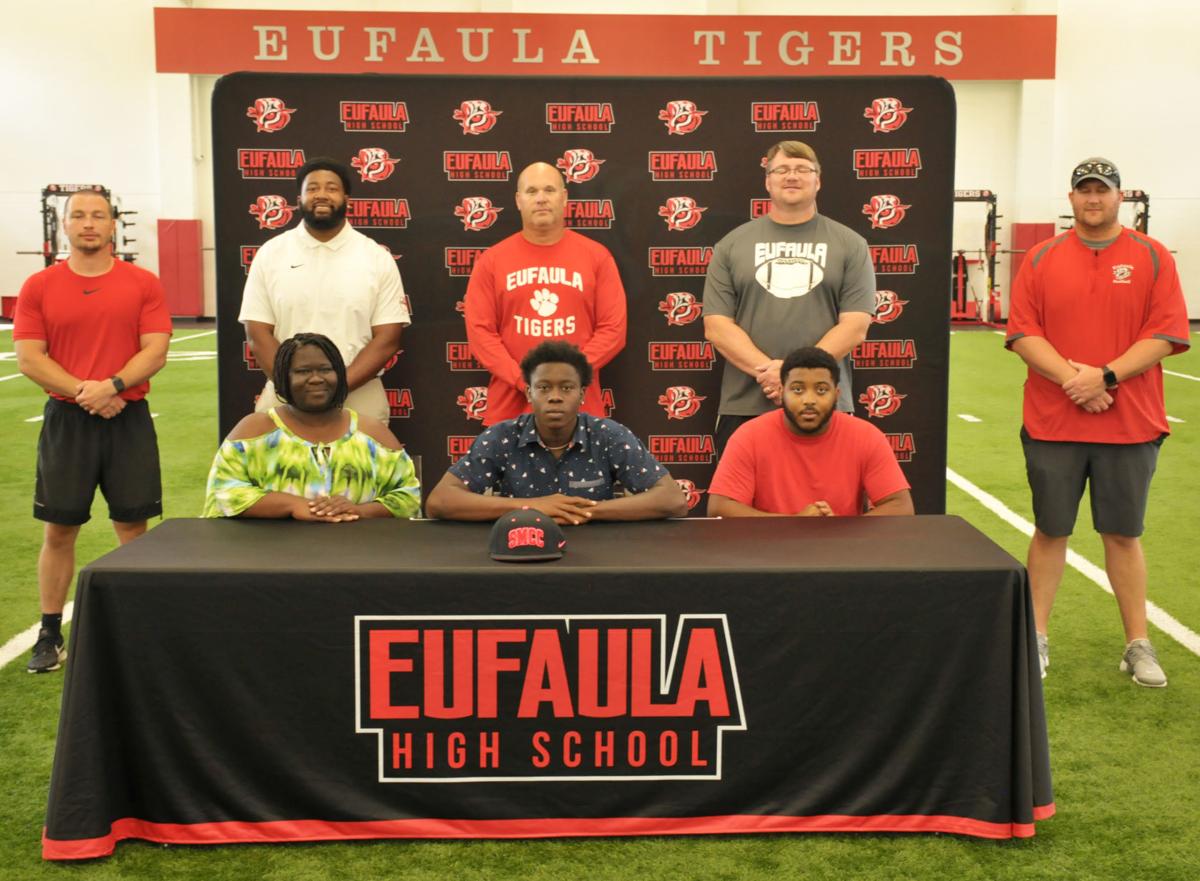 Dontrell Henry became the ninth Eufaula High School student-athlete from the 2019 football season sign a college scholarship as he inked with Southwest Mississippi Community College on Monday afternoon at EHS' indoor complex.
Southwest Mississippi Community College is located in Summit, Mississippi, a small town 77 miles south of Jackson, Mississippi, and 113 miles north of New Orleans.
Henry was a stellar defensive end for Ed Rigby's Eufaula Tigers, which were 9-3 with a second-round loss in overtime at Hueytown in the Class 6A state playoffs.
SMCC is riding a 17-game losing streak, having last won its season-opener in 2018. The Bears play in the South Division of the mighty Mississippi Association of Community Colleges.
EHS head coach Ed Rigby noted the unusual nature of the signing taking place in front of just a handful of people due to the COVID-10 pandemic.
"This is not a normal signing," Rigby said. "Usually everybody is in school. This is a great opportunity for Dontrell. It's an opportunity to do something a very small percentage get to do in high school and that's play college football. That league will create opportunities for you. It's an opportunity out of this world. You play football, which you love, and you're great at it. It says something about your heart and spirit. Pick your friends wisely once you get there."
SMCC is touted as the top-ranked community college education-wise in Mississippi. Henry plans to earn an associate's degree in either Diesel Mechanics or Welding.
Henry was also recruited by a school out of California, among others, but said he really just wanted to play football somewhere.
"It's my favorite sport," Henry said. "I like contact."
He'll get little debate from some of Eufaula's past opponents as he racked up 73 tackles and nine sacks in 11 games (he missed one due to injury).
Henry had four sacks against Park Crossing along with five disruptions. Against Carver's highly touted offensive tackle James Robinson who committed to Tennessee, Henry had a big night, beating Robinson on the game's first play en route to a sack as well as beating the future Volunteer often. Henry enters SMCC at 6-foot, 3-inches and about 203 pounds.
"Speed kills," Henry said. "I'm going to go for 245 pounds."
Henry is the son of Natasha Farmer and Antonio Henry. He has a younger brother, Tre'mon Henry, and a sister, Chantal Farmer.
"Dontrell is a rush end," Rigby said. "That league he'll be in is chocked full of people that have played in the SEC in the NFL. "
Henry will report to SMCC in mid-July.
27 — at Itawamba CC, Fulton MS
3 — at East Mississippi CC, Scooba MS
10 — vs. Copiah-Lincoln CC, HOME
17 — at East Central CC, Decatur, MS
24 — vs. Mississippi Delta CC, HOME
1 — vs. Jones College, HOME
8 — at Hinds Community College, Raymond, MS
15 — at Pearl River CC, Poplarville, MS
22 — vs. Mississippi Gulf Coast CC, HOME
Be the first to know
Get local news delivered to your inbox!