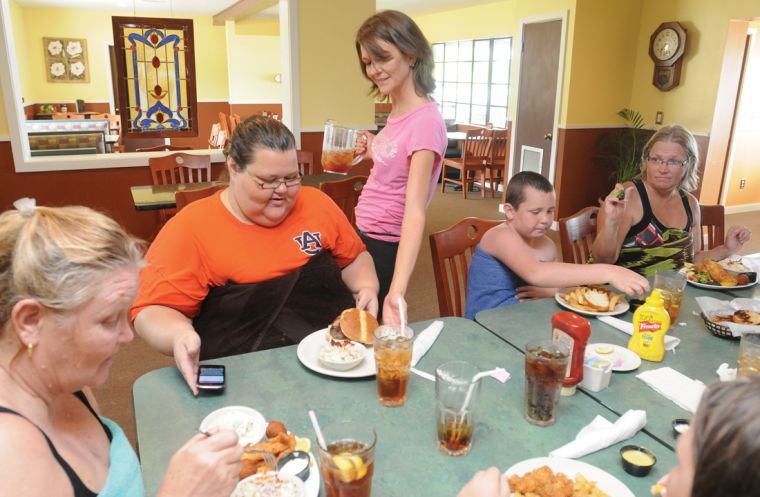 Jackson County Commissioners will use a grant and matching funds to buy an acre of land and the block building that sits on the property, located across from the county boat ramp at Compass Lake in the Hills.
It has not yet been determined how the building will be used. Most recently a restaurant, and before that a church, the building could be converted into a community center or public restroom facility, or put to some other use, according to Jackson County Parks and Recreation Director Chuck Hatcher.
The land will be used as a parking area, alleviating a growing dilemma in that area.
The old Ski Inn next door to the ramp has been recently re-opened, and the owner's customers have to compete with boaters for a spot in the only other nearby parking area, a small unimproved and uneven lot composed of grassed and clay-like grounds.
The new parking area will remain grassed as it is now, Hatcher said, and the public can start using it as soon as the ink dries on the grant agreement. It has the county paying about $20,000 in a 75/25 match arrangement with a federal agency's recreational division. The grant and match total about $81,000.
Compass Lake in the Hills Manager John Laymon said he was glad to see the county take this step.
" I think the acquisition of that property will probably form an asset for the county. There are few public access points to the lake, and the Ski Inn is swamped on weekends. People using the limited parking there, who are not going to the restaurant, makes things difficult for them, I'm sure. And I think recreational users are going to appreciate this extra room to park their vehicle and boat trailers."
The lot will accommodate an estimated 20 such rigs, Hatcher estimates, if not more.
As for the building, Hatcher said the roughly 1,400 sq. ft. structure is in pretty good shape even though it is an older structure. No certain plans have been made for it's use, but Hatcher is considering several options.
He said the paperwork should be back to the county today confirming the grant. The county could sign that paperwork as early as next Tuesday , when the board meets for its last-of-the month session.