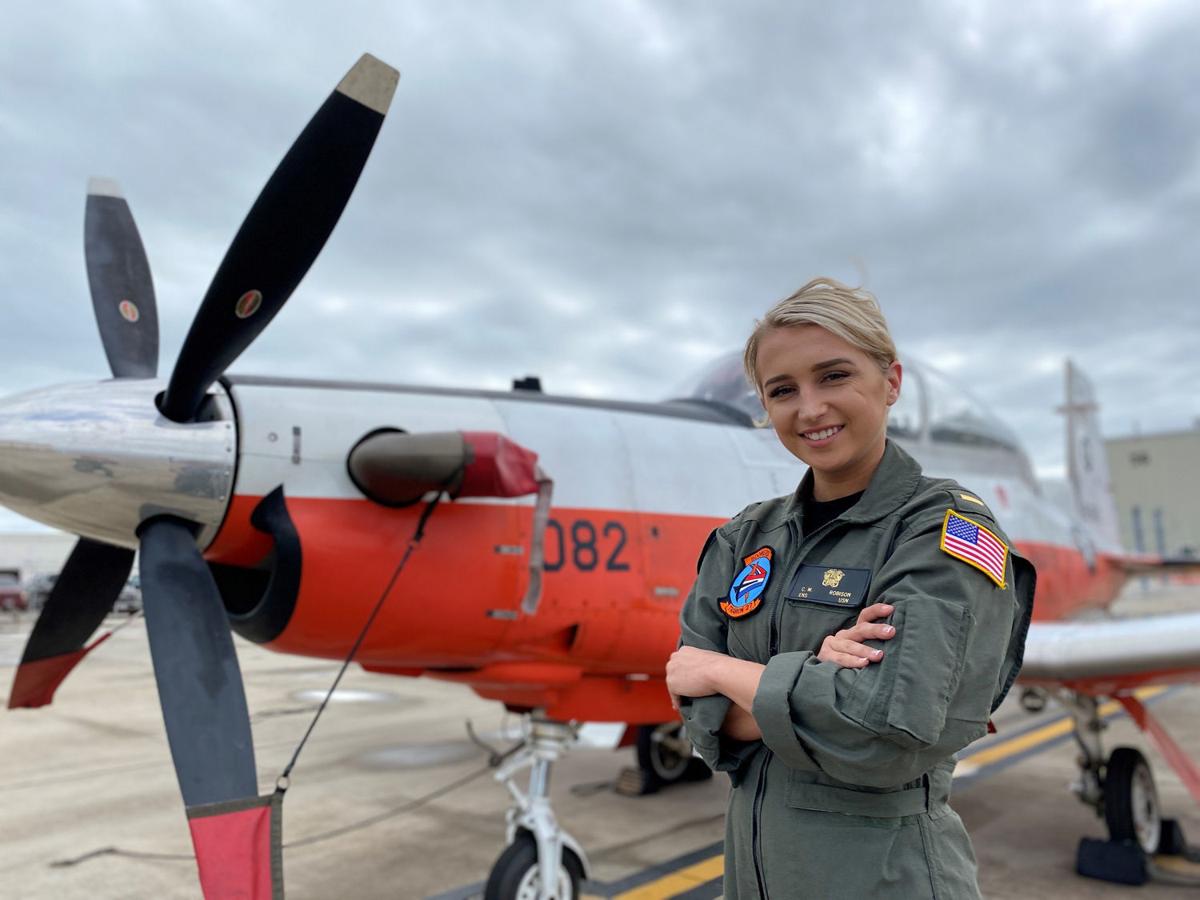 In March we recognize and celebrate women's contributions to the nation throughout history. Naval Aviation has come a long way since the first female naval aviator, Lt. j.g. Barbara Allen, earned her Wings of Gold in 1973. Today, almost 300 women are enrolled in various stages of flight training pipelines including Strike, Maritime, Rotary, Tilt-rotor, E-2 Hawkeye/C-2 Greyhound, and E-6 Mercury.
Ensign Christa Robison, a native of Grand Ridge, Florida, is a graduate of the Florida Institute of Technology. She is a student naval aviator who just started primary flight training at Training Air Wing 4, Naval Air Station Corpus Christi. Robison completed Introductory Flight Screening and Aviation Pre-Flight Indoctrination at NAS Pensacola, Florida. Here's what she had to say as she embarks on her Naval Aviation career.
Q: What Inspired you join the Navy?
Answer: I have a family with a long history of military service. My father was a chief, my mother was a gunner's mate, my sister was a Seabee, and my other sister was an Army nurse. So I definitely grew up with a lot of military exposure.
Q: Have you always wanted to fly?
Answer: I've always been passionate about flying, and that's really what influenced me to attend Florida Tech. They have a very unique program that allows you to work up to earning your commercial pilot's license while streamlining your academic degree on campus.
Q: How much flight experience do you have?
Answer: When I graduated from Florida Tech I had my multi-engine commercial pilot's license along with my degree. I got my Flight Instructor Certificate and was an instructor for two and a half years. I have have over 1,100 flight hours.
Q: More and more women are earning their wings, but the majority of naval aviators are men. Is that something you think about while you are going through your training?
Answer: It crosses my mind every day. As a woman, I'm never going to be "one of the guys" and that can sometimes make things tough when it comes to building comradery among my fellow students. However in terms of work, I don't have any issues.
Q: Do you notice any differences in training between you and your male counterparts?
Answer: I don't notice any difference; the command does a good job fostering a climate of equality. Whether you are male or female you are held to the high standard expected of Navy and Marine Corps aviators. That's the great thing about aviation, at the end of the day all that matters is if you are safe and have the skills to perform.
Q:Do you have anyone you looked up to as a role model?
Answer: I had a lot of role models growing up, both male and female. A lot of the people I looked up to and who helped me along my flight journey were male. It's just the nature of the career. As far as female role models go, my mother has always set a great example and has been my biggest supporter.
Q: By nature of where you are now and what you have accomplished, you are in a position to be a role model for young girls who want to be pilots. What advice would you give them?
Answer: Be confident and don't give up! There are going to be bad days, and there are going to be things you don't want to do. Growing up, people thought I wanted to be a pilot just to get attention, but I had a real passion for it and I kept going. I failed a lot in my past flight training. I learned from my mistakes and they served to make me into a better pilot.
Q: What aircraft do you want to fly in the fleet?
Answer: Oh, the F/A-18 Super Hornet easy! Jets all the way.
TRAWING 4, established in 1972, is one of five air wings under the Chief of Naval Air Training. It comprises four training squadrons: the "Boomers" of VT-27, the "Rangers" of VT-28, the "Wise Owls" of VT-31, and the "Stingrays" of VT-35, all of which include Navy Reserve component squadron augment units. Student naval aviators receive basic flight training in the T-6B Texan II at VTs 27 and 28, while VTs 31 and 35 provide intermediate and advanced flight training in T-44C Pegasus multi-engine aircraft.
Be the first to know
Get local news delivered to your inbox!