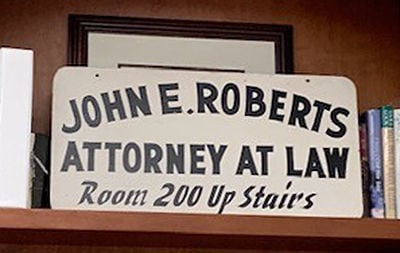 March 2 will be a special day for John Edward Roberts and his family. Although he has no plans to ever retire, the date represents a celebration of 50 years of law practice in Jackson County.
John was born and raised in Marianna. His father, Oliver Young "Slim" Roberts, was from Cuba, Alabama. Slim's family moved to Marianna to obtain employment at the Marianna Heading Company on Pennsylvania Avenue when he was 23. The company was known for construction of the tops of wooden barrels and had relocated from Cuba, Alabama, to Marianna. Slim's father died at a young age. With two younger sisters, Eula Rice and Izzy Floyd, and three younger brothers, Andrew, Tom and Charlie, Slim took over the role of caring for his mother and siblings.
John's mother, Martha Russell, was the daughter of Annie Louise Kent and Charles Edward Russell. The Kent family settled in the area in 1820. Together the couple had two daughters, Martha and Edna. Edna's husband, Louie Gray, had Gray's Artesian Well Service in Marianna. Both families lived on the west end of Marianna. Martha's mother and John's grandmother Russell had a grocery store, across the street from McDonald's, where an auto parts store is today. John's parents began dating and married when Slim was 37. The couple had two children, John and Carolyn. Slim began working for the city of Marianna as a police officer in 1937, before becoming a fire fighter. He continued to work for the city until he died in 1965. At that time, he was serving the public as a building inspector.
John and Carolyn grew up at the west end of Marianna. "We call ourselves 'west end kids,'" John said. Martha and her sister, Edna, lived next door to one another, and John's grandmother lived with his Aunt Edna, who had two children, Russell and Janet.
"It was like each of us kids had two mothers and a grandmother," he said. "There was no knocking on doors; we just went from one house to the other." "It was like I had two sisters and a brother," he added.
The cousins graduated from Marianna High School and Chipola College together. John continued his education and graduated from Florida State University with a degree in Finance and Risk Management. After graduation, he went to work for Royal Globe Insurance Company in Atlanta for 18 months. In September 1966, John enrolled with the first class of students at The Florida State University's College of Law.
When John was preparing to start law school, he saw what he described as a "real pretty girl" working in the associate dean's office. "I thought she was one of the prettiest girls I had ever seen," he continued. "When I first saw her, she had on a print dress, and she had solid black hair, dark eyes and an olive complexion. She was a pretty thing!"
John worked in the library 15 hours a week while Kathryn Zywicki worked there, too. "Kathryn was always running me down, because I was busy studying and not taking care of my library duties," John said. Kathryn was raised on a farm in Bean City and was very studious. The couple dated for five years. When Kathryn graduated from Florida State University with her Master's in Business Administration, she began teaching at the university's school of business. While teaching, Kathryn sat for and passed the exam to become a certified public accountant.
John decided that he wanted to return to his hometown and open a law practice. He admits that he didn't know any lawyers, but missed Marianna. John visited Marianna one Saturday, looking for an office. He knew Floyd Harris owned the Harris Building, which is now where Milton Insurance is, across from the Jackson County Courthouse. Mr. Harris rented John a room for $15 a month, upstairs, across from Jack Russ's office. John's Aunt Edna let him use an old desk. "I had some old chairs somebody gave me," he continued. "Then I went down to Fred Harris's Office [Marianna Office Supply] and rented a typewriter for $5 a month."
John opened his law office on March 2, 1970. He had a sign painted and hung it on the awning, letting locals know about his business. The sign is still in his office today. "No one knew I was coming and the first person who came down was Wayne Grant," John added. Wayne was three years older than John and was working for Ben Barnes. Wayne brought John some forms to help him get started. "Marianna was really good to me."
At the time John started practicing law, the list of other attorneys in Marianna included John Carter, Bob Pierce, Ben Barnes, Pete Smith, Tom Wilkinson, Wayne Grant, J. Paul Griffith and Rush Cowherd. It wasn't long before John needed extra space, so he rented the adjacent office.
The only lawyer John knew well when he returned to Marianna was Pete Smith. John had graduated high school in 1961 with Pete's twin children, Al (Cynthia Alene) and Ed Smith. Pete became ill and worked out an arrangement where he and John could share the cost of Earline Roberts's secretarial salary, and she would work for each part-time. Clyde Mayhall, the county prosecuting attorney retired in 1970. Although John had only been practicing a few months, Pete Smith encouraged John to run for county prosecutor. John was elected at the age of 26. The position was part-time and the prosecutor was paid by the case. John would earn $5 a case and top out at $9,000 a year.
Joe Sheffield, who was from Graceville, and a year-and-a-half behind John in law school, approached him about becoming a partner, about eight months after John set up his office. The two formed Roberts and Sheffield, Attorneys at Law. John and Joe became full partners, and John split his county prosecutor's pay with Joe. With the business continuing to expand, the partners began looking for a larger office space. The Coca-Cola Bottling Company had an office on the corner of Lafayette Street and Madison Street, where the offices of Fuqua and Milton are today. Panhandle Area Educators Consortium had been renting the building but decided to relocate to Chipley. When John approached Mr. Andy Alsup about renting, he wanted $150 a month. This was a little pricey for the firm at that time, so Andy adjusted the rent to $100 a month with a $10 increase each month until the rent was $150 a month. John and Joe later purchased and remodeled the building.
On March 21, 1971, John married Kathryn. Over the next few years, their family grew to include their three children, Kathy, Russell and John Young. John's law partnership with Joe continued until December 31, 1979. "Joe was the best partner I think anyone could ever have," John recalled. "We never had a cross word in all those years we were together, and we built up a really good law practice." Joe left the firm to go to work in private enterprise for Rex Lumber Company. John continued to practice there for the next 10 years. John later hired Frank Bondurant right out of law school. John and Frank worked together until John was elected circuit court Judge and took Judge Robert L. McCrary's place on Jan. 1, 1991. "Judge McCrary made being a judge look really easy," John said laughing. He explained that the job was much more difficult than Judge McCrary made it look.
While working in private practice before becoming judge, John had two secretaries, Earline Roberts and Diane Green. "Earline remained with me the whole 20 years and the whole time I was on the circuit court bench," John shared. "Diane came to work for me in 1972 and she was with me for 17 years."
"During the first 20 years of my practice, I worked really hard with long hours, and my children said they would never become attorneys," John shared. "I'll be darned, while I was on the bench, all three went to law school," he added. Since all of John's children dual-enrolled in high school, they were able to move quickly through college in three years. Kathy went straight to Samford University in Birmingham. Russell followed in his sister's footsteps going to Samford after a year at Chipola College. When John Young graduated from high school, Kathy was in her second year and Russell was just starting law school at the University of Mississippi. John Young decided to attend the University of Mississippi for undergraduate work, and later went to Samford University's Cumberland School of Law in Birmingham.
When John finished his first term as circuit Judge, he did not run for reelection. He became an assistant public defender. Shortly thereafter, both of John's sons decided to return to Marianna to practice law, so he agreed to help them get their practice started. Roberts, Roberts and Roberts, Attorneys at Law, began operation on July 1, 2001.
"It's been a blessing I could have never imagined. I never dreamed I'd be able to practice law with my two sons and see them every day," he said. "It's been really great for all of us. The last 20 years with my sons have been most enjoyable." "Our two long-term secretaries, Melanie Baggett and Judy Dumas, are like family to us," John added.
Not only did John's children become attorneys, so did his sister's children. Carolyn married Mike Majors, who is a retired Lt. Col. from the military. They have two children, Jason and Mark. Mark Majors is a Col. in the US Army JAG Corp. Jason is an attorney in Jackson Hole, Wyoming. Martha Russell Roberts always wanted one of her five grandchildren to become a medical doctor; all five grandchildren became attorneys instead.
John and Kathryn have four grandchildren. John Young is married to Kristin Green, who is a social worker for Emerald Coast Hospice. They have two children, Lily, 15, and Graham, 12. Kathy is married to Steven Clark, who practices internal medicine in Cleveland, Mississippi. They have two children, Katy, 14, and Will, 13.
Now, John enjoys meeting with his friends at Hardee's in the mornings. Then he leaves to take his grandchildren to school. He has taken Lily and Graham to daycare or school since they were 6 weeks old. Now that Lily is older, John is only taking Graham to school. Then, John returns to work until noon. At lunch he goes home, where Kathryn has a sandwich waiting for him. He returns to work around two and stays until five.
In addition to practicing law, John enjoys serving on the Marianna City Commission. In 1985, Winston Stuart was on the city commission, but resigned to run for a spot on the county commission. The city appointed John to the commission, where he remained until 1991. He resigned when he was elected circuit judge. Later, when Jimmy Standland retired in 2001, John returned to the city commission.
"I love Marianna and I have really, really enjoyed serving on the city commission, John said.
"We have such a tremendous staff there. Jim Dean is the best city manager I've ever seen. He's just amazing, always thinking of something new."
John is the first non-Polish person in Kathryn's family, but they were quick to accept him. "Kathryn did a really good job of raising our children." Kathryn taught accounting and economics at Chipola College for 32 years, beginning in 1978. "She's been a very strong role model for the children and a really good wife for me," John shared. "I still think she's one of the prettiest girls around. When I married Kathryn, I was Baptist and she was a devout Catholic," he shared. When they moved to Marianna, they decided to become members of the First United Methodist Church, so they could attend church together. They have been members for 50 years. Kathryn is very active in the church, and John enjoys all the church activities.
John was in the Kiwanis Club, in which he served as president and lieutenant governor. While John was lieutenant governor in 1979, Robert McRae wanted another club in Graceville, besides the Lions Club. Together they formed a Kiwanis Club in Graceville.
What a great man and family to have in Marianna. Visit Roberts, Roberts and Roberts, Attorneys at Law, at 2879 Madison Street, 8 a.m. to 5 p.m. Monday-Friday (closed 12-1 p.m. for lunch). The office can be reached at 850-526-3865. Visit the City of Marianna's website at http://www.mariannafl.city/335/New-Businesses-and-Other-Community-News to learn more about new businesses. Shop locally and support Marianna businesses.
Kay Dennis, MBA, MPA, A.I.C.P., is the director of Municipal Development for the City of Marianna.