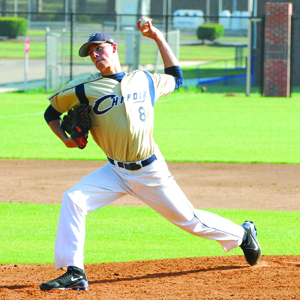 Former Chipola pitching ace Patrick Corbin has signed with the Los Angeles Angels for a sum of $450,000.
The 6 foot, 3 inch left-hander was drafted in the second round of the June 9-11 Major League Baseball draft with the 80th overall pick.
Corbin went 6-3 for Chipola in 2009 with a 4.23 Earned Run Average, and 86 strikeouts to 28 walks in 74 1/3 innings.
He is expected to join the Angels' Single-A affiliate in Orem, Utah.
Still looking to sign is David Buchanan, who was taken by the New York Mets in the sixth round, with the 194th overall pick.
The 6 foot, 3 inch right-handed pitcher went 4-2 for Chipola in 2009 and struck out 43 batters, walking 24.
His 95 mph fastball drew lots of interest from Major League clubs, and Buchanan said he was very pleased with where he ended up.
"I was very happy with it," he said. "I was told that I would go in the top six to 12 rounds and I went in the sixth. I talked to several teams, but I was happy to get drafted by the Mets."
Buchanan said his agent is still in negotiations with the club, but he hoped to get started with the franchise as soon as possible.
"As of right now, I'm just trying to be patient and work things out," he said. "I'm just excited about getting to a pro organization and doing the best I can for them."
Former Chipola players Matt Jackson of South Alabama, and Trey Manz of South Florida, were both drafted as well.
Jackson went in the 31st round to the San Diego Padres, with Manz being selected by the Cincinnati Reds in the 26th round.
Current Indians Dayne Read (37th round to the Reds) and Joey Rapp (41st round to the Angels) were also drafted. But Chipola coach Jeff Johnson said he expected both to return to school for their sophomore seasons.
Chipola sophomore outfielder Marc Bourgeois was selected in the 42nd round by the Minnesota Twins. Johnson said he expected him to attend Southern Mississippi next year.
Not expected to attend Chipola next season is right-handed pitcher and Indians' signee Zach Wheeler, who was taken with the sixth overall pick in the draft by the San Francisco Giants.
Chipola signee Michael Revell was drafted in the 16th round by the Texas Rangers, while Roidany Aguila was picked in the 18th round by the Arizona Diamondbacks. Jonathan Gilbert was selected in the 40th round by the Toronto Blue Jays.
Johnson said he expected Gilbert to come to Chipola, and for Wheeler to sign, but everyone else's fate was still up in the air.
"We'll lose Wheeler for sure," the coach said. "He'll probably sign for $6 million, or something like that. Other than that, we'll just have to wait and see.
Hopefully, we'll be able to keep the rest of them."
It's always a hectic time for a college coach during and after the draft, but Johnson said there weren't many surprises from his perspective.
"It was pretty much like I thought," he said. "I knew Corbin would go high. Buchanan went maybe a little higher than I thought, but you never know with a kid with that type of arm strength.
"I'm proud of the guys who are going to sign. It's a product of the strides they have made since they've been here with the program. When you make the strides like you're supposed to, that's what can happen for you on draft day."