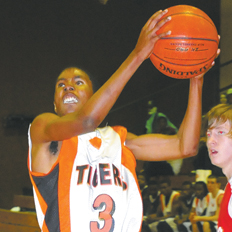 The Graceville Tigers will return to action after two weeks off Tuesday night when they travel to Chipley to take on Niceville at 7 p.m., in the Holiday Express boys basketball tournament.
Graceville (5-4) will head into the tourney in hopes of snapping a three-game losing streak to Cottondale, Marianna, and Wewahitchka that the Tigers had to live with for the past couple of weeks.
Doing so will be no easy task, however, as Niceville carries in one of the more talented rosters in the Chipley tournament.
"They're probably one of the better teams we've played so far and one of the better we'll play all year," Graceville coach Matt Anderson said Monday. "They'll probably be one of the top two or three that we play this year.
"They've got a Division-I point guard, a two-guard that shoots it real well, and a big post player they got from the football team that I think they've only lost once with him out there."
The 6A Eagles (8-3) are coming off of a 2-1 showing in last week's Choctawhatchee Christmas Tournament last week, beating Navarre and PK Young, and losing to Pine Forest.
Niceville's previous two losses were to Faith Academy and to undefeated Rutherford.
Graceville started its season on a positive note by winning five of its first six games, but the last three games of a five games in eight days stretch proved too much for the Tigers.
Except for taking Christmas Eve and Christmas Day off, Anderson's Tigers have stayed in the gym looking to get better and regroup for the season's home stretch.
"With the schedule we were left with, we kind of needed a break and needed some time for practices just to improve in some areas that we're deficient in," the coach said. "We had a good practice (Monday), so hopefully it will carry over into (Tuesday)."
Despite the losses, Anderson said that his team didn't go into the break on a necessarily sour note.
"We certainly weren't happy about losing, but we knew going in that that five-game stretch was going to be tough," he said. "We had a chance to win the last two, and if we had won them, that would've been great. At the same time, you never know how that might have affected our work ethic.
"The guys now understand how far they have to go and work and what all they still have to learn. If we hadn't lost those three in a row, that might not have been the case. We weren't real down about it. We just hope we can get it turned around. Of course, Niceville will be a tough team to turn it around on."
In just his first season with Graceville, Anderson said he has been happy with what his team has shown so far, and believes that the extra practice time during the Christmas break can only help speed up the growing process.
"We've still got a long, long way to go, but we've come a long way in the last six or seven days as far as being able to execute certain things offensively and defensively, and make changes on the fly," he said. "The time off for us has been very valuable. You can see a little of the light at the end of the tunnel."
The Tigers won't get back into district competition until Jan. 6 when they make the trip to first place and undefeated in district Cottondale.
With just two district losses, Graceville is tied for second in District 3-1A with the Sneads Pirates.
Anderson said he likes his team's chances of getting a top three seed in the district tournament, but knows there is still much work ahead.
"We certainly want to finish second or third to stay away from Cottondale (in the second round) because they're just playing better than everyone else right now, which they showed when they beat Bonifay," the coach said. "But it will be tough because we still have to go to Sneads and to Cottondale.