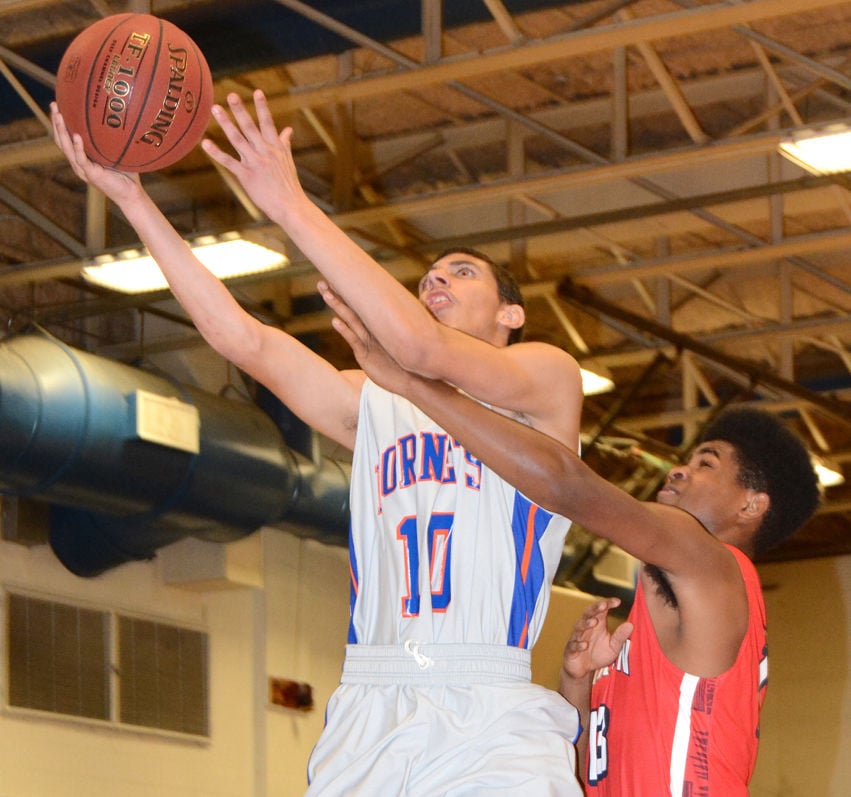 Afterwards, Cottondale head coach Chris Obert was grateful yet refused to bask in the glow of the triumph.
That's because the real redemption would take place in February.
Monday's contest, a rematch of last season's regional semifinals, was seized by Cottondale (9-6) as they defeated Paxton 56-45 to snap the Bobcats' 14-0 start to the season.
But while proud of the accomplishment, Obert and the Hornets realize the postseason is the ultimate marker of success. They're well-aware of the strong likelihood Paxton is an opponent they'll have to overcome to get over the hump.
So when asked in the locker room if this late December victory had any special significance based on last season's conclusion, Obert paused for a moment before giving a thoughtful response.
"It was good to win. But if I had my choice I would have took that one at the end of last season [laughs]. But we'll take this one though," Obert said. "They're a very good team and if we make the playoffs there's a good chance we could see them down the road. So this was a good learning experience for us."
In the pivotal juncture of the game, Paxton's Zach Varnum's night ended with 3:17 left in the third quarter with a foul on Ja'Vontai Hall and a subsequent technical foul for some choice words to the referees. Cottondale capitalized on Varnum fouling out to turn a four-point deficit into a two-point lead heading into the final period.
Hall and Tristan Braxton each made a pair of free throws on Varnum's fouls to tie the game at 30. Paxton briefly retook the lead but a top of the key 3-pointer by Braxton at the end of the third quarter boosted Cottondale back ahead.
From there, Cottondale went up by as many as nine thanks to a three-point play by Hall followed by a steal and layup from Kadeem Webb.
Paxton pulled within three with 52.2 seconds to go on a coast-to-coast layup by Grant Stewart, who scored all 10 of the Bobcats' fourth quarter points.
"You've got to give the Stewart kid a lot of credit for stepping up after Varnum fouled out," Obert said. "He single-handedly kept them in the game and he did a good job of getting to the rim and with give-and-goes."
The Hornets recovered to seal the game at the free throw line with six conversions down the stretch, three by Cameron Brooks, two by Kadeem Webb and one by Braxton.
Braxton led Cottondale with 18 points and three 3-pointers. Hall finished with 10 points, going 6-of-7 from the free throw line.
Keyshawn Webb, dubbed "Big" by his teammates and coaching staff, flexed his size and power as he recovered his own miss under the basket then outmuscled a Paxton defender for the conversion while fouled to put Cottondale ahead four with just under three minutes remaining. He then banked the free throw off the backboard to extend the advantage to four.
"We did some good things at times and at times we did some poor things in terms of executing. For the most part you've got to be happy with the effort," Obert said. "I thought we played hard and with some energy. We've just got to be able to cut down on certain mental mistakes."
Cottondale took a 24-22 lead into halftime on a pair of free throws by Hall and were ahead 18-11 at the end of the first quarter.
Kadeem Webb compensated for a season-low four points by providing other crucial elements.
"Kadeem has been scoring well all year," Obert said. "This is the first time he's struggled offensively but he did a good job defensively and on the boards. He also takes care of the ball for us a lot."
Prior to exiting the game, Varnum was heating up as he scored six of his 14 points in the third quarter including a 3-pointer.
"He's a really, really, really good player so I'd be foolish to say that didn't help us out with him being out because he's a tough matchup not just for us but for anybody," Obert said. "But at the end of the day we can't worry about that. All we can worry about is ourselves."
Follow @JCFSports on Twitter.