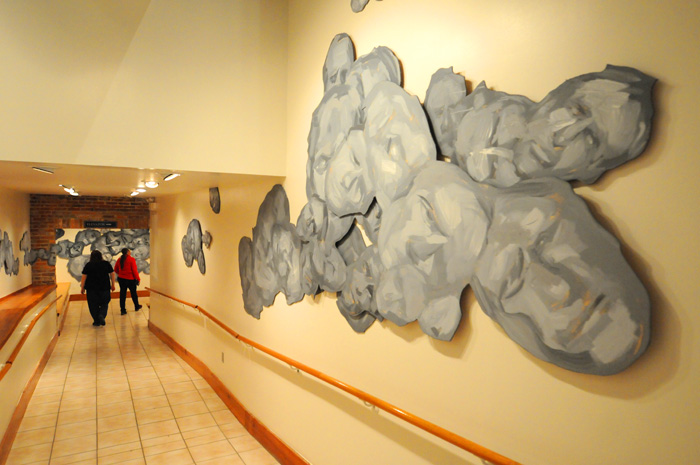 Art, like beauty, is in the eye of the beholder.
What may appear to be a masterpiece to one person, could as easily be seen as a kindergarten finger-painting project to someone else. And that's OK, said Dana-Marie Lemmer, the curator at Wiregrass Museum of Art in Dothan.
Beginning Feb. 25, the museum will begin hosting a series called "Is it Art?" and asking visitors to join a conversation about why a piece of art is art.
The series is based on Slow Art Day, an international art appreciation event held in April that the Dothan museum began participating in two years ago. Visitors come into museums, spend an extended period of time just looking at a work of art and then stick around to talk about it.
"We really want to encourage a dialogue," she said. "We're not going to tell you what it is; we're not going to tell you you have to like it. There are no right or wrong answers, but we really want to hear from our visitors ─ whether it's positive, whether it's negative, hopefully, it's constructive."
And while you may not particularly like a piece of art, you may gain a new appreciation for what the artist was trying to say.
The conversation series will be held every other month and is free to attend.
The first discussion will be on "Storm," an exhibit by Savannah-based artist Troy Wandzel. It's in one of the museum's downstairs galleries and consists of a repeated image ─ Wandzel's face painted over and over to look like storm clouds.
The plan is for the conversations to have a moderator who is not a member of the museum's staff. That person will help kick start the discussion and delve into any questions a piece of art may raise for visitors.
Jessica Raetzke, chair of the art department at Wallace Community College, will serve as the moderator on Wandzel's exhibit. Raetzke said people often see art and art museums as stuffy or elite, and she hopes the informal group setting of "Is it Art?" will help change those perceptions.
"That question, 'Is it art?' ─ I think a lot of people ask that especially of contemporary and modern art because it looks like paint splatters … or it's a taxidermied shark in a big cage," Raetzke said. "It's like, 'OK, I don't understand what this is; I don't' understand why it's important.' They feel like they're not getting something."
But, Raetzke said, when someone talks about art from the most basic aspect of a piece ─ describing what they see, how it makes them feel or their initial response to it ─ they begin to develop an understanding. And, she said, they can actually develop an appreciation for art even if they don't have an artistic background or even if they don't like a piece.
"When they start to think of it that way, talking in basics and moving forward, I think they find it more accessible and something they can connect to more personally," Raetzke said.
Unlike group tours at the museum, those who attend will not be told what an artist intended for a piece to mean, Lemmer said. It is, literally, up to them to decide.
"It's really about art appreciation, and it's about giving our audience ownership because it's their museum," Lemmer said. "It connects them with the museum. It connects them with the art on their terms. We don't have any intention of telling people what they have to think."