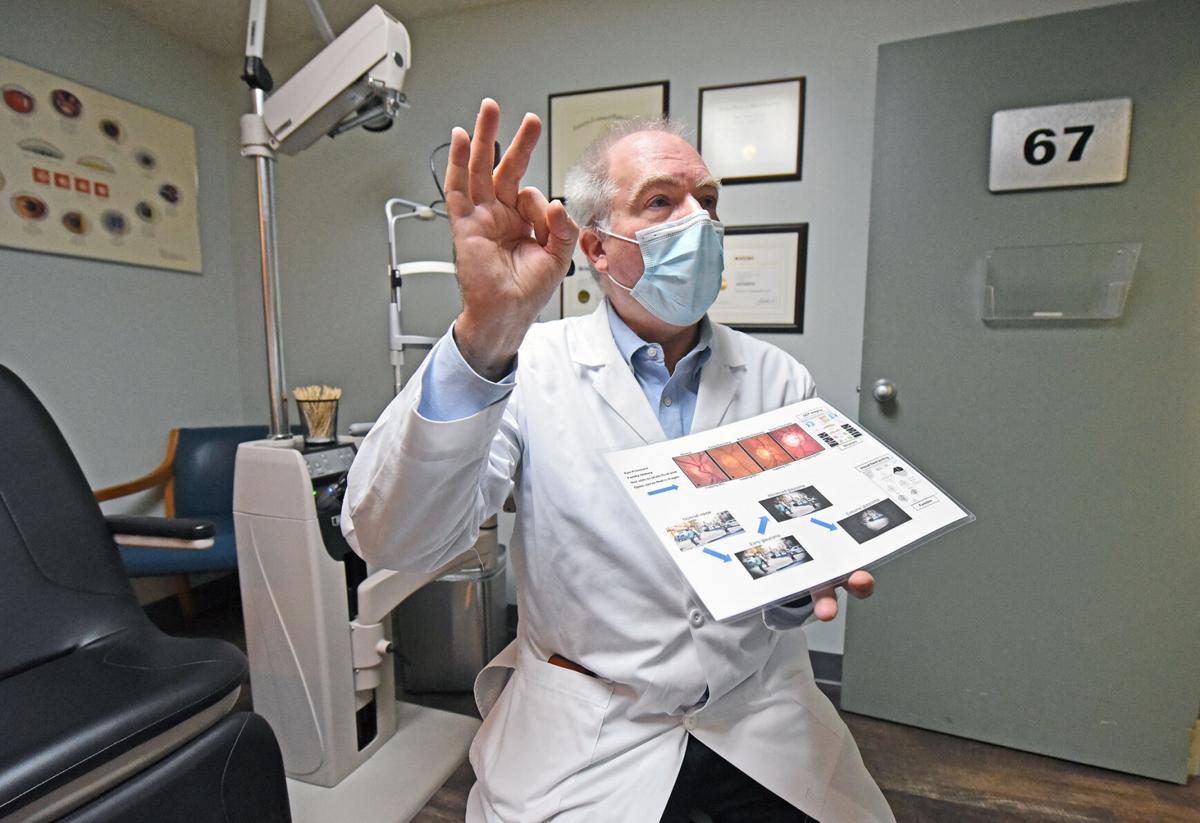 Before his own diagnosis, Dennis Johnson had a family history of glaucoma. His mother, grandmother and an uncle all had glaucoma.
As long as his vision was good, he didn't think about his own risk or that the family history was even an issue for him. That changed dramatically last year when Johnson, 55, noticed changes in his vision.
"It started getting worse and worse," the Clayton resident said. "I could only focus out of one eye."
He could only see straight ahead. Johnson had surgery earlier this month to help with the vision loss in his left eye, which was worse than in his right eye. He puts drops in his eyes each day.
Glaucoma is a leading cause of blindness, but it's also one of the most treatable eye diseases if caught early. January is Glaucoma Awareness Month. There's no cure but a local ophthalmologist and glaucoma specialist said some proactive monitoring can help ward off damage caused by the misunderstood eye disease.
"The thing about glaucoma is it's permanent damage," said Dr. Ronald Swendris of Eye Center South in Dothan. "So people can lose a lot of their peripheral vision and they don't necessarily notice it unless it's bad."
The problem with glaucoma is it doesn't have early warning signs. Once it causes vision changes, the damage could have been going on for 15 to 20 years, Swendris said. Usually patients have trouble even describing the vision changes – they'll say things look darker and not as clear. They think they have normal age-related vision loss.
"Sometimes we discover it when it's already caused a lot of damage," Swendris said. "And so at that point, from that moment on, we just do our best to keep the vision that's still there."
The front part of your eye is filled with clear fluid that flows out through your pupil and the eye's internal drainage system (not to be confused with tear ducts located on the outside of the eye). This production and drainage of the fluid is a continuous process needed for healthy eyes. But when the eye's internal drainage system isn't working properly, the fluid builds up and increases the pressure inside the eye. The high pressure eventually damages the optic nerve.
The internal pressure can be tested during annual eye exams (tests include the dreaded puff of air or dilation). But pressure, Swendris said, doesn't always tell the whole story with glaucoma.
"The pressure is high and for some reasons we don't completely understand, the optic nerve is fragile," Swendris said. "Some people have a fragile optic nerve, some populations, and it gets more damaged regardless of the pressure. So that means some people come in and their pressure is normal – normal pressure is 21 or less. It's almost like blackjack; you want to stay 21 or less."
There's no way to reverse damage caused by glaucoma, but today's treatments of eye drops, lasers and surgery can prevent more damage from happening.
Swendris said there are five major risk factors people should know: a family history of glaucoma; age and being older; being African American; a thin cornea (the front surface that protects the pupil and iris); and a high internal eye pressure.
Other risk factors include myopia, or nearsightedness, as well as the use of steroids, trauma to the eye, diabetes and vascular disease.
Regular exams are important, Swendris said, especially if you have any of the major risk factors. As soon as glaucoma is diagnosed, treatments can begin to stop vision loss.
While glaucoma can happen in younger people, those with risk factors should start being tested for glaucoma after the age of 40.
"That's when it often starts," Swendris said. "It's such a slow process because it causes damage over years. It's so slow that people don't necessarily notice it."