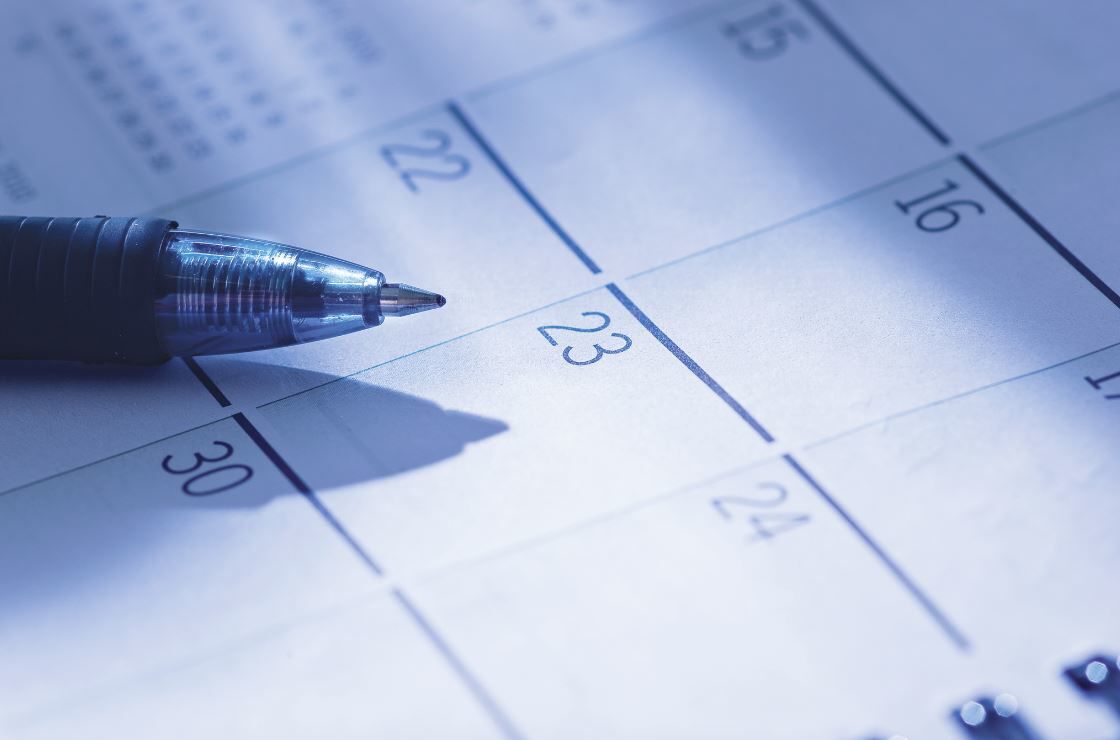 NOV. 19
Stuff the Semi Food Drive will be held Thursday, Nov. 19, from 6 a.m. to 6 p.m. at the McDonald's located at 3520 Ross Clark Circle in Dothan across from The Home Depot. The food drive for the Wiregrass Area Food Bank will collect foods so families in need can have a holiday meal. Suggested food items on the food bank's holiday "Wish List" include: frozen turkeys and hams, stuffing, cranberry sauce, cream of chicken soup, cream of mushroom soup, chicken stock, self-rising corn meal, self-rising flour, all-purpose flour, corn (whole kernel or creamed), macaroni and cheese, tea bags, sugar, baked beans, dumplings, canned sweet potatoes, French fried onions, brown sugar, vanilla extract, rice, pecans, marshmallows, pie crusts, salt and pepper, instant mashed potatoes, canned greens, canned green beans, canned pumpkin, canned carrots, canned peas, evaporated milk, pumpkin pie spice and Jiffy cornbread mix.
The Dothan/Houston County Education Retirees Association will not meet on Nov. 19 so as not to unnecessarily put members at risk as COVID cases continue to rise. The status of the pandemic will determine if the group meets in January, but notice will be given by email or phone.
The Houston County Health Department will hold its annual flu clinic on Nov. 19 from 8 a.m. to 12 p.m. at the health department located at 1781 E. Cottonwood Road in Dothan, off the Ross Clark Circle near the Houston County Farm Center. The vaccine will be $5 unless the patient has Medicaid, Medicare, Blue Cross/Blue Shield, or AllKids Insurance.
The 15th Annual Toys for Tots program in the Wiregrass is accepting registrations for children. The program is a partnership of the Marine Corps League Wiregrass Detachment and 14 organizations from Coffee, Dale, Geneva, Henry and Houston counties. If you are a resident of one of those counties with children ages birth to 12 years old, dial 2-1-1 or 888-421-1266 from 9 a.m. to 4 p.m., Monday-Friday, to review qualifications and register children for the toy program. Registration ends Nov. 19. If you would like to donate to the program or serve as a drop-off location for donated new toys, visit thewiregrass.toysfortots.org and click on "Get Involved/Volunteer" or email dothan.al@toysfortots.org.
NOV. 20
Family Movie Night hosted by Dothan Leisure Services will be held Friday, Nov. 20, at Rip Hewes Stadium. Bring blankets, lawn chairs and your family and friends and plan to socially distance out on the field or sit in the stands and enjoy a movie under the stars. Admission is one canned good per person, and all food collected will be donated to the Wiregrass Area Food Bank. Concessions will be sold, and all proceeds will benefit the city's therapeutics program. The November movie selected is "Playing with Fire." Gates open at 5:30 p.m. and the movie starts at 6 p.m. In the event of rain, the movie will be canceled. For more information, call 334-615-3700.
NOV. 21
Coffee County Department of Human Resources will celebrate National Adoption Day on Saturday, Nov. 21, with an adoption parade from 10 a.m. to 12 p.m. at 3881 Salem Road in Enterprise. The Heart Gallery of Alabama will be providing goody bags in a drive-thru for the children and families that have adopted during the 2020 fiscal year. Once they are done, the families will have the opportunity to go to Johnny Henderson Park at 1901 Neal Metcalf Road in Enterprise for a family photo to celebrate finalizing adoptions. There will also be information for those who want to learn about fostering and adopting. For more information, call 334-348-2046.
Algow International Meeting will be held Saturday, Nov. 21, at 10 a.m. at Po Folks Restaurant in Enterprise. Guest speaker will be Cecilia Ellingwood from Enterprise. For more information, call 334-406-9683.
Grimes Gospel Lighthouse, 1512 County Road 25, Grimes, will host Mercy's Echoes, Nov. 21; and a local sing on Nov. 28. There will be no sing on Nov. 14 since the Lighthouse is hosting a wedding. Music starts at 7 p.m. A love offering will be taken. Call 334-983-4654 or 334-714-4658 for more information.
DEC. 6
A decorating workshop will be held at Landmark Park in Dothan on Dec. 6 starting at 1 p.m. Create holiday decorations to help decorate the park and take home. Natural materials will be used. Bring your gloves and wire clippers. Registration required; visit www.landmarkparkdothan.com to register. Free admission.
DEC. 11
The Red Nose Run, a half marathon and 5K, will be held virtually starting Friday, Dec. 11, at 8 a.m. and ending on Dec. 14 at 8 a.m. Held by the Southeast Alabama Community Foundation and presented by Flowers Hospital, the run raises money for grants that are distributed to nonprofit organizations serving Coffee, Dale, Geneva, Houston and Henry counties. Registration for the half marathon is $30 until Dec. 1 when the fee will increase to $40 per person. Half marathon participants will receive a virtual bib, a commemorative medal and a Red Nose Run face mask. For the 5K, registration is $15 until Dec. 1 when the fee will be $20 per person. 5K participants receive a Red Nose Run face mask and a virtual bib. Register at https://cacfinfo.org/rednoserun/ by clicking the green registration button on the right hand side of the webpage.
DEC. 12
The Hawk-Houston Youth Enrichment Center will hold its annual year-end fundraiser – "Mask Up" Fourth Annual Alveta Houston Hawk Wine and Food Fest and Live Auction – on Saturday, Dec. 12, 6-10 p.m. at Celebration at Jones Crossing, 5918 Fortner St., Dothan. Individual tickets (in-person and virtual) are $50; reserved table of eight is $500. A gift basket for local virtual guests will be available for pickup. Tickets are available for purchase Oct. 12 through cashapp: $hawkhouston or at 329 Chickasaw St. For more information, call 334-792-4618 and 334-797-9273 or visit www.hawkhoustonyec.org. Guests must be at least 21. All protocols from the Alabama Department of Public Health will be mandated.
DEC. 13
Landmark Park's Victorian Christmas will be held Dec. 13, 1-4 p.m. The holiday open house will feature Christmas music, hot chocolate, a visit with Santa and more. Free admission. Canned goods will be collected for the Wiregrass Food Bank.
DEC. 18
A community Christmas drive-thru groceries give-away will be held Dec. 18 from 10 a.m. to 1 p.m. at Rip Hewes Stadium in Dothan. Participants will receive a free brown bag of groceries, free turkey or ham, free blankets and free heaters. Call 334-305-0300 for more information.
ONGOING
Club Yesepoch Inc. has canceled the 2021 Community Wide Black History Banquet due to the COVID-19 pandemic.
The Enterprise Chapter of the National Active and Retired Federal Employees (NARFE) has canceled its lunch programs regularly scheduled every fourth Thursday of the month at Po Folks Restaurant in Enterprise. The cancellation is effective until further notice.
The Friends of the Library of the Dothan Houston County Library System are hosting ongoing Mini Book Sales at the Main Library at 445 N. Oates St. in Dothan, the Westgate Library at 535 Recreation Road in Dothan and the Ashford Library at 305 Sixth Ave. The sales are open to the public Monday-Friday from 10 a.m. to 6 p.m. and Saturday from 10 a.m. to 2 p.m. The sales include new and gently-used fiction and nonfiction books on a variety of subjects. Hardback books are $2 each and paperback books are $1 each. All children's books are 50 cents each. Vintage books and vinyl records are individually priced. DVDs, CDs, audiobooks, book sets and surprise bags are also available. These Mini Book Sales are in lieu of the annual August book sale. New titles will be added to the sales several times a week. Proceeds help support the Friends and the Dothan Houston County Library System. For more information, contact friends@dhcls.org or call 334-796-1594.
Dothan Newcomers Club, a social organization for women, meets the first Thursday of the month at the Dothan Elks Lodge, 3041 Ross Clark Circle. Social time begins at 9:30 a.m., followed by the business meeting at 10 a.m. The DNC is open to women who have moved into the Dothan/Wiregrass Area within the past five years or who have faced a change in status (retirement, death of a spouse, divorce) within the past five years. For more information, visit www.dothannewcomers.com or on Facebook @DothanNewcomers, or contact Elaine Brackin, president, via email at dncpresident3@gmail.com. Due to Covid-19, masks are required to be worn and social distancing is observed.
Southeast Alabama Child Advocacy Center in Dothan is holding a "Chance to Win" fundraiser. Anyone who donates $25 to the center will have a chance to win a Louis Vuitton Neverfull tote, which has a retail value of $1,500. Participate in the fundraiser, sponsored by Wiregrass Wealth Management, by visiting givebutter.com/CACLV or call 334-671-1779. The winner will be announced Nov. 27, and participants do not have to be present to win.
The Alabama Municipal Electric Authority (AMEA) is accepting scholarship applications from high school seniors graduating in 2021. To be eligible, a student's parents or legal guardians must receive electric services from an AMEA member utility in 2020, and the student must attend a four-year college or university or a vocational/trade school within the state of Alabama. There will be 44 scholarships of $2,500 each available (four scholarships per member city). Applications are currently available from school counselors in AMEA member cities, or online at the AMEA web site, www.amea.com. Application deadline is Monday, Feb. 8, 2021. For more information, contact your school counselor or Pamela Poole, AMEA Scholarship Coordinator, 334-387-3504, 800-239-2632, Ext. 1110, or pam@amea.com.
The Gen. William C. Oates Chapter No. 1342 of the United Daughters of the Confederacy meets the second Thursday from September through May. Women ages 18 and older who have ancestors who fought in the Civil War are eligible for membership, and help will be provided to prove your first Confederate ancestor's lineage. For meeting locations and information, call Ceya Minder at 334-794-7480 or email ceya.minder@gmail.com.
A telephone prayer line is hosted Monday-Friday at 12:15 p.m. by Dothan Tabernacle Church of God in Christ in Dothan and Living Waters Church of God in Christ in Hartford. The public is invited to join the prayer line. Call 712-451-0464 and punch in the code 568383#. Participants should mute phones after successfully connecting.
The Disabled American Veterans Auxiliary Dothan Unit #87 will meet every third Thursday of the month at 6 p.m. at Harvest Church, located at 2727 Fortner St. in Dothan. The group will meet in the Main Café located in the church's Building A. Call 334-596-9610 for more information.