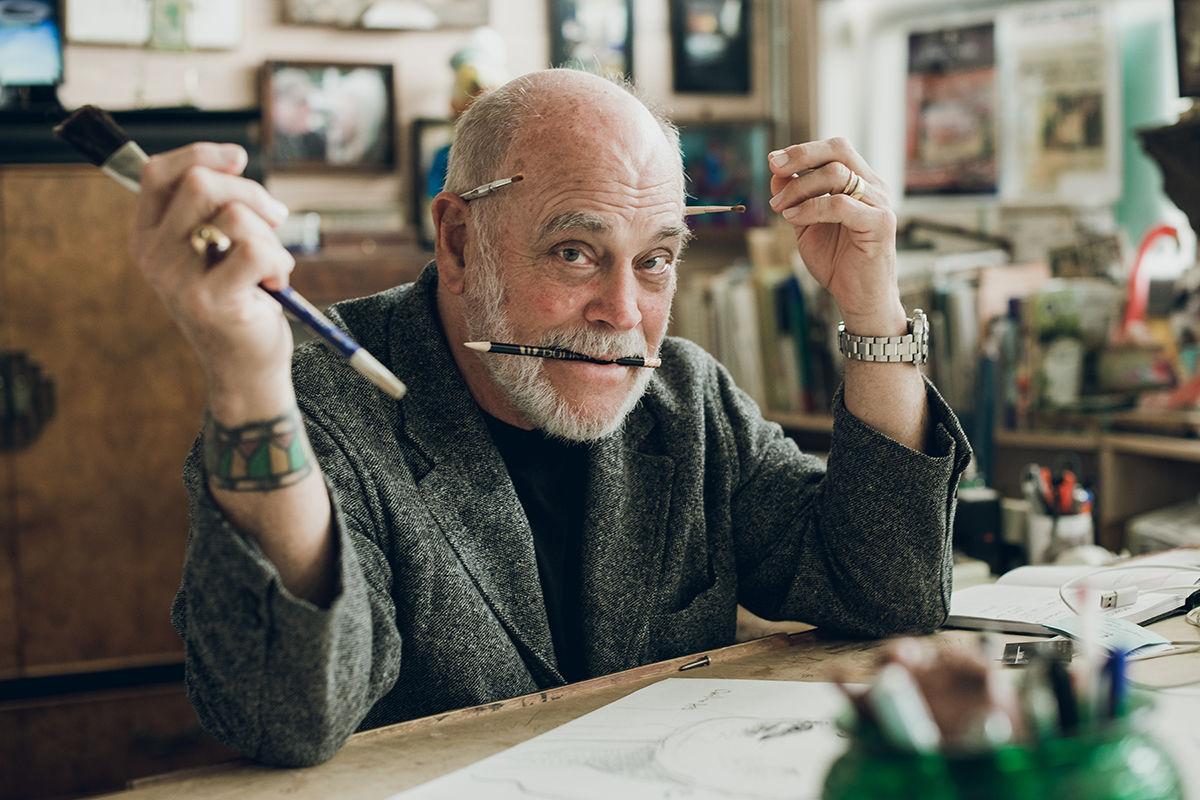 The mixed-media artist known simply as Nall will be honored by his hometown of Troy on May 7 as a way to recognize his artistic contributions to Alabama and the world at large.
Troy University and the City of Troy are hosting Nall Day for Pike County native Fred "Nall" Hollis. City officials will proclaim Nall Day during a luncheon at the Johnson Center for the Arts, said Troy Mayor Jason Reeves.
"Art fosters social interaction, increases cultural awareness, and provides a source of pride for our community," Reeves said in a Troy University press release. "Art connects people and lets them see the world through the eyes of the artist. Nall's artwork with its international flair brings the world to Troy and its citizens. He is a testament to the talent born here in Troy and what can be accomplished if you break outside the bounds set by others and keep chasing your dreams. Nall Day is a way to show our appreciation for Nall's talent and his contribution to Troy's story through art."
Following the luncheon, eight Troy University art students will collaborate with Nall on a piece of art during a closed-session master class, according to Greg Skaggs, associate professor of art and design. The piece will feature original work by Nall as well as each student involved and will be donated to the university.
The public is invited to a reception at 5 p.m. at Troy University's International Arts Center, where's Nall's latest exhibit "Mossa-Nall Dialogues" will be unveiled. The exhibit combines Nall's slant on symbolist painting with that of French artist Gustav-Adolf Mossa, who died in 1971.
Nall received a degree in art, political science and psychology from the University of Alabama and was later admitted to study at Ecole des Beaux-Arts in Paris, France, in 1971. He travelled extensively in the Middle East, North Africa, India and Mexico, and studied under Salvador Dali, who trained him in artistic techniques and inspired Nall to devote his life to the pursuit of beauty through artwork.
His artwork – which includes everything from mosaics and sculptures to line engravings and tapestries − is heavily influenced by his international travel and living experiences, and his associations with those whom he encountered.
In 1986, he bought a studio estate in Vence, France, and created the N.A.L.L. (Nature Art & Life League) Art Association, which offered artistic training for college students and provided a cultural life through exhibitions and conferences.
The Nall Museum and the Huo Bao Zhu Gallery are located in the International Arts Center on the campus of Troy University.
The artist has had a long relationship with Troy University.
"As we celebrate Nall's contributions of global significance, we also want to recognize his contributions to Troy University and our community as a native son who has long been involved in the life of this institution," said Chancellor Dr. Jack Hawkins Jr. "His gifts to the university's permanent collection are substantial and form a lasting impression on our students who view and study his art."