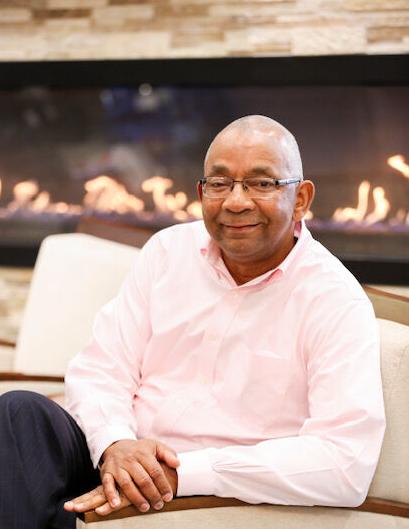 Mark Freeman wakes up every morning about 5 o'clock and goes for a walk around his neighborhood.
"When I do that walk, it kinds of lets me know what kind of day I'm going to have every day," Freeman, 66, said during a phone interview a day after returning home from receiving another round of chemotherapy at the Cancer Treatment Centers of America in Newnan, Georgia.
During that walk, he picks up the newspapers from several of his retired neighbors' driveways and delivers it to their front door. Then, he has a 15-minute conversation with a good friend on his way to work.
"Then I do whatever I have the energy to do. I do stuff around my house, trim a hedge, wash my car, I do housework, I cook, you know, things on my honey-do list," Freeman said.
Freeman was first diagnosed with prostate cancer in 2015, but says he wasn't afraid.
"Cancer was a scary word, but I was never afraid because of my faith in the Lord above," Freeman said. "I've seen his ways and his control over my life and my health."
Though he admits being slowed down by numerous radiation, chemotherapy, and immunotherapy treatments to kill the fast-growing cancerous cells, nothing Freeman has been through has killed his spirit or his faith. Instead, he enjoys life and spends much of his time being a friendly neighbor.
After leaving Pennsylvania and coming to Dothan in 1988 to be with his wife, Freeman said he fell in love with the "caring and giving community" in Dothan after his initial reservations about coming to the South dissipated. Though he still traveled for work, he eventually took up a permanent residence in Dothan and started working with nonprofits around 1995.
In 2015, Freeman underwent an operation to have his prostate removed by Dothan doctors. Shortly after, Freeman went to the doctor complaining of right shoulder pain. Eventually, a specialist discovered a mass on the top of his lung and he was diagnosed with stage 2 lung cancer in early 2016.
Since then, he's had five brain tumors removed with pinpoint radiation treatment and two other tumors removed around his lungs. He just started another round of chemotherapy treatment for another tumor that has been deemed inoperable on his left lung.
Though the cancer treatments have caused side effects like seizures, Freeman feels blessed the cancer has not metastasized to other organs yet, allowing him a good quality of life.
He has been out-of-work since 2016, and officially retired from working with nuclear reactors in 2018, but Freeman continues to work on leadership teams for various community organizations and agencies.
Today, he's a member of the Dothan Education Foundation, a member of the Wiregrass Hope Group board of directors, secretary of a men's civic club, and financial secretary for the Houston County Port Authority.
"It's important to me because I've been a very blessed person," Freeman said. "I've been blessed and I just want to be a blessing to others."
He also volunteers with Cancer Fighters Care Net Program, sharing his experience with new cancer patients and caregivers to ease their fears about the unknowns of treatment.
"Cancer is just devastating to people. You go there and you see people from all walks of life," Freeman said. "I just hope that my story can inspire someone."
Freeman is a now a staunch advocate for early detection and encourages other people to take control of their health.
"If you ever feel like something's wrong with you, I advocate to them to go to find out. I know it saved my life," Freeman said.
He still travels to Newnan's CTCA every three weeks to get his blood drawn and every three months to get an MRI and CT scan, which he credits with helping catch his tumors while they're still small and helping form an early diagnosis.
Through progress in cancer treatments, Freeman has been able to live a fairly normal life. He lost his hair during chemo and sometimes suffers from fatigue, but he still gets up every morning and takes his morning walk.
"I can do what I used to do, but not at the pace I used to do it," Freeman said, adding that he enjoys the going to the beach, travelling when he can, and helping others.
The COVID-19 pandemic has isolated Freeman from people, but he still stays in touch with his organizations via phone calls and Zoom meetings.
Though Freeman has seen many close friends perish from the disease he continues to fight, he doesn't waste time ruminating on his own life expectancy.
"I'm still here… I keep on moving on. I don't sit around and wait for my next seizure," Freeman said. "I just live life. I trust in the good Lord above and I always tell my wife I'm not scared. I know where I'm going. This is not my home."