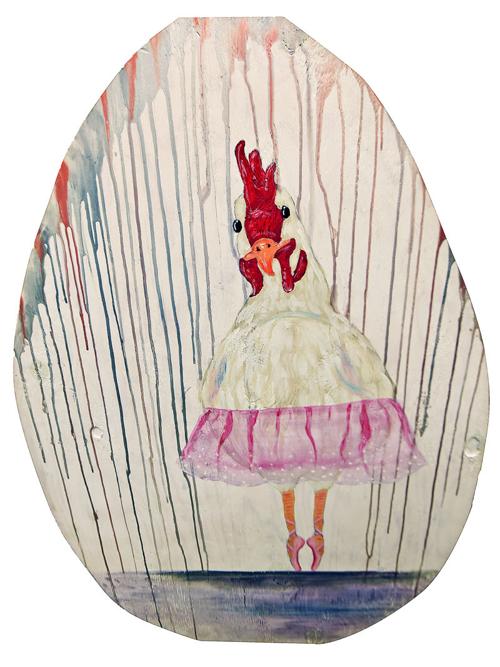 Egg Quest, a public art project hosted by the Dothan Area Botanical Gardens, returns to the 46-acre facility beginning Monday, March 1. This event combines the artistic skills of area students and local artists with the beauty of the gardens and will continue through Easter Sunday, April 4.
Now in its third year, Egg Quest involves the display of approximately two dozen four-foot wooden eggs that have been creatively painted. The colorful eggs are scattered throughout the garden for visitors to see and enjoy. A children's map and questionnaire will encourage children to answer questions about certain eggs.
A completed questionnaire, including your vote for your favorite egg, makes a child eligible to win a large Easter basket in a drawing on Sunday, March 28. On that day, admission to the gardens will be free from 3 p.m. to 6 p.m.
Area schools that participated in this year's Egg Quest include Highlands Elementary School, Beverlye Intermediate School for the Arts, Dothan High School, Dothan Prep Academy, Wicksburg High School, Houston Academy, and Providence Christian School. Home schools and organizations include Classic Conversations, Alabama Baptist Children's Home, Department of Youth Services Boys & Girls Homes, Pilgrim Home Church, The Storywood School, and the Order of the Black Dress. Individual artists included Billie Smith, Mary Kathryn Kendig, and the families of Bill and Laura Slavins and Sebastian and Emily Heersink.
Presenting sponsors for Egg Quest are the Botanica Garden Club and Lewis-Smith Supply. Other sponsors include Ameris Bank, Armstrong & Jordan PC, Backyard Treasures, Bevis, Eberhardt, Browning, Walker & Stewart, The Bottle Tree Restaurant, Complete Signs LLC, Dothan Pediatric Clinic, GenCon Associates, Howell Hardwood Flooring, Martin Environmental Services, Miller Orthodontics, River Bank & Trust, Slingluff United Insurance, Southern Bone & Joint Specialists, The Coleman Foundation, Wiregrass Master Gardeners Association, Drs. Julie Alexander and Eric Lund, Mickey and Debi Breedlove, Dr. Ron and Carolyn Sealock, Dr. Mark and Jamie Shertzer, Tom and Pat Heisner, Mit Kirkland, and Miles and Paula Coleman.
The Dothan Area Botanical Gardens is located at 5130 Headland Ave. in Dothan and is open from 8 a.m. to 5 p.m., seven days a week (beginning March 14, hours will be 9 a.m. to 6 p.m.). Admission is $5 for adults age 16 and above and free for ages 15 and under and Garden members. For more information, call 334-793-3224 or visit www.dabg.com.