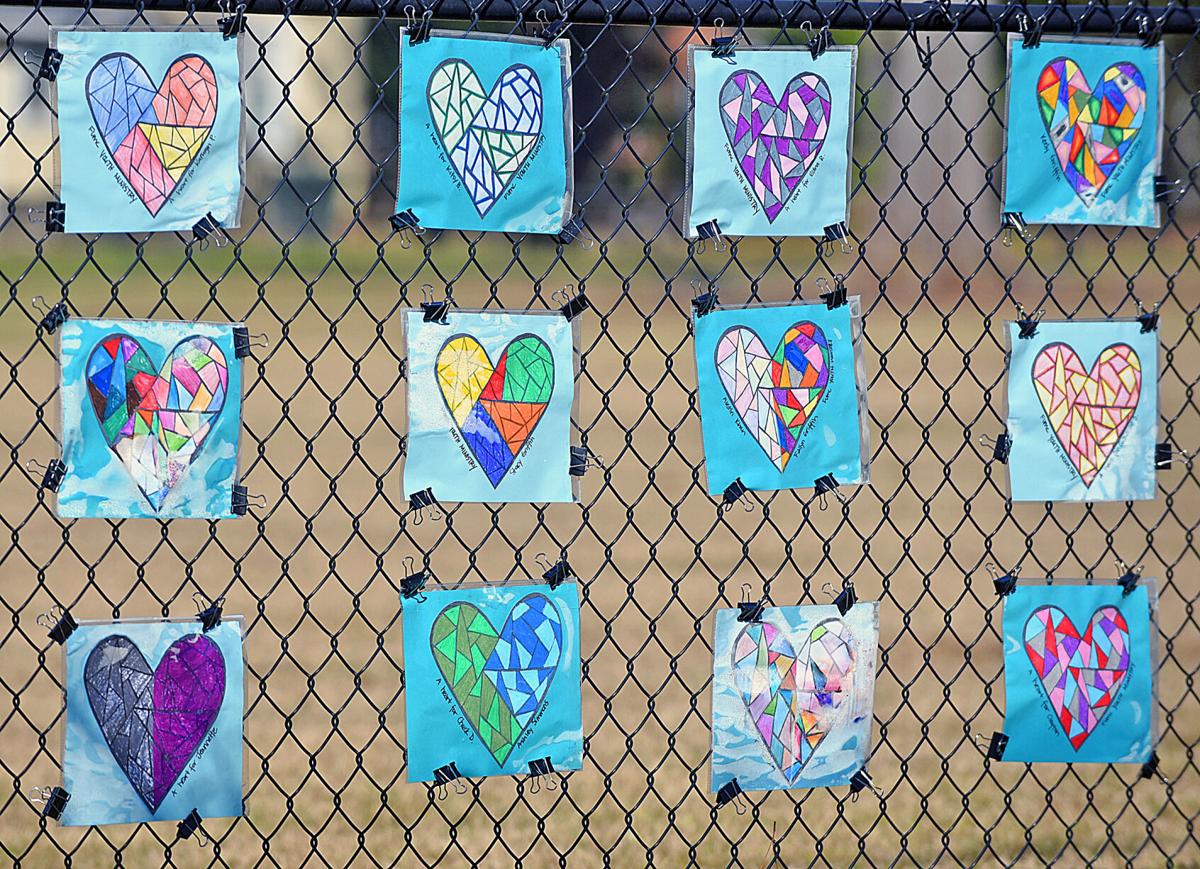 Paper hearts hang along a fence behind First United Methodist Church in Dothan, lining a small section of Burdeshaw Street with a kaleidoscope of colors.
The hearts, protected in plastic covers, are a way to let caregivers and families dealing with dementia know that they're not alone – even during a year of isolation.
"I wanted to do something special for our five-year anniversary, and our theme has always been love – it's love in the moment," said Katie Holland, director of the Respite Care Ministry. "I thought since we all did our own heart and each one had their own unique version of our hearts and we connected them together, it would be a beautiful picture of respite care."
Holland said the COVID-19 pandemic has led the ministry's staff to come up with new ways to express support for caregivers and their loved ones with dementia. Holland said she had seen a similar art display elsewhere.
The display went up earlier this month and will remain on display until the end of February.
Some hearts have the names of individuals who have come through the Respite Care Ministry or are currently attending.
"We wanted to do a heart for every person and participant that had come through respite care, so we did a heart for each one of them because they were all special," Holland said. "Our time with them was very special to each one of us. And then we did a heart for all the ones that are currently in the program with us now."
Over the five years, Holland said the ministry has supported more than 75 families.
The ministry was created as a way to support caregivers of those who are in the early stages of dementia, whether caused by Alzheimer's disease or another form of memory loss. It is open to anyone with memory loss.
Respite Care Ministry volunteers and staff were joined by members of the church's Youth and Tweens ministries in creating the hearts.
"It is a beautiful picture of how different we all are, but it's really amazing as a masterpiece when it comes together," Holland said.
Peggy Ussery is a Dothan Eagle staff writer and can be reached at aussery@dothaneagle.com or 334-712-7963. Support her work and that of other Eagle journalists by purchasing a digital subscription today at dothaneagle.com.