FORT GAINES, Ga. – Things can be pretty laid back in Fort Gaines.
One day recently, a few delivery trucks made their drop-offs and a couple of dogs curled up in a pedestrian crosswalk before a vehicle spooked them. Along with some historic homes in this tiny town in Clay County, Georgia, you'll find a hardware store, a restaurant, several churches and a grocery store.
Located south of the Walter F. George Lock and Dam, Fort Gaines is home to a little over 1,000 people. But it is a place where history is on display.
Along Bluff Street a replica of an outpost watch tower stands as a reminder of when Fort Gaines was an actual fort – one of several along Georgia's western frontier. Established in 1816, it is the only frontier fort in Georgia to survive as a municipality.
High above the Chattahoochee River, visitors can walk through Frontier Village for a glimpse of what living arrangements might have looked like once upon a time. There are a couple of log homes, an old grist mill, a corn crib, a privy, a smoke house and a cane mill. You can hear the sound of traffic crossing a bridge over the Chattahoochee River between Alabama and Georgia. At the right time of year and if you're tall enough, you might be able to catch a glimpse of the river down below. Up a hill, visitors will find a Civil War cannon.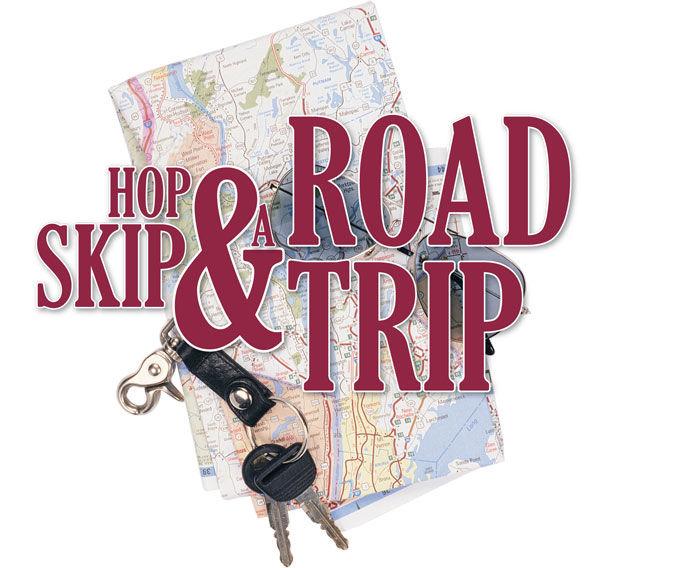 On the Saturday before Thanksgiving, the Frontier Village fills with vendors for what is known as Christmas at the Fort.
And not far from Frontier Village, you can walk through a museum with more than 4,000 artifacts.
Sutton's Corner Frontier Store Museum, circa 1850, is on Washington Street. It takes its name from Sutton's Corner Crossroads – the intersection of highways 27 and 37 between Fort Gaines and Edison, Georgia.
"Back in the 1800s it was a thriving community – farming, of course," said Karen Klear, the curator at the museum. "They had the blacksmith, the gristmill, commissary store. It was its own community. It was a thriving community."
Three generations of Suttons lived in the area; the last generation – Warren Sutton − died in 1927 with no heirs. So, the store and other buildings at Sutton's Corner were boarded up and left to decay until about 20 years ago when local artist David Campbell received permission to go into the buildings and retrieve any artifacts.
The remnants now make up about 70 percent of the displays in the Sutton's Corner Frontier Store Museum.
It took Campbell about 10 years to sort through and move all the artifacts in the buildings. He even had to hire a "root doctor" to get rid of rattlesnakes that had taken up residence in the buildings. (It cost Campbell $25 and a bag of dog food for the snake removal, which was completed in three days with pots from the local hardware store and sulfur, according to Klear.)
"They were just full of snakes," Klear said. "As much as I hate snakes, they actually did us a favor because they kept people from going in there and taking things out. And it kept the rat and mice population down and from chewing everything up that was in there."
Recovered items include two petticoat counters – so called because on the front side, the counters slant inward toward the floor to allow women in hoop skirts to approach the counter. One of the counters is quite large with long uncut planks for its top; the other is smaller and would have been used for candy sales. It curves a bit in the center from years of children pressing against it and wearing down the wood.
"There are things in here I don't know if you'll see them anywhere else to be honest with you," Klear said.
A walk through Sutton's Corner Frontier Store Museum reveals an old grist stone for milling with heavy chains still attached to it. There's an old velvet green bean sheller that would have been taken from farm to farm for the families who could afford to rent it. There's a cotton scale and old store ledgers and bins that were used for storing goods in the Sutton's general store. A post office counter is even on display. And you'll get your fill of wagon wheels, whiskey barrels, cast iron pots and pans, old tools and farm implements. There are food containers and old ice cabinets, photographs, clothing, a spinning wheel and numerous old Vicks medicine bottles.
Hanging near the front entrance is a metal globe – a remnant not from Sutton's Corner but from the building where the artifacts are now all displayed. The museum was once the site of the Globe Tavern and Inn, an old stagecoach stop in Fort Gaines. It was in poor shape when David Campbell began collecting artifacts and some of the items in the museum were even recovered from within the building's walls during renovations – signs for products like Coca-Cola, Ivory Soap and Star Soap.
It's nearly impossible to get the full depth of all the items in the museum in a quick visit.
The museum doesn't get the visitors like it used to. It's maintained by the Clay County Historical Society and is open Fridays and Saturdays, 10 a.m. to 3 p.m. Klear, who lives nearby, leaves a number on the door for visitors to call if they come by when she happens to not be there.
Visitors respond differently to the old frontier artifacts. Kids often don't care, and older people especially remember grandparents who still had many of the items on display.
"It just brings back so many memories for people and they just really relate to it," Klear said.