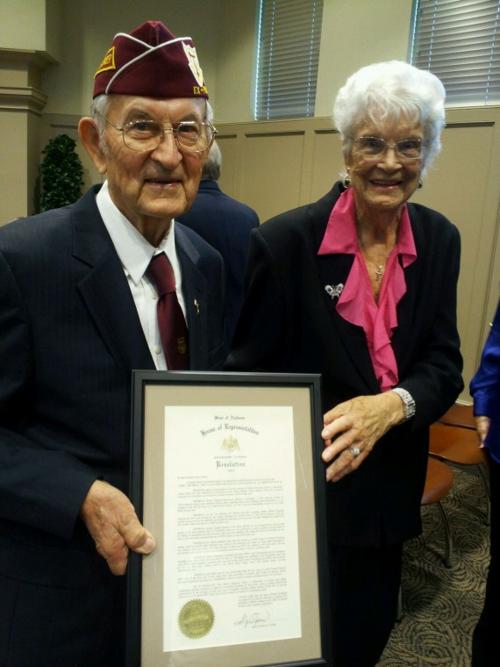 OZARK—Retired Master Sgt. Arthur "Ozzie" Osepchook still attends several veterans' events collectively honoring World War II veterans and prisoners of war like him.
On Tuesday, Osepchook was not only an attendee, but the honoree at an Ozark City Council meeting where proclamations by both the council and state Rep. Steve Clouse, R-Ozark, were read to publicize POW/MIA Recognition Day on Sept. 21.
Osepchook was a POW in World War II for 14 months after the B-17 "Silver Dollar" in which he was flying as a ball turret gunner was shot down over Berlin during his 21st mission.
He and the aircraft's waist gunner were the only two to survive the crash, he said.
He smiled with his daughter, son-in-law and wife on Tuesday as residents and councilmen lined up after the meeting to shake his hand.
"It was an honor to do it," the veteran said, oftentimes giving compliments to the residents in return.
According to the U.S. Defense POW/MIA Personnel Office, at least 142,246 Americans were captured and interned during World War I, World War II, the Korean War, the Vietnam War, the Gulf War, the Somalia and Kosovo conflicts, and Operation Iraqi Freedom.
An estimated 73,000 servicemen and women remain unaccounted for from World War II alone, according to the personnel office.
The third Friday of every September has been observed for decades as a day to recognize both POWs and those who are MIA.
Multiple programs have also been implemented to help POWs and other servicemen to both mentally and physically recover.