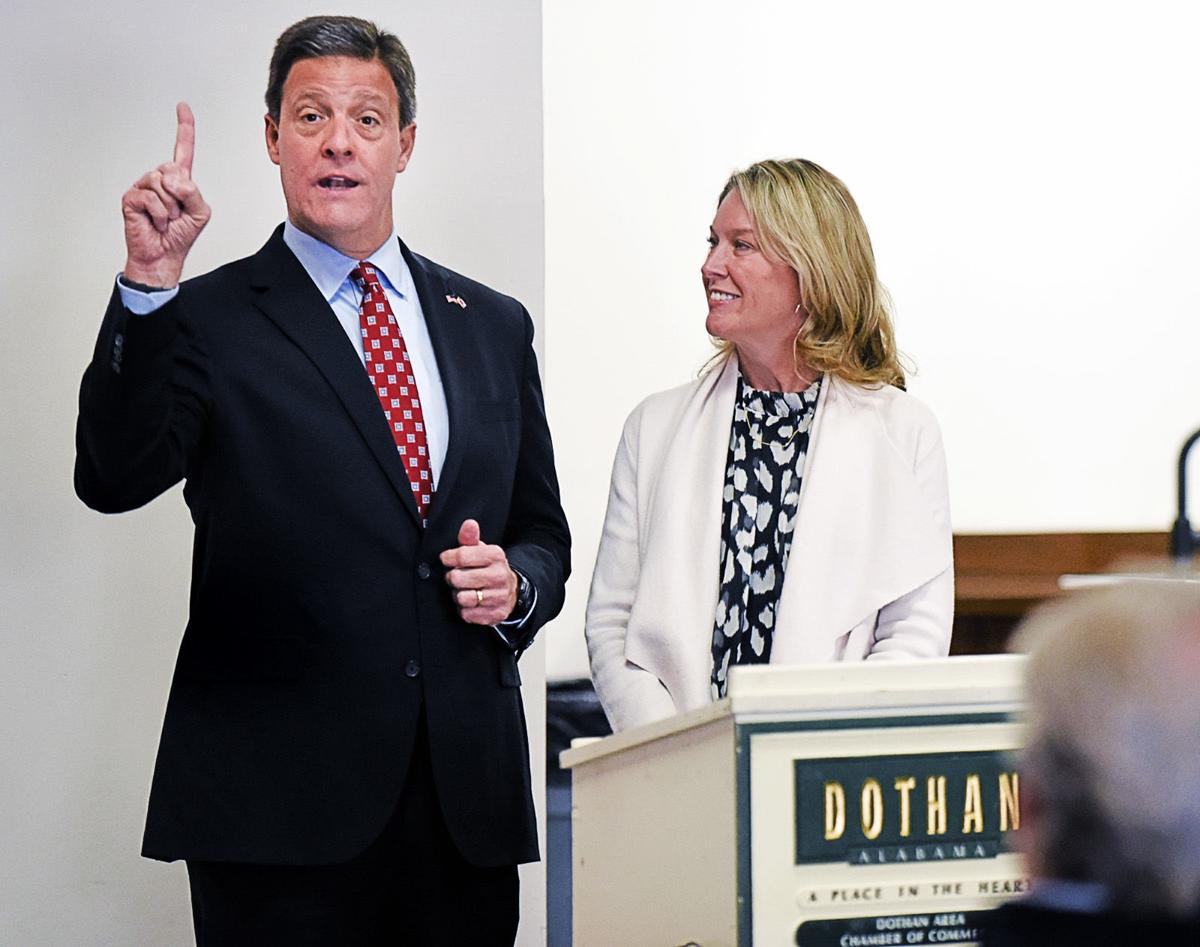 The organization representing the Dothan area's business community endorsed local businessman Jeff Coleman in the contest for Alabama's 2nd Congressional District seat currently held by Rep. Martha Roby.
Cliff Mendheim, chairman of the Dothan Area Chamber of Commerce, referred to Coleman as "the business community's champion."
The chamber has over 1,100 businesses, representing more than 30,000 people, as members.
The chamber's strong endorsement of the Republican candidate is rooted in its belief that the Coleman Worldwide Moving CEO would support the chamber's mission promoting economic development of the Wiregrass, Mendheim said.
"Anyone who has spent time with Jeff cannot deny his devotion, energy and drive for a better Alabama," Mendheim said. "Jeff is a man who cares deeply, honors family and the good Lord first, and sees opportunities through the lens of how can we work together to create excellent and quality jobs for everyone."
Coleman is a former chairman of the chamber; former chairman of the Business Council of Alabama; former member of Dothan's industrial development board; a former civilian aide to the secretary of the Army; and has elevated Coleman Worldwide Moving Co. to become one of the larger moving and relocation companies in the world.
He also is an advocate for early childhood education. His charity's $1 million donation was the catalyst for the Coleman Center for Early Learning and Family Enrichment, which serves children from 6 weeks to 6 years old at Troy University Dothan's campus.
"His involvement in education and working with the military is so significant when you're going to be up there in Washington and understanding the issues out there and representing the Wiregrass and our state and our nation to develop great policy," chamber President Matt Parker said. "I mean, so many times we see folks go up to Washington who didn't really learn that ground level. They just were up there at the top already. Jeff knows it. He's worked it. He's felt it."
Coleman said he and his wife, Tiffany, were greatly honored and deeply humbled by the endorsement.
"I'm all about what we can do to help our business community and help our community and help our economy grow and prosper. That's the biggest part of my platform as I go forward," he said.
He closed his address to attendees at Tuesday's news conference by asking them to continue to pray for him and his family as they enter the final stretch of his campaign for the Republican nomination for the seat. The primary election is March 3.
"This is not for the fainthearted or weary," he said. "This is very important business, but it's the people's business."
The business news you need
With a weekly newsletter looking back at local history.