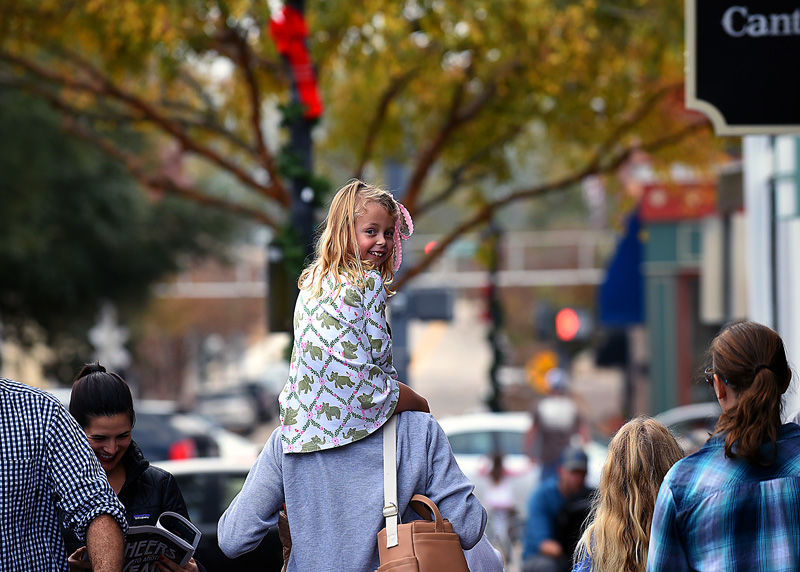 Dothan's annual Christmas Festival is bringing elves, S'mores, ornament-making and Santa to downtown this Saturday for an evening packed with old and new traditions the whole family can enjoy.
Jamie Bienvenu, executive director for the Dothan Downtown Redevelopment Authority, said the authority is partnering with the city of Dothan for the first time for a come-and-go style event.
"We wanted to try to provide something that's family-friendly, fun, and outdoors that you can come and go at your own leisure," Bienvenu said.
A free-play zone in the clock tower parking lot (Pioneer Park) at the corner of Foster and Troy streets will have inflatables, carnival rides and other attractions starting at 3 p.m. The 200 block of North Saint Andrews Street will be blocked off to provide a safety net for the play area and provide a route for a little train.
Live music will also be ongoing from 3-6 p.m. in the same area.
Bienvenu said some activities were eliminated this year, such as the bungee-jumping and zip-line, but other attractions are new this year.
After a matinee performance of the Nutcracker nearby, some of the main characters from the play will visit Pioneer Park.
Santa will still visit Porter Park, where he will read stories to children. Though children will not be able to sit on Santa's lap, he will be giving away bags of miscellaneous items and there may be an opportunity for a socially-distanced selfie. There will also be a station for writing letters to Santa. For other photo opportunities, there will be structures to take selfies with in Wadlington Park.
Dothan Leisure Services is asking parents to stay with their children to assist them in ornament-making activities and making S'mores.
For the premier event, Patti Rutland's jazz dance team will join the festival dressed as elves. They will help Santa dance his way over to the civic center to help Mayor Mark Saliba light the Christmas tree at 5:30 p.m.
The 100 block of Foster Street will not be blocked off this year to accommodate traffic going to downtown stores. All of the stores will be open for shopping. Other merchants selling wares and food trucks, like the Corn Dog Man and kettle corn vendors, will be stationed in the area until 7 p.m. at the close of the event.