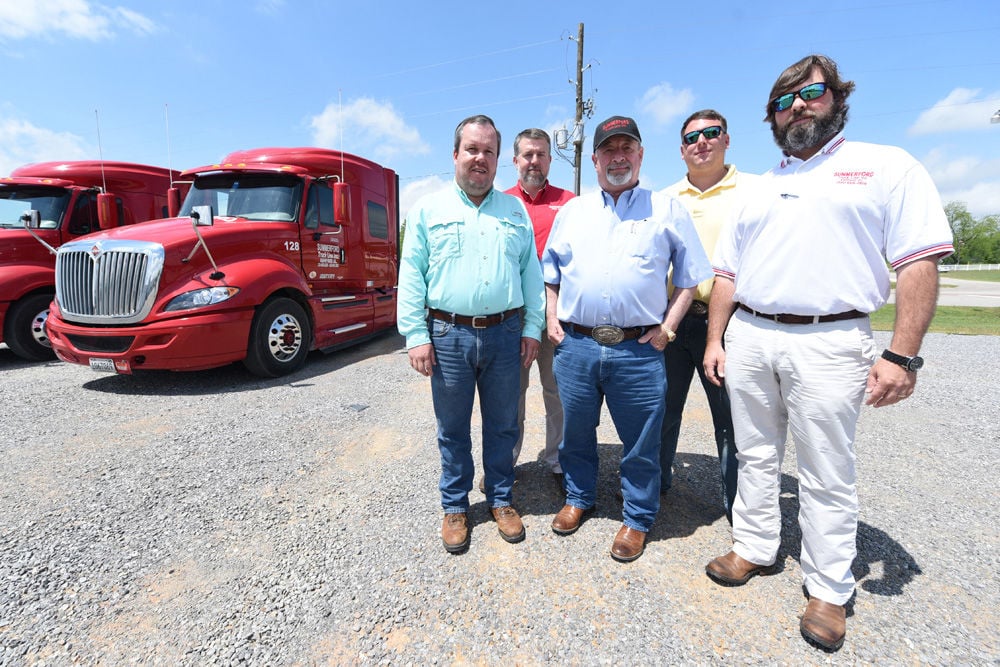 ASHFORD—John Summerford said he isn't sure what prompted his father, the late Joe Summerford, to trade a bird dog for a truck 88 years ago at the age of 15.
What John Summerford said he does know is that Joe Summerford's barter was the beginning of several more opportunities that have, over four generations, connected the Summerford name to more than 80 trucks and more than three different business ventures across two states.
Summerford Truck Line Inc. recently completed a new facility on Ashford Industrial Drive that houses the trucking company's office operations and shop apart from the Summerford Pallet Company. The pallet company, which is a pallet recycling business that started in 1994 to meet some needs on Summerford's trucking side, has locations in both Ashford and Poplarville, Mississippi.
The Summerfords also operate Summerford Mulch Makers, which uses unusable pallet parts to produce playground and yard mulch.
John Summerford's grandson, Summerford maintenance director J.J. Clemmons, said the Summerford brand employs about 250 workers across all its companies.
One of John Summerford's sons-in-law, Chris Lasseter, serves over Summerford's Customer Service division. Another son-in-law, Brent Shirah, is general manager of the pallet company.
John Summerford said each of his three daughters - Nealy, Susy and Julee - have also had a part in the family businesses throughout the years.
John Summerford said his father started the truck line in 1928 by hauling items such as farming commodities, bricks and turpentine from Gordon throughout the southeastern region. John Summerford was a farmer who assisted his father from time to time with the truck line before heading the company in 1976.
"It was the good Lord leading me because farming went to pot after then and we found out Daddy had leukemia," Summerford said.
"He lived about two more years. I was young and wanted to grow, but I had real good people around me and a lot of good drivers. I never really planned anything. It's just been plenty of opportunities, and you just have to pick the good ones out of the bad ones."
John Summerford said the truck line transitioned from about 20 trucks under his father's leadership to dozens more over time that transported steel products and machinery in the company's short haul and long haul divisions.
He said his drivers' experiences with pallets during grocery deliveries to Florida led to the beginning of Summerford Pallet Company in 1994.
"We were unloading a lot of trucks in Florida, so we traded with some grocery companies to haul their used pallets back to Ashford and refurbish them and sell them out, so it's really a win-win for the truck line and the pallet company," he said.
John Summerford said operating the businesses hasn't come without challenges and hard decisions. In May 1997, John Summerford said he sold out his truck line – including the name – to Alabama Motor Express (AMX).
"There was really no family in the business, and I was going to retire. (AMX) made me a good offer and I took it," he said.
"But I never quit (working). I went into my cattle more than anything else."
John Summerford said he continued to operate the pallet company. He credits Rusty Burgess, the pallet company's former manager, for keeping the pallet division afloat at a time John Summerford said he had no interest in doing so.
He said a conversation with Nealy about eight years ago, after fulfilling a five-year non-compete agreement with AMX, was what put the Summerfords back in the trucking business.
"It was an unconscious decision (to get back into trucking) in that we were hauling pallets off a pretty good ways and turning back into a for-hire carrier more than a private carrier," he said.
"When we were thinking of a name for it, Nealy started crying when she found out when I sold out in '97 I sold the name. All I knew to do was to ask Scott White (with AMX) if we could buy the name back. But we didn't have to buy it. He gave it to us."
John Summerford said the Department of Transportation also allowed Summerford Truck Line to retain its former MC number, 107960.
"Anybody in trucking knows that's a very old number," he said.
As with the trucking industry in general, John Summerford said his truck line struggles with recruiting qualified drivers during a time in which seasoned drivers are retiring and fewer new workers are interested in the field.
Clemmons said Summerford is in the process of working with Wallace Community College and some other partners to train drivers at the college.
John Summerford said entry-level drivers who finish high school could easily make between $50,000 to $70,000 per year, but that trucking is a career that takes sacrifice and understanding that the industry is likely the most regulated in the country.
"I've told my children that if you don't love trucks or truckers, it'd be a miserable way to make a living," he said.
"But I don't know anything that's always a bed of roses. I'm just thankful that we've been able to carry on what my daddy started and my mother had a big part in supporting my daddy in."
John Summerford said technology has advanced trucking from where it used to be.
"When we started, Daddy kept most of all that he was thinking in his head, and then he started writing it on paper. Now with technology, we know where a truck is all the time," he said.
John Summerford smiled when he recalled talking to his father about that initial deal that started Summerford Truck Line.
"I told him, 'that must have been a good bird dog,'" John Summerford said.
"He said, 'Not really. The dog or the truck weren't any good."