John Houston doesn't remember a time when he wasn't told he had a voice for radio – that's how long he's been on the airwaves.
The longtime Dothan morning radio show host grew up listening to his grandfather's big 1942 radio he bought when his kids went into World War II.
"On that, you could listen to everything in the world when AM was really popular and you could listen to all the big stations and the big jocks and I just thought, 'man, that's like so cool,'" Houston said. "I kind of got bit by the radio bug."
Though he was pressured to get what his family considered a "real job," Houston never considered being anything other than a radio DJ. The prospect of an exciting career that would allow him to use his penchant for antics and knee-slapping jokes to make people all over the world chuckle pushed him into the profession right out of high school, where he said he was considered a class clown.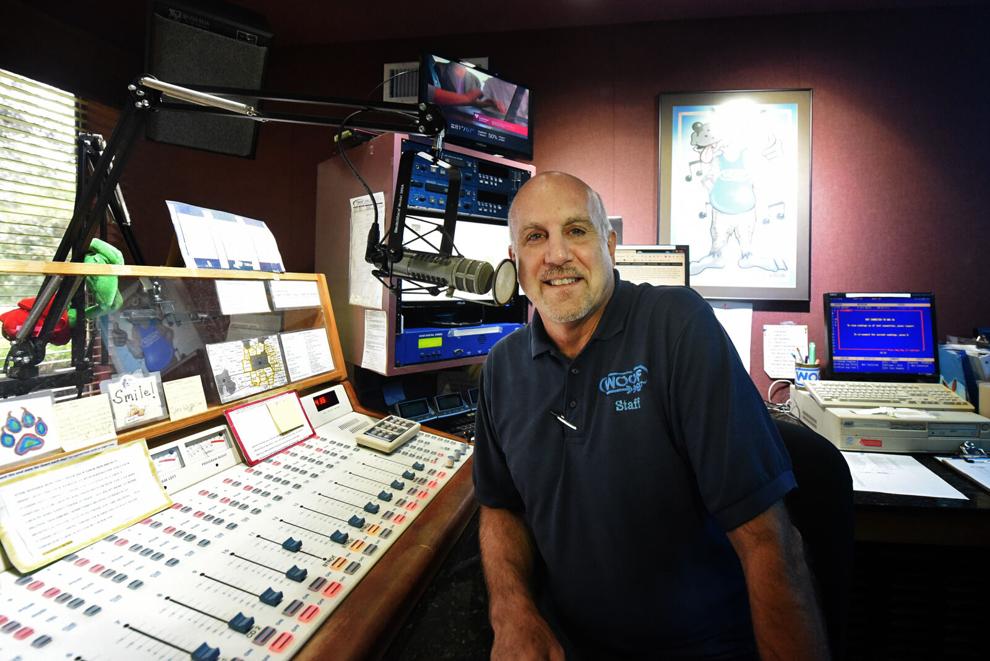 In 1976, he started working in Valdosta during a time when DJs picked their own music, played records, and played commercials from large tapes similar to 8-tracks.
From starting out playing hits like the Eagles' "Hotel California" to playing – one of Houston's current personal favorites – Dua Lipa's "Don't Start Now," Houston has observed how the way playing music across the waves has evolved with technological advancements along with listeners' expectations.
Houston remembers moving from playing music on records to "funky-looking tapes" and later incorporating cassette tapes, then CDs, and now, everything is on the computer.
"Before it was mostly intro and outroing records because people were wanting the hot new song," Houston remembered, noting the earlier popularity in AM radio. "Now, it's entertainment in-between the records – putting a smile on someone's face. If you got to get up and go to work in the morning, you could at least do it laughing, with a smile."
Houston didn't mind the progress of radio shows. Serving up laughs is a specialty of his.
After migrating in 1985 to a local station in the Wiregrass, his skillset attracted ABC Radio out of New York and radio personality Michael "Doc" Thompson, who eventually became the morning lead-in for Glenn Beck. Houston did morning show prep for ABC and wrote comedy bits for Thompson. His work was played out of hundreds of stations across the country for the delight of millions of viewers.
With the advent of the internet, his voice was broadcasted digitally as well.
At his first Wiregrass radio station, he experienced what he looks back on as one of the highlights of his long career.
After Desert Storm ended, Houston was inspired by Tom Petty's hit song "Learning to Fly" released months after the Gulf War ended as he felt the line "I'm learning to fly, but I ain't got wings" connected with Fort Rucker's Army Aviation service members who participated in the war. Many died in the conflict, and one was Houston's neighbor.
Houston mixed a song together using voice drops from senators, returning service members, and their families and played it on air as a tribute to the fallen and surviving soldiers. It was picked up by ABC Radio and their affiliate stations played it, too.
"Especially when one of the survivors of that aircraft on crutches came up, walked up to the stairs of the station I was at at the time just to shake my hand," Houston remembered with tears welling up in his eyes. After a moment, he continued, "A GI on crutches came to the station and walked up stairs to say thank you to me while we were saying thank you to them."
Houston also had personal ties to another major event affecting the Wiregrass, the Enterprise tornadoes in 2007. His daughter was trapped inside the high school after the tornado hit, killing several and injuring others. While he says covering that event was awful, especially given the fact it took three hours to find his daughter, he said the way the community rolled up their sleeves and came together to pitch in and help was inspiring.
The biggest highlight of his career, though, has been his listeners.
"I mean, they have been amazing over the years" Houston said. "You recognize the voices when they call in a lot of times and they joke around with you and tell you what they're doing."
A couple years ago, when Houston had a major motorcycle accident, he was overwhelmed with the amount of support he got from regular WOOF-FM listeners.
"They were sending in cards and letters and calls, prayer vigils and that was all very humbling," Houston said. "Because in my mind, I'm just the DJ guy that tries to make people smile. But to them, I was important enough to think about, to pray about."
His accident was a catalyst to conversations with his wife about his retirement. He's hoping when he retires, he'll be able to spend more time with his family consisting of five children and five grandchildren. Plus, he said, the 2:30 a.m. alarm clock is getting harder and harder to deal with.
"Who knows? After I retire, I may sleep into 5 or 6. That'll be great," he quipped.
Houston is exiting his role at 99.7 WOOF-FM and his 44-year career on a high note as the station was recently named runner-up as best station in the Wiregrass area, according to Dothan Eagle's 2020 Best of the Wiregrass voter results.
"It's been fun. I mean how many people can say they put their kids through college writing comedy bits that got played around the country?" Houston said.
Although he's apprehensive about leaving the workplace he's called home for the past 13 years and will miss its family-oriented atmosphere and his longtime colleagues, he's looking forward to sleeping in, kayaking, and fishing on a regular basis.
"I've done radio most all of my life. All of a sudden, it won't be there. I might just have to call into the radio station and pretend to be someone else," he laughed. "I'm the class clown that actually found a way to make money at it and make a living at it. It's been great."
His last day at the radio station is Oct. 1.
At the end of the interview, the Eagle asked Houston how he would like to be remembered in the minds of his listeners. Without pause he answered, "Just a good guy that made people laugh."