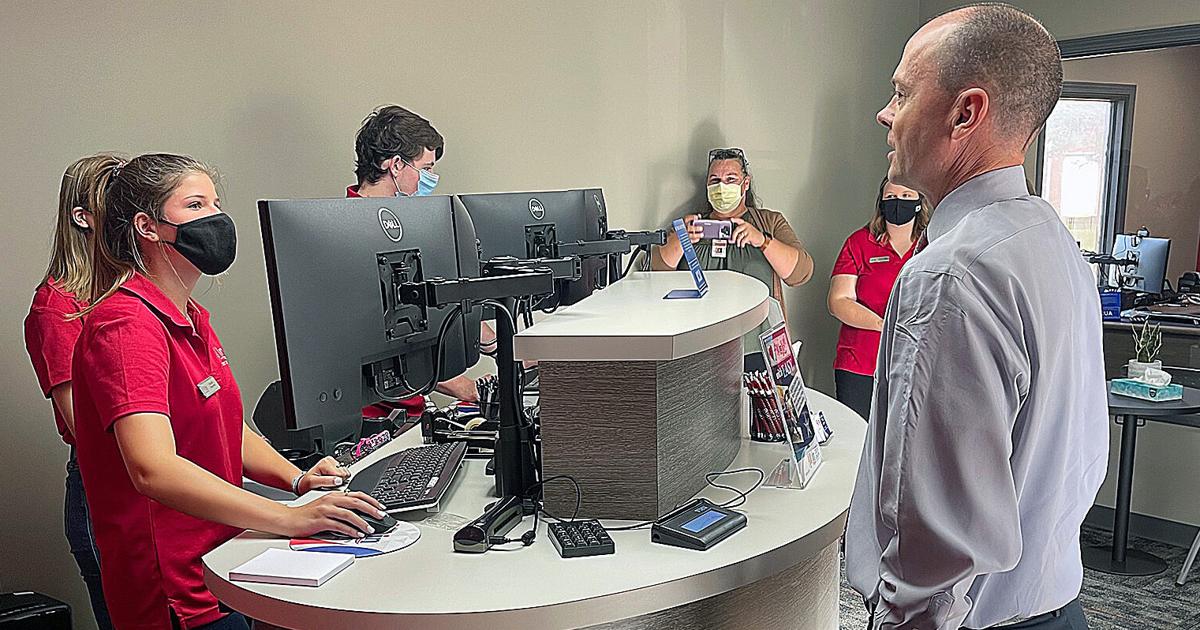 SKIPPERVILLE – Two students at G.W. Long High School were working their first shift at a newly-constructed All In Credit Union, Skipperville's first full-service bank, on their school campus on Monday.
Dale County Schools Superintendent Ben Baker was the financial institution's first customer as he cashed a check on Monday morning.
"This is huge," Baker said. "It's part of a bigger plan we've been working on to teach our students how to work, teach them soft skills and how to work with the public."
Four students have jobs at the Skipperville bank. They get paid for their time and get school credit by taking a work-based learning elective, Baker said. Other students are currently being trained in Daleville at All In Credit Union's headquarters.
Jonah Thompson, a junior at G.W. Long, said he took the job of bank teller because he wanted to work somewhere he felt valued and gage his interest in finance.
The bank has a full-time employee there at all times to supervise and to help with more complex tasks while Baker says the students learn about financial literacy, part of the school system's career technical programs.
Kyndall Wallace, a senior, has an eye on a career as a nurse. She said she took the opportunity to gain valuable work experience.
"I feel like this is a great fit for getting more experience with people on a daily basis," Wallace said, adding that she is becoming accustomed to working with the general public and providing good customer service despite sometimes challenging patrons.
The bank is one aspect of Dale County Schools' growing workforce development offerings.
Baker said the school system now has health science programs at two high schools and is preparing the former National Guard Armory building to create classes that will teach aviation and welding.
"We really believe we need to be teaching kids some workforce skills because we don't believe that every child needs to go to post-secondary school so we're preparing them for good jobs that are right here in the Wiregrass," Baker said.
The bank, located next to the main school building, is open Monday through Friday from 8:30 a.m. until 5 p.m. It also has a 24-hour ATM machine.
Sable Riley is a Dothan Eagle staff writer and can be reached at sriley@dothaneagle.com or 334.712.7915. Support her work and that of other Eagle journalists by purchasing a digital subscription today at dothaneagle.com.