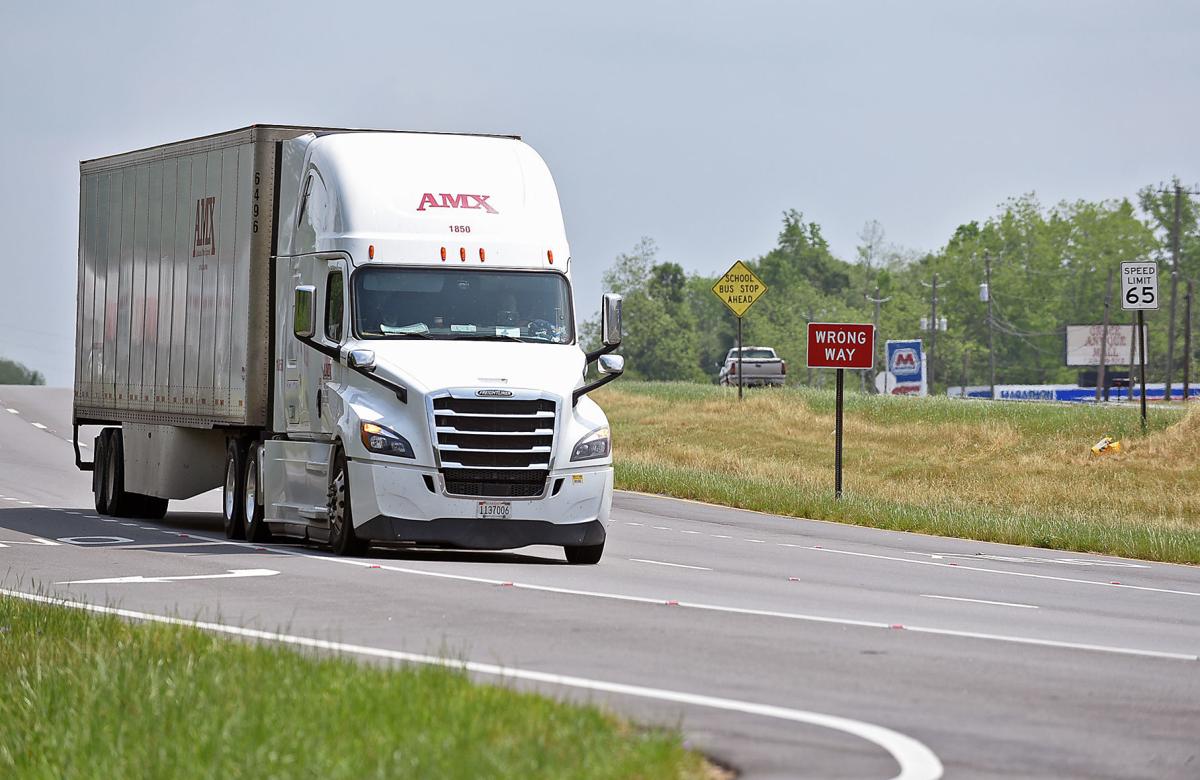 Although the springtime, bumper-to-bumper, beach-bound traffic that typically jams Dothan's Ross Clark Circle is gone, the presence of 18-wheelers on local roadways is a sign the trucking industry keeps rolling to assist essential businesses serving consumers.
However, the usual on-the-road routines many drivers keep have been altered as the coronavirus strengthens its grip on the nation. The changes are forcing trucking companies, including those operating in the Wiregrass, to adapt.
For more than 20 years, Alabama Motor Express operations manager Keith Grantham has worked with the company's drivers to emphasize the importance of not only serving customers, but always doing it safely.
With demand increasing for grocery and paper products such as toilet paper, Grantham is constantly sending his 225 drivers across 48 states delivering goods. It's during those trips that drivers have faced new challenges as they travel thousands of miles.
"With some businesses closed that we usually serve due to the coronavirus, the drivers are seeing a difference in their miles," Grantham said. "But for the operations that are open and doing business, the drivers are delivering and redelivering their goods."
Challenge to rest
Grantham believes drivers are meeting the new demands, although many of the safety issues in place due to the coronavirus present challenges.
"A driver usually gets out at a truck stop, stretches their legs and goes inside for a meal," Grantham said. "This provides a break from driving and gives the driver a chance to rest while enjoying a different atmosphere.
"Now, drivers can't go inside to dine. They don't have that break."
After the coronavirus hit the United States, several truck stops and rest areas were closed, which denied truckers a chance to rest, use the restroom and shower. That order has been lifted in most states.
The U.S. Federal Motor Carrier Safety Administration issued an emergency order last month to waive the usual time-off requirements for commercial vehicle drivers transporting emergency coronavirus relief.
However, Grantham said his drivers are running on a normal schedule not affected by the coronavirus.
"Due to the safety of not only our drivers, but for other motorists on the roadways, we feel it was in the best interest of everyone to run as we have always run," Grantham said. "Safety comes first. That's why we urge drivers to wash their hands as much as possible, use sanitizer and gloves. We want our drivers to be safe as they continue to provide the needs of the people."
Johnny Baker, CEO of Circle City Transport/Wheelwright Trucking, said his drivers also are facing the same challenges, including finding somewhere to park their truck so they can rest.
"I have a lot of drivers who say they can't find an area to park their truck so they can sleep, while others are dealing with the fears of the coronavirus," Baker said.
No-stop state
To help calm fears about the virus, Baker is continuously educating his drivers on safety precautions that should be followed.
"I want my drivers to be safe while they do their job," Baker said. "That's why at this time the drivers are being asked as they travel through Louisiana to reach their destination, to not make any stops in Louisiana. At this time, a large portion of Louisiana is considered a hot spot for the virus and to help ensure the safety of the drivers, we have made this request."
Both Grantham and Baker agree that their drivers are working hard to serve the people and hope that their hard work and dedication does not go unnoticed.
Glenn Tuck, store manager of the Piggly Wiggly on Selma Street in Dothan, said he appreciates his store's truckers and vendors.
"The truckers and vendors keep us going," Tuck said. "Without them running, we couldn't be open to provide the goods to our customers. We couldn't do what we do without them. We are very appreciative to everyone who keeps us going so we can serve our customers."
Concerned about COVID-19?
Sign up now to get the most recent coronavirus headlines and other important local and national news sent to your email inbox daily.