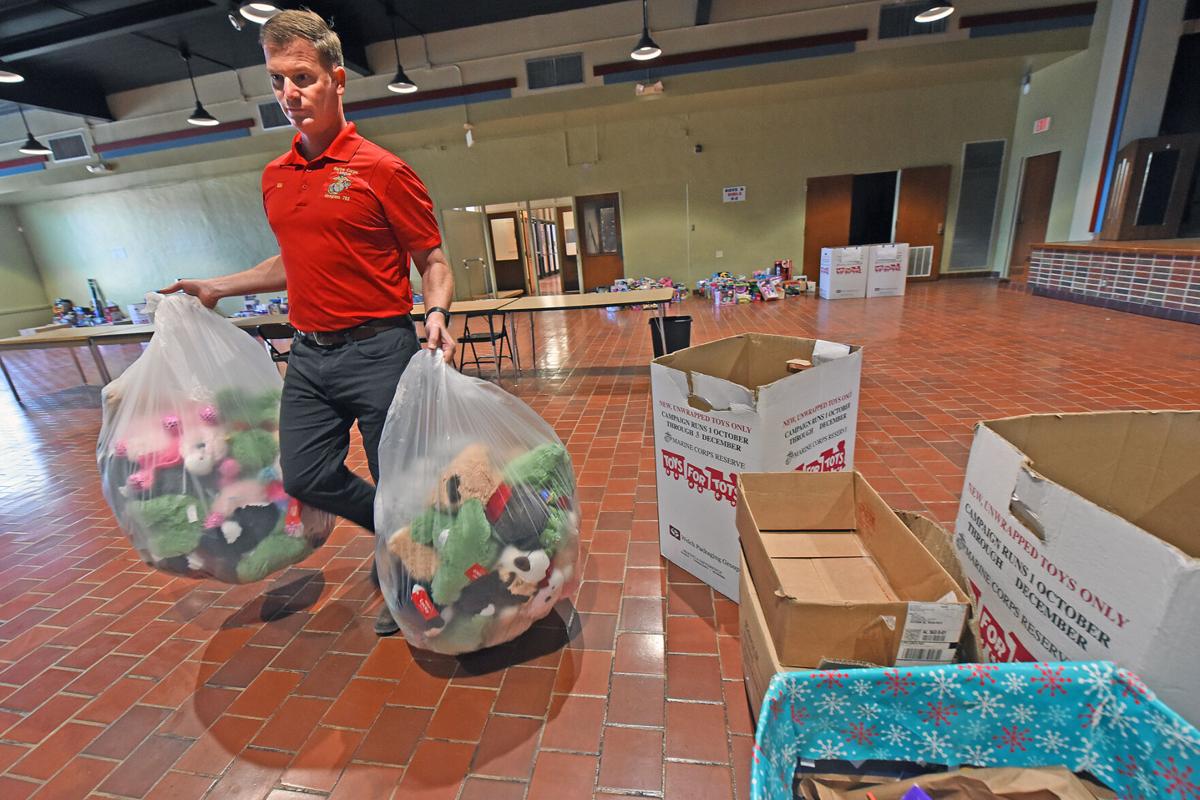 Toys for Tots is a massive volunteer-driven undertaking every year, and this year might be its biggest toy drive yet.
This holiday season marks the 15th anniversary for the successful Wiregrass program, which collects toy donations to distribute to families in need in five counties.
In the last several years, between 2,600-2,900 children in Houston, Coffee, Dale, Geneva, and Henry counties have benefitted from the endeavor.
This year, organizers believe the need will be greater than ever given the financial upheaval caused by the coronavirus pandemic.
"We think that we'll probably have more families because more are struggling as a result of COVID, so the Toys for Tots program is here for the families that are struggling," David Duke, Wiregrass 2-1-1 executive director, said. "It's a wonderful program and they do focus strictly on toys. They're probably going to need more toys this year than ever before."
Wiregrass 2-1-1 has helped coordinate registration for families who may need help providing gifts to their children by contacting family services organizations in the area and making it available to the general public.
There is an income qualification and families who sign up must not have registered with other toy-giving Christmas programs. Wiregrass 2-1-1 helps families figure out what documents they need to bring to a local agency to verify need. The registration deadline this year is Thursday, Nov. 19.
The Wiregrass Marine Corp League has taken the reins of the program once again after surrendering operations to the Dothan Area Young Professionals for the last two years.
The League ran the campaign for 12 years, but it became too big of a task as its membership aged, according to U.S. Marine Corp Reserve Maj. Bill Cox, coordinator of this year's campaign.
"They (DAYP) did a big thing by stepping up and running it," Cox said. "They really stepped up and did it for two years, which ultimately allowed children to get toys."
More recently, however, the League has seen an influx of younger members and Cox believes it now has the membership and personnel to coordinate the campaign.
"Our primary means of collecting toys are through white Toys for Tots boxes throughout the area. Those are already out in the community and we're still getting more requests from businesses," Cox said.
People can visit any of the stores and businesses spread out across five counties and drop off toys. Toy drop-off locations can be found at the Wiregrass Toys for Tots website. Money can also be donated online, and Cox said that money will stay in the community.
"The primary goal of Marine Toys for Tots is, through the gift of a new toy, help bring the joy of Christmas and send a message of hope to America's less fortunate children," the official website states.
Cox said Wiregrass Marine Corps Reserve League would like to provide three or four toys to each registered child, but usually exceeds that goal. He asks that people donating buy gifts less than $30. Through other donations from nonprofits and businesses, smaller toys, books, and stocking stuffers are also provided.
There are at least 50 white boxes at businesses in Enterprise and over 80 in Dothan so far and several toy drives are being promoted at local businesses.
On Friday, Toyota of Dothan is running a toy drive at Southside Walmart and the Marine Corp League is running one at the Enterprise Walmart on Saturday. A two-day drive is scheduled at Ollies on the south side of Ross Clark Circle on Friday, Dec. 4 and Saturday, Dec. 5.
Toys collected will be picked up by local volunteers and delivered to Grandview Elementary, which the Toys for Tots program have been given permission to use as a warehousing site by the city of Dothan.
Boxes will remain at local business through the second week of December, and toys will begin to be distributed to local agencies the week of Dec. 14. Wherever a family registered for toys is where they will go to pick up the toys. The dates for pick-up are assigned by individual agencies, who will notify families.
The business news you need
With a weekly newsletter looking back at local history.