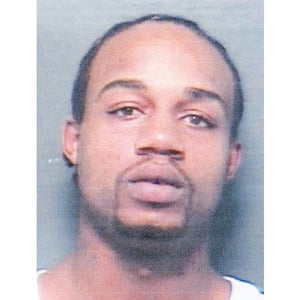 A Houston County judge dismissed charges Thursday against a Dothan man who faced the possibility of the death penalty had he been convicted of fatally shooting another man in the back of the head during a drive-by style shooting.
Circuit Court Judge Larry Anderson granted a request from the prosecution to dismiss the capital murder charge filed against Terrance Baker. Baker, 26, of Logue Street, will not immediately be released from custody.
Attorney Shaun McGhee, who represented Baker, said his client will return to prison to complete an unrelated drug distribution sentence of 12 years. John Steensland III also represented Baker.
Court records show Baker pleaded guilty to felony unlawful distribution of a controlled substance in 2006.
According to Brian Corbett, a state Department of Corrections spokesperson, Baker is due to be released from prison in June 2011 on the drug distribution charge. Up until Thursday, Corbett said Baker had served about two years and seven months of his 12-year sentence.
Dothan police arrested Baker in late 2008 and charged him with the murder of 41-year-old Gene Nichols on Christmas Day 2005.
"Mr. Baker has declared his innocence from the beginning," McGhee said.
Baker's capital murder case was scheduled for trial next week in Anderson's courtroom.
Police said earlier that Baker used a 9 mm gun to shoot Nichols in the back of the head as he traveled in his vehicle on Ross Clark Circle. After 41-year-old Nichols was shot, the Chrysler minivan he was driving crashed into a pole near the intersection of Ross Clark Circle and St.Mark Road. Police originally thought Nichols' killing was a suicide.
Police have called the shooting a "drug-related" homicide, and said that it was a dispute over drug money.
"It's a good resolution, he was looking at the death penalty," McGhee said. "This right here is an example of the DA's Office doing the right thing."
Houston County District Attorney Doug Valeska said the prosecution's two key eye witnesses to the fatal shooting apparently recanted on their story about what happened. He said the witnesses, two men, were allegedly traveling in the same vehicle as the shooter.
Valeska said those two men were charged with unrelated felony drug crimes, and have not been cooperative after they were released from custody for those crimes.
"It's not forever closed," Valeska said. "The police will continue to look for other witnesses. We'll continue to investigate it and the police will continue to try and get other leads."