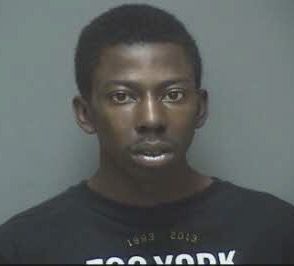 A Houston County judge issued a ruling Wednesday reducing the bail for a Dothan man charged with using an AK-47 to fatally shoot another man.
Court records show District Court Judge Benjamin Lewis set bail at $75,000 for Starlin D'Neil Knight, reducing it from $250,000.
Lewis considered a bail reduction request made by attorney Matt Lamere, who represents Knight, for nearly four days before making his ruling. Lamere argued to the court his client had fired in self-defense.
Lewis also issued a special condition of the bond reduction, ordering Knight to be electronically monitored at his own expense if he were to post bail.
Dothan police investigators arrested Knight on March 6 and charged him with the fatal shooting of 33-year-old Shira Dwayne McKinnie.
Dothan Police Investigator Curtis Stephens testified at a bail hearing late last week about how the victim died after suffering two gunshot wounds while traveling in his vehicle. The vehicle then crashed and caught fire near the intersection of Spring and Persimmon streets.
Stephens said the suspect admitted he'd been making drug deliveries when someone apparently had asked him to slow his vehicle down. Stephens said the suspect exchanged words with some people, during which weapons were displayed but not yet fired.
"He had a shootout on Spring Street after an altercation with two people," Stephens said.
Stephens said police found 19 shell casings on Spring Street. He said a shotgun was found inside the victim's vehicle, but he had also reportedly been hunting recently too.
Lamere said the defense was not disputing his client was selling marijuana, but said his client was not charged with selling drugs.
District Attorney Doug Valeska called the fact that the suspect fled the scene of the shooting, and used an AK-47, more than just self-defense.