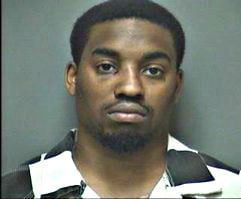 A man police believe shot and killed a 23-year-old woman Sunday night said Tuesday he will be hiring an attorney to represent him in court against capital murder charges.
Jamie Emmanuel Townes, 26, made his first appearance in court Tuesday morning in front of District Judge Benjamin Lewis, where he was advised of his rights going forward.
Townes is charged with capital murder in the death of 23-year-old Breunia Jennings. Police believe Townes shot Jennings because he believed she stole his car. A person convicted of a capital crime is eligible for life in prison without parole or death.
A handful of extenuating circumstances trigger a capital murder charge under Alabama law. A person can be charged with capital murder if the victim was shot inside a vehicle.
Dothan Police Chief Steve Parrish said Monday that police were initially responding to a suspicious vehicle report Sunday night when they arrived at what initially appeared to be an automobile accident on Allen Road near Lake Street. Parrish said a closer look indicated a shooting had taken place.
Parrish said Jennings suffered a gunshot wound to the head. He said several rounds were fired at the vehicle she was driving, but one struck her in the head that caused critical injuries
Townes has several previous arrests for drug and theft offenses. He was most recently arrested in 2015 for stealing around $2,000 worth of merchandise from Burlington Coat Factory at Wiregrass Commons Mall. He was sentenced in 2016 to 30 months in prison for the offense and three others. Court records indicate he was paroled Sept. 12, 2016.