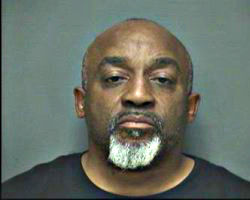 Community activist Rev. Kenneth Glasgow repeatedly questioned the capital murder charge against him at Glasgow's first appearance in court since his arrest Sunday night after a fatal shooting on Allen Road, and provided a possible indication of his defense in comments made to the judge.
Glasgow is facing capital murder charges in connection with the Sunday night death of 23-year-old Breunia Jennings. Police believe Glasgow drove a car from which Jamie Townes, a passenger, fired shots that resulted in the death of 23-year-old Breunia Jennings of Dothan. Police believe Townes shot Jennings because he believed she stole his car.
During the hearing, District Judge Benjamin Lewis informed Glasgow of his rights. Glasgow, in return, asked Lewis how he could face capital murder charges.
"I don't know why I am facing capital murder charges," Glasgow stated. "I'm not responsible for what someone else does. He just asked me for a ride to take him to look for his car."
Lewis informed Glasgow he needed to stop making comments until he could speak with his attorney. Glasgow asked Lewis to appoint an attorney to represent him. However, his mother, Tina Glasgow, informed Lewis the family would be hiring an attorney to represent Glasgow.
Glasgow inquired about bail. Lewis informed Glasgow his current charge was not eligible for bail. A preliminary hearing will be held April 6 at 9 a.m. to determine whether a judge believes there is enough evidence to send the charge to a grand jury for possible indictment. Lewis informed Glasgow that he could be eligible for bail if the capital murder charge was changed to a lesser charge at the preliminary hearing.
Glasgow's mother, Tina Glasgow, attended the first appearance and declined comment. Another person attending the court appearance with Tina Glasgow said Kenneth Glasgow "stands for life, not death" as they exited the courtroom.
Glasgow has been involved in several community movements since being released from prison. He was convicted on drug charges in the late 1980s. Upon his release, he founded The Ordinary People Society, a community and homeless ministry in Dothan. He has advocated for the restoration of voting rights for ex-felons and helped start Moma Tina's Mission House in Dothan, along with his mother.
Glasgow has referred to himself as Kenny Sharpton Glasgow on several occasions and is believed to be the half brother of the Rev. Al Sharpton, founder of the National Action Network.
Under Alabama law, murder committed by or through the use of a deadly weapon while the victim is in a vehicle is considered a capital crime. A person convicted of a capital crime is eligible for life in prison without parole or death.
Also, under Alabama's complicity statute, a person believed to have aided or abetted a crime is equally liable for the underlying crime.
Be the first to know
Get local news delivered to your inbox!