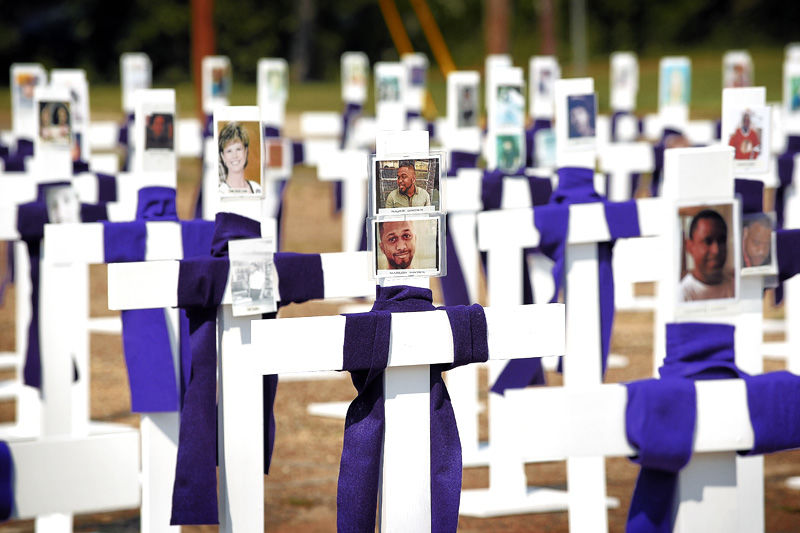 With more than 400 violent deaths categorized as murder or manslaughter in 2016, Alabama had the nation's third highest homicide rate that year, according to statistics released by the FBI.
Just in the Wiregrass area from September 2018 to September 2019, 17 murders occurred, which underscores the need for Wiregrass Angel House, a Dothan organization that serves as an advocate for victims of homicide.
The Angel House advocates for victims' rights and services for victims of violent crimes, providing direct services to the victims' family.
"There are too many homicide victims," said Angel House Director Shelly Linderman. "The sad thing is there are too many people who just don't know how many people are victims of a homicide. This is something that can't be swept under a mat. These are family members and friends who have lost loved ones way too soon."
That's why the Angel House is dedicated to educating the community on its upcoming event, the 2019 National Day of Remembrance of Homicide Victims. The event is scheduled for Sept. 25 at 5:30 p.m.
"This is a special day," Linderman said. "This is the only day of the year families affected by homicide don't have to share with anyone. This day is all about remembering the victim lost to homicide."
Leading up to the National Day of Remembrance, the staff at the Angel House will display crosses draped in purple, and each cross will bear a picture of a victim of homicide.
More than 220 crosses face West Main Street at the Angel House on North Alice Street, and each cross is represent a victim of homicide, and it also represents someone who was taken from their family too soon.
"We do this as a way to remind the community how many victims have lost their lives," Linderman said. "The evening of the remembrance, we display the photos as well as our remembrance quilts. It's sad to say, but now we have two remembrance quilts. The quilts display a photo or message from the victim's family to the victim. This is their special way of remember their family member."
The first quilt was made in 2015, and displays 75 victim photos.
"The first quilt was made by my husband, and it was a true labor of love," Linderman said. "The second quilt was made by Quilted Creations in Headland. The quilt is made by volunteers who have given their time to help provide the quilt to the victim's family. They have done such a beautiful job with the quilt. Each square of the quilt is dedicated to a victim. Although the victims are different and come from all walks of life, the pain the family feels is the same no matter what."
Additional families will be represented on the quilt this year.
There will be less space available, Linderman said, adding some families are just not ready to deal with confronting the murder of their loved one.
"Seeing your child's face on a quilt, or seeing something dedicated in the memory of your child, mother, husband, etc. — sometimes it just takes time to participate," Linderman said. "We understand that completely. However, we do want the family members to know, when they are ready to remember their loved one, we are ready to help them any way we can."
People of all ages, races, and gender fill the quilts and are represented by a cross displayed at the Angel House.
"Being a victim of a homicide can happen to anyone," Linderman said. "That's why we try to educate the community. We want the family of the victims to know they are not alone. There are others who are hurting just like they are. That's what this special day is about — letting the families remember and honor their family member. This is not about politics. It is about the victim."
Although this national Day of Remembrance is designed to give the families a little comfort, it is also designed to provide a partnership between the victim's family and the community.
"We would love to have the community participate, and show their support for these families," Linderman said. "Each family has been hurt, and many have found a way to find their new normal. But then on the other hand, many are still trying to find their new normal. But if we all come together we can show these families they are not alone."
This year's guest speaker for the remembrance will be Carolyn Tyus, a victim services officer for Montgomery County. Tyus is also mother who lost her son too soon when he was struck by a drunk driver and killed. She is using her family's tragedy to help others.
"We have victims who are infants, ladies in their 80s, black victims, white victims, male victims, and female victims, but they share two common factors," Linderman said. "They were all taken from their families way too soon, and they were all murdered. I urge everyone to attend this year's National Day of Remembrance so we can show our support to these families."
Angel House opened in Dothan in 2004, and has provided services to more than 4,000 survivors of homicide victims. Additional services provided by Angel House include crime scene cleanups, court attendance, funeral assistance, compensation filing, dog therapy, individual counseling, and crisis intervention.
For more information regarding the National Day of Remembrance for Homicide victims or additional information regarding services available at the Wiregrass Angel House, call 334-702-7010.