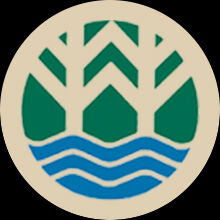 As we all work to figure out the best way to stay physically, mentally, and emotionally healthy, keep in mind that Landmark Park offers beautiful, wooded walking trails for families to enjoy.
The elevated boardwalk at Landmark Park is about a third of a mile long. It goes through the woods and over a creek, giving walkers a chance to see native plants and wildlife while listening to birdsong and leaves rustling in the wind. The boardwalk is also handicap-accessible, and kids of all ages enjoy getting outside in nature and being active. If you're lucky, you might catch a glimpse of a huge turtle that swims with his friends in the creek. I've also heard the slap of a beaver tail on the water, warning his family that an intruder is approaching. I've even seen a family of frolicking river otters playing on the creek bank.
The nature trail is about a half-mile dirt path that takes hikers even farther into the woods, and that's where the fun really begins. In the past, I have seen turtles, otters, rabbits, armadillos, and even a turkey on the nature trail. Ever since I was a kid, the woods have been a magical place for me. In addition to enjoying the natural beauty, my imagination runs wild when I'm in the woods. Even as an adult, I can't resist lifting my arms in the fog, pretending to part the mists of Avalon, like a priestess in a storybook.
Studies have found that disconnecting from technology can improve creative thinking and problem solving skills by 50%. The constant demand for our attention in an urban setting can be distracting and stressful, with every ringing phone and dinging text interrupting our thoughts. Disconnecting from technology and spending time in nature can reduce metal fatigue and soothe the mind. Hiking, walking, and being active can significantly improve your physical health in many ways as well, and Landmark Park is proud to give visitors a chance to enjoy the great outdoors.
Instead of paying gate admission each time you visit the park ($4 for adults, $3 for kids, higher prices for special events), visitors are encouraged to purchase a park membership. While different levels are available, the most popular is the Family Level. For just $60 per year, two adults, children and grandchildren can enjoy free daily admission to Landmark Park, plus free special events, free planetarium shows, discounts on summer camps and a subscription to our newsletter.
Due to COVID restrictions, masks are required when inside the buildings at Landmark Park and outside when in large groups or close quarters. If you do not have a mask, we have some for sale in the gift shop and the Martin Drugstore.