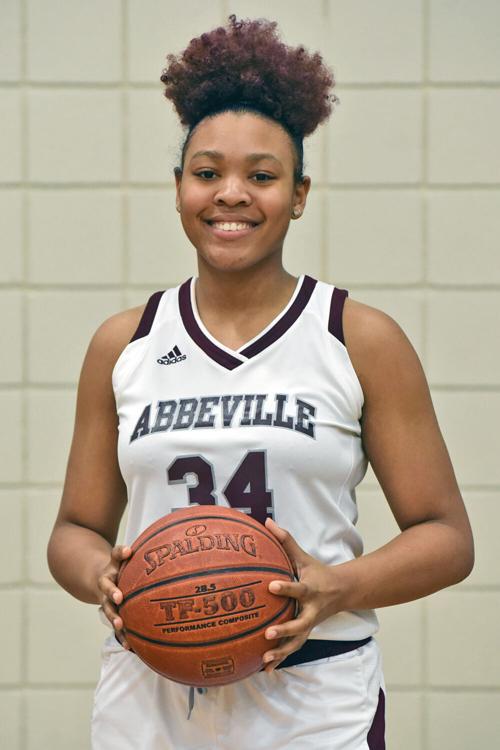 Enterprise State Community College head coach Jermaine Williams refers to Abbeville girls basketball standout Madisen Grimsley as an old-fashioned, hard-working type of basketball player.
Grimsley, a 6-foot forward-center, will take that style of play to Enterprise next season. The recent Yellow Jacket graduate officially signed to play with the Boll Weevils recently on the Abbeville campus.
"She has an old-school style of game," Williams said. "She is real fundamental. She doesn't try to do a lot of fancy things. She does the simple things to get the job done. She does little things, like getting a three-point play (field goal and free throw), that are big."
Grimsley earned Dothan Eagle Super 12 honors and Class 2A third-team all-state accolades from the Alabama Sports Writers Association this past season after averaging a double-double of 12.0 points and 10.4 rebounds a game. She also averaged 4.2 blocks, 2.1 assists and 1.7 steals a game.
As a junior, she averaged 10.5 points and 9.5 rebounds a game, helping Abbeville to a 16-12 record and to the regional postseason tournament.
"I decided to play at the next level because I really love the sport and I want to keep playing. I also wanted to further my education," said Grimsley, who said she planned to major in early childhood education.
Grimsley said she felt Enterprise was a perfect fit for her.
"Enterprise is close to home, it's just 55 minutes away," Grimsley said. "I visited and it was very nice. I really liked it and I enjoyed myself when I went, so I feel it is the perfect place for me."
Enterprise's Williams said the Boll Weevils are losing their post players from this past season and that Grimsley, with her talent, has a chance to be a major factor in the Boll Weevil season this winter.
"I told her that I didn't need her to come in shy because she will play a lot of minutes," Williams said.
The Enterprise coach said he was impressed with Grimsley, especially in her ability to rebound and finish underneath the goal.
"She is really, really strong at rebounding," Williams said. "That is one of the things that caught my attention – was that she can rebound well and do other things on top of that by finishing off at the rim."
Grimsley said her strength was "rebounding and helping in the paint."
Abbeville head coach Darryl Brooks said aggressiveness is a key to Grimsley's success, especially on the boards.
"Madisen does well in blocking out and rebounding," Brooks said. "She is very aggressive and we want her to be more aggressive (in college). She is very aggressive around the goal."
A six-year letterman on Abbeville's varsity and a four-year starter since her freshman season, Grimsley improved every season, said Brooks.
"Madisen is very energetic," Brooks said. "She has come a long way since she first started here as a ninth grader. She has a very good work ethic as she works hard. She is always concerned about wanting to do better and better. She has improved herself over the years and gotten better each year."
One of the biggest improvements in her game this past season was at the free-throw line. As a junior, she hit only 49.3 percent (31-of-63), but improved to 71.9 percent (115-of-160) this past year after a lot of work.
"I practice a lot. I shoot free throws all the time," Grimsley said.
"She worked on that more than anything else this past year," added Brooks. "She spent a lot of time on those even after practice."