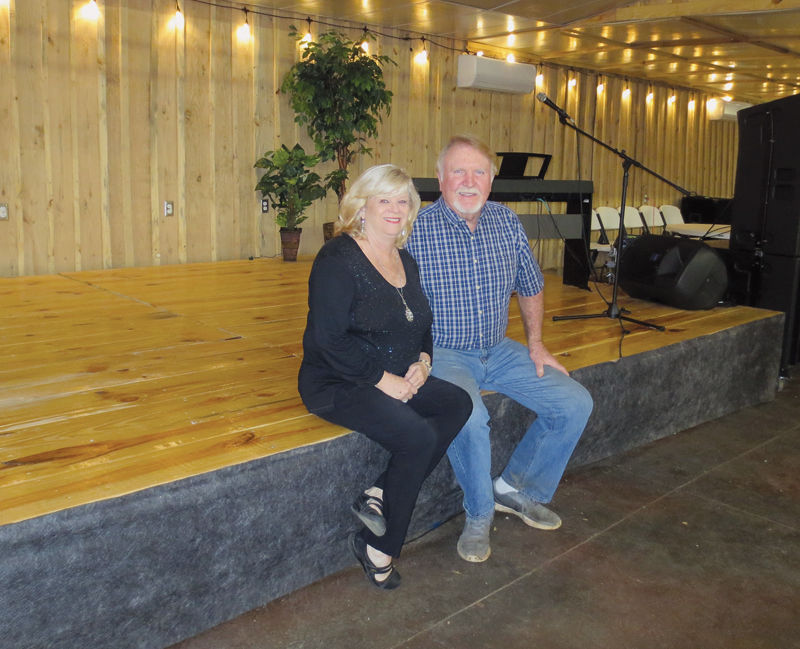 A dream held for 20 years began to take shape 26 months ago. That is when Tim Walker finally convinced his wife Sherryl that a rustic barn suitable for rental should be built on land long held in Sherryl's family. He viewed it as a way to celebrate her family's legacy while providing a place for members of the community to gather to hold their own special celebrations.
"I told Sherryl 20 years ago that I wanted to build a barn," said Walker, a retired telephone company engineer. "Two friends, Selena Bond and Beverly Dean, wedding planners, said they wanted me to build a barn. I put the idea on my bucket list. Two and a half years ago, I told Sherryl I'd build a little barn. It was small, the first section. Two or three people told me I needed to build it bigger. I doubled the size and added two wings onto it."
Today, a 10,000-square-foot facility, complete with heat and air conditioning and an elevated stage, sits on a portion of land known as Jones Crossing. As Sherryl puts it, "Celebration at Jones Crossing is a unique, family-owned venue carefully designed to make your special event one to remember."
The construction of the rustic barn was a labor of love for Tim Walker. Six of their 10 grandchildren also worked on the facility. "A lot of family hours and great family time was spent working on this project for 26 months," Walker added.
He built the facility by hand from wood cut from the property where the barn sits. Ninety trees were used in the construction.
"I had a sawmill brought in," Walker said as he explained the construction process. "Those trees created 226,000 board feet of lumber that was used to build the barn – the board and bat on the inside and outside."
While Tim worked on the building, Sherryl says she didn't visit the land to see the work in progress.
"I didn't see it until it was almost finished," she said. "I came last Easter and brought my family over. It (property) was a mud hole, but the building itself was very nice."
More importantly, it was a tribute to her ancestral roots.
"This property was my grandmother's (Adele Jones) property," she noted. "This is where my grandparents raised 11 children. The land was their legacy and something that they cherished. Since the early 1900s, this land has been part of the Jones family. The 140 acres that they had acquired through the years became Jones Crossing.
"When I grew up this was a gravel road and a cotton field. All of this land is Jones property. It was dear to my grandmother and to my mother (Inez Jones Purvis). And, this is where I grew up. This land, yes, I'm very deeply sentimental about it. When it came time to naming it (the barn and surrounding property), it was very important for me to have the Jones name in it. It's all based on family, faith and friends. We hope other people can come out and make good memories here."
As the construction of the barn took place, Tim Walker added some much-needed amenities. More lighting was installed, and he built a large warming kitchen.
"It's a very good venue for parties," Sherryl said. "One of its biggest features is that we have this great stage with light bars. It also has the capability for a sound system to be brought in."
The facility currently has 160 chairs, 20 round tables and four eight-foot rectangular tables. It can accommodate 400 individuals seated with the tables and chairs.
"It's a facility that you will want to use with your family," Sherryl continued. "It's great for family reunions, weddings, birthday parties, bridal showers and baby showers. We've already hosted a concert here."
As with any project, once one phase has been completed, another phase seems to beckon. Landscaping around the facility remains a work in progress. But that is not the only work being done on the property.
"We will have a bridal suite," Sherryl said of the future plans. "On the outside of the outside of the building we will have a courtyard with lights and a picnic pavilion with restrooms. All of that should be finished within the next year."
To accommodate the ease of transition from inside events to outside events, Walker put in a large roll-up door on the south end of the barn that opens to the courtyard.
It should also be noted that four catering services are within easy distance of Celebration at Jones Crossing. The barn sits near the intersection of Fortner Street and South Brannon Stand. Its spacious parking area can hold up to 400 vehicles.
The facility is rented by the day. For Friday and Saturday, the rental fee is $1,200. For weekdays, the rental fee is $800.
For more information about Celebration at Jones Crossing, contact Tim or Sherryl Walker at 793-1700 or 714-2720.