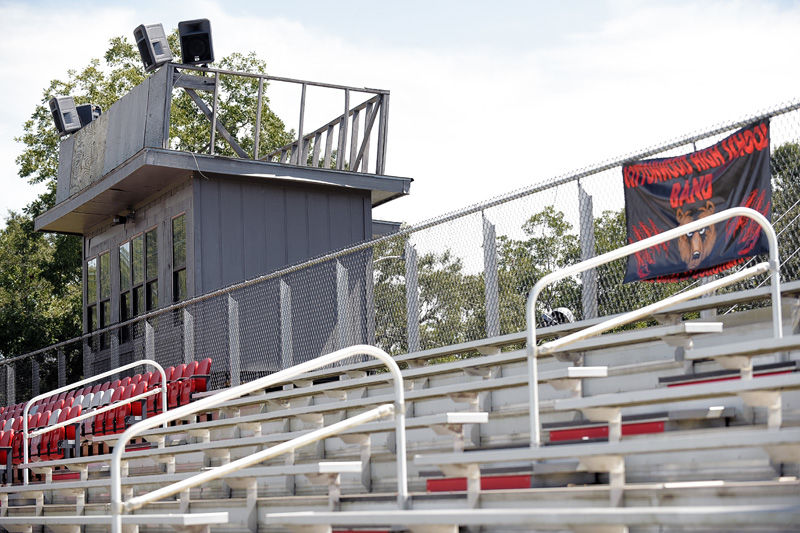 Cottonwood High School will be able to renovate its football stadium press box, which suffered damage from Hurricane Michael a year ago, with a $15,000 donation from the Wiregrass-Houston County Foundation.
"It will provide a safe environment for the opposing coaches and our coaching staff with the new addition and remodeling. It just gives a sense of pride to our small-town culture here at Cottonwood," Principal Paul Strange said.
The press box was originally built in 1990, according to Houston County Superintendent David Sewell, who recalled helping create the structure 30 years ago.
Insurance would not cover the little damage that was done to the building because it determined the structure was "already in bad shape before," according to Sewell.
The plan is to keep the money in-house and allow the maintenance department to gut the inside of the outdated press box and create new entrances at the front.
Part of the $15,000 will also be used to paint Cottonwood's logo on the newly-refurbished basketball court inside its gym. Hurricane force winds peeled back the main roof of the gym and debris and moisture damaged the inside last October.
Most of the costs associated with building a new roof and installing a new floor were covered by insurance. Bleachers were being installed on Friday and construction is anticipated to be completed next week.
Sewell said Ken Cross from the Houston Economic Development Association approached him last year after the storm blew through to inquire about their needs. While insurance covered many of the damages, some of the needs were aesthetic in nature.
HEDA is the non-profit entity created as the actual operator of bingo at Center Stage on U.S. Hwy 231. By state law and permitting regulations, net revenues from bingo must be donated to charities, non-profits, and entities like school systems.
Wiregrass-Houston County Foundation is an organization to help it process net revenues from bingo played at the facility in southern Houston County.
Bill Durden, representing the foundation, presented the check to Sewell, Strange, board member Rickey Moore, and Houston County Commissioner Douglas Sinquefield at Cottonwood High School's football stadium on Friday.
"We're proud to be here today to give back to the community, and go Cottonwood Bears!" Durden said.
A logo will be painted before the start of basketball season, but the press box renovations will begin after football season ends.
Be the first to know
Get local news delivered to your inbox!