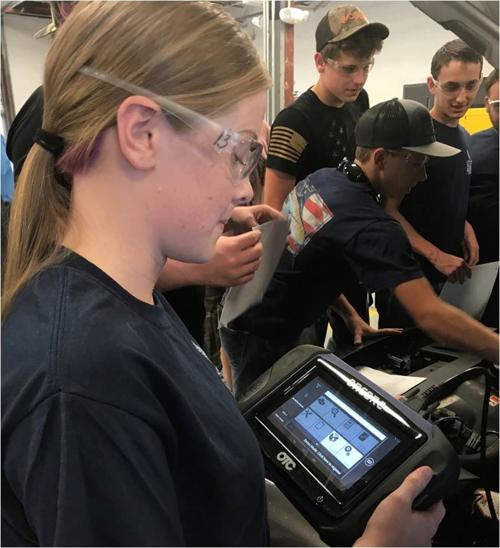 Alex Ward got her start working on automobiles by helping her stepdad. By the time she was 16, she was rebuilding her 1987 Chevy Silverado pickup.
For Ward, the automotive technology class at Houston County Career Center was a natural fit.
"It's fun to teach other people if they don't know something," she said. "And you get a sense of accomplishment from learning and doing something yourself."
A donation to the program by Toyota of Dothan and O'Reilly Auto Parts will help Ward and other students learn more about the high tech aspects of auto repair. The two businesses partnered to donate an OTC Encore diagnostic scanner to the school. The device interacts with computerized components of the vehicle and allows mechanics to pinpoint potential problems.
Bob Schoenfeld, fixed operations director for the Mitchell Automotive Group, which includes Toyota of Dothan, said the business donated the device to help the school create a skilled labor pool from which Toyota of Dothan and other local car dealers and auto shops can draw.
"We're trying to help them so some of these kids can come work for us," he said.
Ricky Lowery, district manager of O'Reilly, said the automotive industry has a shortage of skilled labor as the current generation of workers ages and retires with few younger workers to replace them. Schoenfeld said that while the popular perception of the job isn't glamorous, auto mechanics and technicians who advance in their careers can command high salaries.
"There are master technicians who can earn $100,000 a year or more," he said.
Monty McCullough, automotive technology instructor, said contributions by local businesses like Toyota of Dothan and O'Reilly's were essential to helping his program stay current with technology in the industry. McCullough said the device donated by the businesses was now an industry standard, but it would have taken him a long time to obtain the $2,000 piece of equipment through regular channels.
"If I wanted something like this, I would have had to plan it one year in advance," he said.
McCullough said partnerships with local businesses also help him find job shadowing and apprenticeship opportunities for his students.
Matthew Danford, of Rehobeth, is a student in McCullough's class. Danford said that he's studying automotive technology as a back-up career, and that he's primarily interested in it as a way to save money. Danford said he enjoys working on vehicles and that the new device will help him have a better understanding of how auto shops work.
"I enjoy it," he said. "I like anything where you can work with your hands."
Be the first to know
Get local news delivered to your inbox!