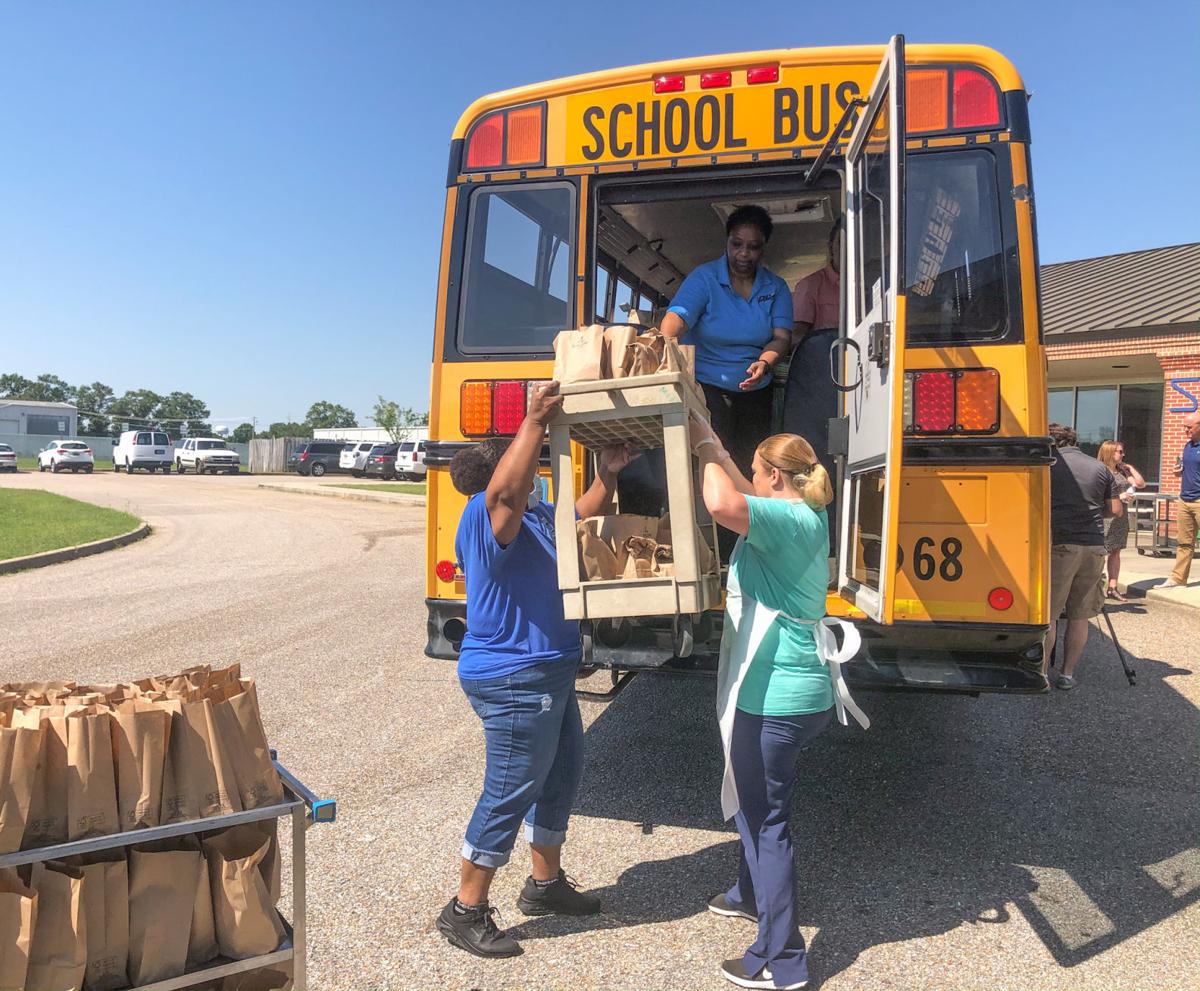 For many years, the heads of Dothan City School's Child Nutrition Program and Wiregrass Foundation had dreams to feed more children over summer break.
On Monday morning, those dreams were launched with the school system's first food bus retrofitted to temporarily store and serve meals to children at eight different locations around Dothan.
In the past, the district's USDA-funded feeding program was served at specific locations, where families would have to travel to receive meals.
Wiregrass Executive Vice President Troy Fountain affectionately dubbed the bus "Hank," an acronym meaning "Health and Nutrition for Kids." Though the name is unofficial, it adequately represents the bus's mission — to make sure students are nutritionally and physically ready to learn upon returning to school.
"The beautiful thing about this is that whether or not you're nutritionally ready is not going to depend on your address," Fountain said. "We have to get the food to the communities that are in need and to partner with those families to make sure they are ready for the school year."
Fountain said he was part of a team that learned how other communities conducted their mobile feeding programs and got ideas about how to convert the school bus so workers can easily serve hot meals without stepping outside.
Wiregrass Foundation funded the bus's transformation and worked with Tristate Collision, a Dothan auto body shop. The shop retrofitted a Dothan City Schools bus with refrigerators, a warmer, generator, air conditioning, a serving window, and a custom-designed walk-down serving platform — a feature Fountain and CNP workers are particularly excited about.
"It's really unique," Fountain said. "We think that's powerful for a lot of reasons, but it puts the workers at eye-level with the children."
CNP Director Tonya Grier presumed that only a few hundred children will be fed daily its first week serving, but believes the number will reach 750-1,000 as more people are made aware of the program.
With the foundation's investment, officials estimate an additional 700 children will be reached with the new service.
Workers on the bus will be serving two hot meals, breakfast and lunch, to each child under 18 Monday through Wednesday and will serve two breakfasts and two lunches per child on Thursday. Students don't have to be registered with Dothan City Schools to be eligible.
Grier hopes the bus will have a positive impact on children's education.
"We know hungry kids can't learn and so if they've not received adequate nutrition during the summer, when they first get back they could have a lag trying to get them nutritionally caught up," Grier said.
The school system held a ribbon-cutting ceremony to commemorate the bus's first run on Monday. It will deliver meals weekly until the start of school, which has not been announced yet.
CNP and Wiregrass Foundation administrators hope to gather statistics about the program's impact and eventually add three more buses to its fleet to serve more children in more locations around the city.
Upon students' return to school, the school system plans to conduct an official naming and design contest for the bus, said Public Relations Director Meagan Dorsey.