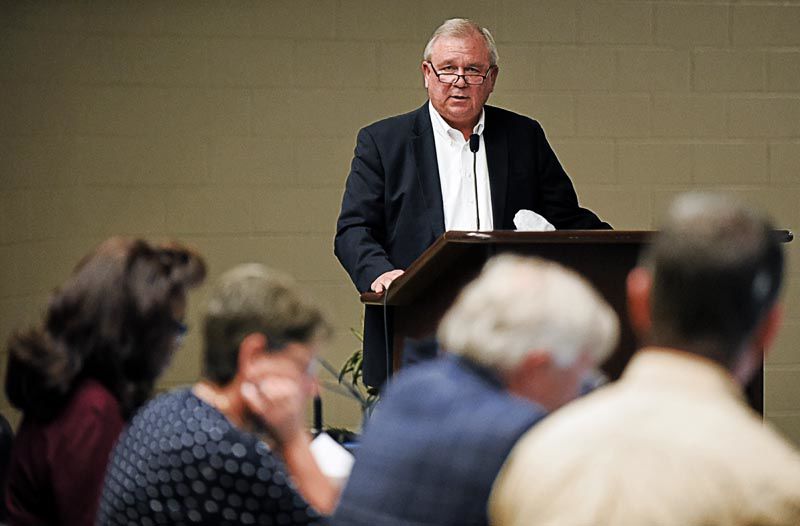 Dothan City Schools Chief Financial Officer Mike Manuel pitched a $72 million budget with $2.7 million planned in excess revenue at an initial public hearing on Thursday.
Manuel said the extra $2.7 million is due in large part to the savings from closing three schools and repurposing another.
"Some of that's from savings from consolidation, some of that's from an increase in local revenues – the property taxes and the sales tax increases," he said.
This past year's surge in county tax collections and system-wide expenditure cuts has provided the school district with $1.4 million more in revenue than was budgeted. Manuel estimated that by the end of the 2019 fiscal year on Sept. 30, the school system will have a $9 million ending fund balance to carry over into the 2020 budget.
Next year, the school district hopes it can continue to count on a healthy stream of sales and ad valorem taxes from the county.
"I think we're going to collect more this next year than we've budgeted in previous years," Manuel said.
Next year, Manuel projects that the system will have $11.7 million, almost 16% of total revenue, to carry over into the 2021 budget.
The budget also includes $2.1 million more in revenue from Alabama's Education Trust Fund foundation fund, which primarily funds teachers and administrators, because of a 4% salary increase passed by the state legislature.
The school system lost funding for another seven teacher units this past year because of shrinking student enrollment, but plans to have 11 fewer teachers for next school year.
Since 1997, the school system has lost 1,015 students, which accounts for millions of dollars in revenue lost from state revenue sources.
One major line item difference in this year's budget is an additional $1 million to central office because of several new positions including a Career Technical Education Director, Public Information Officer, System-wide Athletic Director and program improvements.
The system will transfer $394,000 into the capital outlay fund to serve debt incurred over the last year for capital improvement and deferred maintenance projects.
Anticipated savings from getting rid of old school buses and replacing them with newer ones are expected to save the system around $250,000.
The district will have around 1.5 months of operating budget in its general fund at the end of next month, more than the minimum required by the state.
Manuel commended the school board on consolidating the high schools to bring down operating costs, something he thought he might never see done.
"Financially, the system could not sustain the pattern of the last 30 plus years," he said in his presentation. "I think this is a very good budget."
Board member Susan Vierkandt commented on the low millage rate that they receive from Houston County and the city of Dothan.
"I feel our property taxes are ridiculously low and 10 mills is an embarrassment for a school system that expects the best, but I've also said on numerous occasions that before we go to the public and pitch and increase in taxes of any kind, we need to be good stewards of the money we are already receiving," she said. "And, what we have done over the last 12 months is just that – trying to be the best possible stewards of the money that we have and be accountable and know where every penny of it is and that it's going to the right places…"
Ten mills is the minimum requirement counties are required to give school systems by the state of Alabama.
The school system hopes to convince the community to spend more on public education and attract more students back to the school system with enhanced offerings, thus increasing the funding the school system gets from the state.