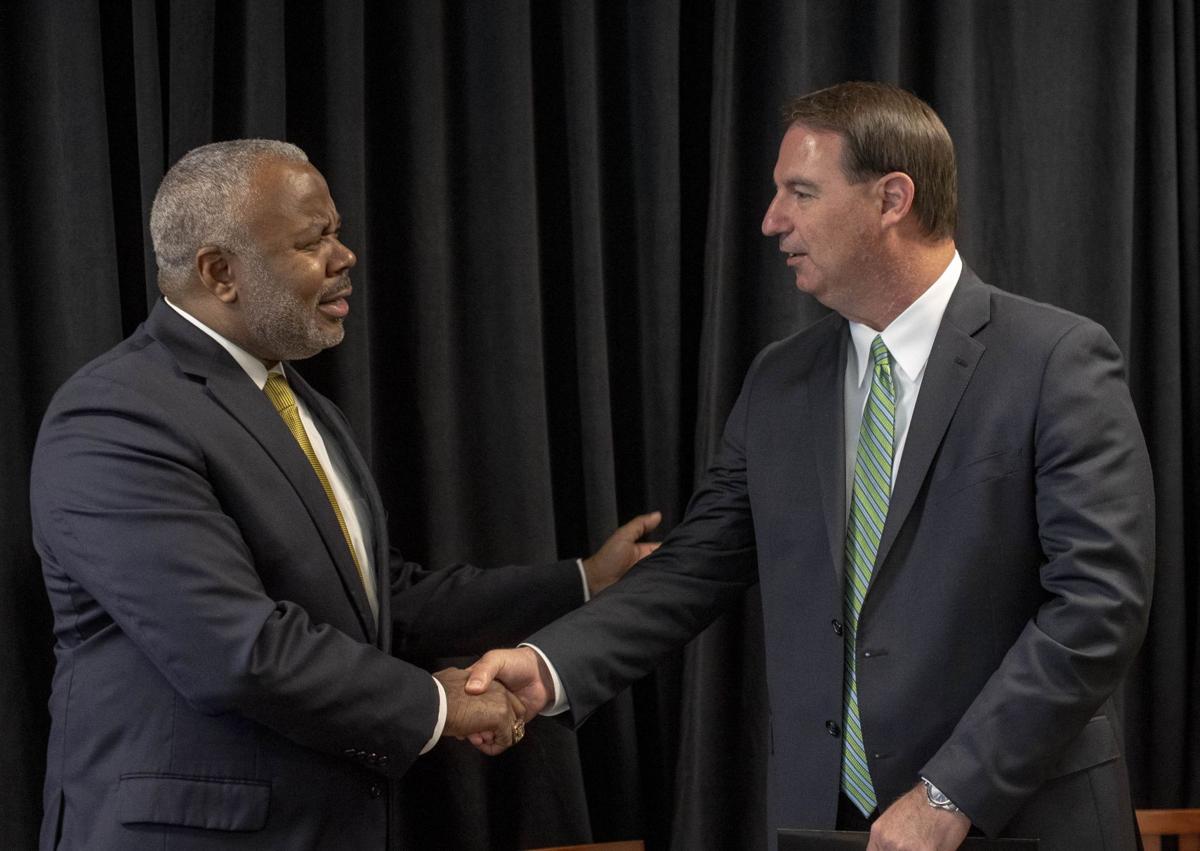 A new agreement between Enterprise State Community College and Alabama State University will make it easier for ESCC students to advance to the four-year school.
The agreement, signed by Alabama State University President Quinton T. Ross, Jr. and Enterprise State Community College President Matt Rodgers, aligns curriculum to make credits transfer more efficiently.
"It helps with the seamless transition of individuals that want to go further than the two-year degree that they receive at Enterprise," Ross said in a later interview at ASU's "Alumni and Friends" reception in Dothan.
The agreement enables students to work on a singular track while studying at both institutions.
"The unique part about it is that while they're working on their degree at Enterprise, they can also work on their degree at Alabama State University," Ross said. "All of it works in one."
Ross said the partnership with ESCC was a natural fit that would bolster student success.
Teams at both universities are working on an articulation agreement to identify specific programs and make sure that most, if not all, credits offered are transferrable to provide the most benefit to students that seek to attend both schools.
"They'll know ahead of time which credits will transfer so they can rest easy because they'll already know," Director of Admissions and Recruitment for ASU Freddie Williams, Jr. said.
He added that the collaboration is historic for the two schools because it's never been done before, but also because this is the first time a historically black college/university (HBCU) like ASU is entering this kind of agreement with a predominately white institution like Enterprise State.
"At ESCC, we believe education should be accessible and affordable to all students," ESCC's Olivier Charles, dean of students, said in a statement. "By signing this agreement, Alabama State is proving that that they share the same beliefs."
While not detailed yet, specific scholarships and special incentives granted to ESCC students are on the horizon, Ross said.
The event held at Belle's Event Plaza downtown was an opportunity for fellowship with alumni of ASU's hornet nation, open to the public.
Daisy Baxter-Glass, president of the ASU's Dothan alumni chapter, said the event was meant to welcome President Ross and to inform Wiregrass alumni and public about the programs ASU offers.
"We are excited about (the partnership)," Baxter-Glass said. "Just to know that when students leave the junior college, they can transition into a four-year university without any problems."
Above a roused crowd of ASU hornets, one senior Northview High School student said she attended the event after being recently accepted to ASU to become more familiar with the school.
ZaQoya Seago said she decided to go to ASU because she wanted to go to a university that wasn't too far from home. After being in physical therapy for a broken foot, Seago decided to major in physical therapy, a program offered by ASU.
"Just from hearing experiences of people I know that go there now, they say it's very homey and you don't feel like you're out of place," she said.
Seago was later surprised with the Bonnie Charles Dickens Scholarship, a $2,000 scholarship reserved for a Houston County student with a GPA over 3.0. She had a 3.8.
ESCC President Matt Rodgers was in attendance at the event to meet with ASU alumni, staff, and students to promote the new agreement.
He offered this statement earlier in the day: "ESCC is excited to partner with our friends and colleagues from Alabama State University. Our job is to create as many opportunities as possible for our students. Today's signing marks a new chapter for both of our institutions. I look forward to working with President Ross and his team to empower more of our students with the ability to create a pathway of possibilities between ESCC and ASU."
Be the first to know
Get local news delivered to your inbox!