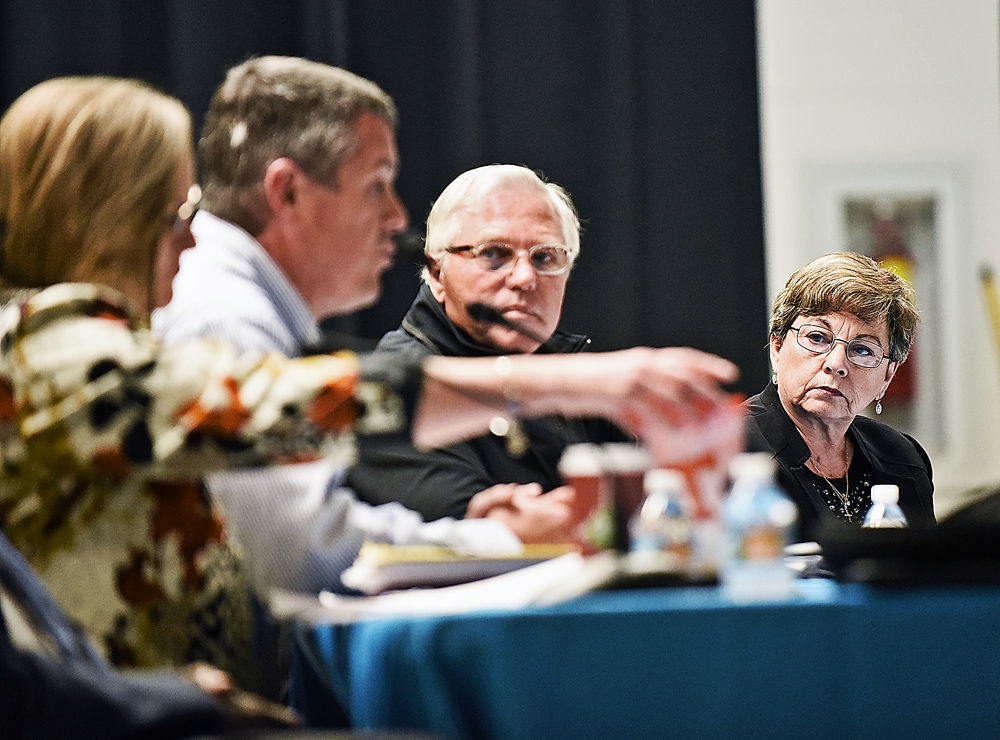 For the first time in 40 years, high school students will attend a single public school in Dothan in 2019 after the city's school board voted 5-2 to consolidate the city's high schools as part of a major restructuring plan that also calls for the virtual elimination of the city's magnet schools.
At a Dothan City Schools board meeting Monday night, a passing vote was given for Superintendent Phyllis Edwards' recommendation to consolidate the school system in order to generate more funds for additional resources.
The recommendation came after months of deliberation and public discussion regarding several scenarios, each proposing various ways to configure students into neighborhood schools.
It was determined at various meetings leading up to the vote that Scenario 5 would be the ultimate recommendation to the board.
Scenario 5 features a kindergarten through sixth grade elementary school system comprising facilities at Selma Street, Beverlye, Hidden Lake, Girard Elementary, Girard Middle, Kelly Springs, Slingluff, Highlands, Jerry Lee Faine, and Heard. Carver will also remain a science and math focused magnet school serving students from third to sixth grade. In the approved scenario, all elementary schools will be signature schools. Carver will be the only magnet school in the system. There are four magnet schools in the current system.
After sixth grade, students then move on to what can be considered a preparatory school for seventh through ninth grades at Dothan High. Students will also be introduced to career tech classes beginning in the seventh grade.
Finally, tenth through twelfth graders will complete their high school education at Northview High School.
Brenda Guilford (District 1), Franklin Jones (2), Susan Vierkandt (3), Brett Strickland (4), voted yes to following the recommended scenario along with Chairman Mike Schmitz.
"I have nothing against magnet schools contrary to what's been said," said Vierkandt, "But while everybody is on paradise island in a magnet school everybody else feels like they are on exile island and they are 'less than'."
Amy Bonds (District 5) and Chris Maddox (6) voted against the recommendation.
Bonds' district is unique in that it is the only one to have both high schools within its boundaries and all four magnet schools. She said her vote is a representation of the opinions on the matter within her district, and she would have hoped the board would have supported scenario three which maintained both high schools.
Maddox agreed and said he is disappointed scenario three was not an option to be voted on because of the preservation of the high schools as well as an opportunity to keep some of the magnet schools.
The desire to keep the high schools as separate entities is one that is deep-rooted throughout the community.
After the initial expansion of the high schools in 1978 when Northview was presented as an additional secondary schooling option on the north side of town, there have been at least two attempts to consolidate the high schools over the past decade, but both attempts failed.
"We've got a lot of people in District Six that can afford to leave if they so choose to," Maddox said. "We should not go out of our way to run those people out of the school system.
"We can agree to disagree on this. I just see a different path," Maddox added.
Supt. Edwards will make a recommendation to the board on school leadership next month.
Be the first to know
Get local news delivered to your inbox!