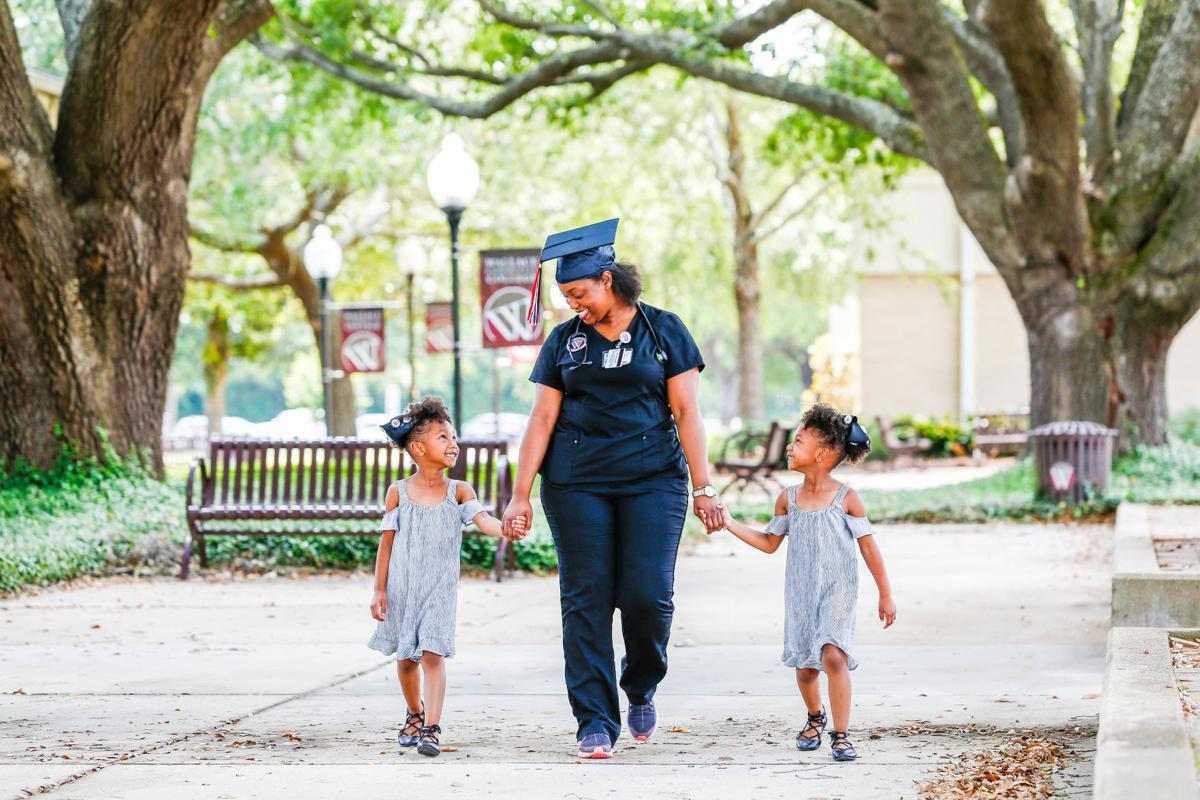 Aliyah Jacobs knew early on that she wanted to be a nurse, but she never knew the struggles she would face to get there.
Jacobs went through a divorce while taking care of her twins, Ava and Arial Harris. She endured financial troubles, Hurricane Michael and more.
She was in first grade when she set her sights on nursing and she held on to that dream.
After graduating from Bainbridge High School in 2014, Jacobs began taking college classes at Bainbridge State College. She married and welcomed twin daughters. The family moved to Dothan, and Jacobs decided to return to school – this time at Wallace Community College. However, life took a turn.
"I put in an application, but things didn't work out with my marriage, so I moved back to Bainbridge," Jacobs said. "But I still wanted to go to Wallace."
Jacobs knew Wallace was the place for her. She found a way for it to work, and began taking classes at the College in 2017.
"Nursing school has been the hardest thing I've ever had to do by far. In orientation, I will never forget one of the instructors say, 'If something is going to happen, it's going happen in nursing school'," Jacobs said. "When I first started the program I was working full time at Walmart as a customer service manager, 4-year-old twins, going through a divorce, moving back home … I remember thinking 'now how am I going to fit school into the mix?'"
Through one setback after another, Jacobs had to retake one of her classes, but she couldn't afford it.
"I started working two jobs because one wasn't cutting it and I had no other help financially … I registered to retake my last class for nursing and at this point I had to pay out of pocket," she said. "I had a little over a week to get the money and I kept hitting dead ends. I was like, well, I guess it's not meant for me to be a nurse."
She eventually turned to her church, First Community Primitive Baptist Church in Quincy, Florida, for help. "Something just told me, 'maybe you should ask the church,'" she said. "They're very helpful, and they don't mind helping when it comes to situations of any sort."
She was right. It wasn't long before Jacobs' mother handed her an envelope from the church's First Lady. "I opened up the envelope and it was all there," Jacobs said with tears in her eyes. "Every penny was there that I needed."
Jacobs said receiving that money for her class meant a great deal to her. "It means a lot that someone thinks of me so much to make sure that my goals are met," she said. "Something that's not even their dream or their goal that they would go to that extent to help me to get to where I want to be in life."
Jacobs walked across the stage earlier this month, accomplishing phase one of her dream – earning her Practical Nursing degree – and she's not done yet. She plans to attend Wallace in the fall to begin Associate Degree Nursing, and later would like to attend a 4-year university to further her education.
"I have really enjoyed my time at Wallace. From the compassionate instructors, to the students, to everyone that I passed by," Jacobs said.
"I'm thankful that I did come here. They really want to help you and they really want to see you succeed. They're really amazing."
Alaina Deshazo is a social media specialist at Wallace Community College
Be the first to know
Get local news delivered to your inbox!