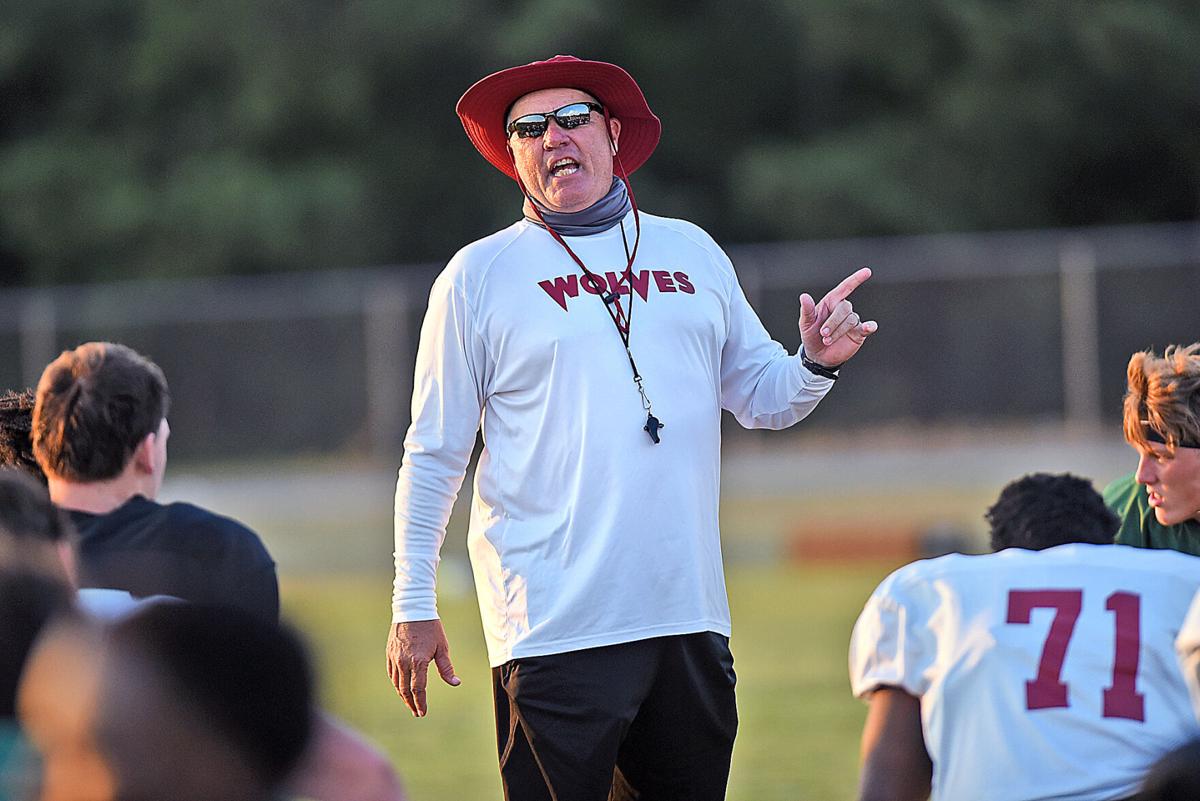 The start of the Dothan Wolves' second football season in history – and its first in Class 7A – will be delayed for a couple of weeks.
The Dothan City Schools announced late Monday afternoon that a member of the Dothan High football program had a positive COVID-19 test, resulting in the cancellation of the season's first two games, including a highly-anticipated opener this Friday at Hoover.
Based off Alabama Department of Public Health and the Alabama High School Athletic Association guidelines, the entire football team will now have to go into quarantine for two weeks because of the positive test.
"This decision was made to mitigate the spread of COVID-19 in our area," said a statement from Dothan City Schools released to the media. "We understand this decision will be difficult and will be a disappointment for our community, students and families. A change in competition does not diminish anyone's achievements, but the health of our students and our students' families are at the forefront of our decision."
Dothan athletic director Jessica Noble said the team had only one positive test, which came to the attention of the school system on Monday morning. Dothan head coach Smitty Grider told al.com that the player went to the doctor on Saturday.
"We know our fans in our community will be disappointed," Noble said. "We hope to resume play on Sept. 4 against Enterprise."
Grider was subdued when talking about Monday's developments.
"Obviously, I am disappointed that we got this close to a game and the kids have been working extremely hard, but I understand everyone's concern," Grider said. "This is an unknown time and unknown virus we are dealing with. We have got to do what everybody feels is necessary to protect the community."
Dothan was scheduled to open play Friday at Hoover in a battle of state-ranked teams from the Alabama Sports Writers Association State preseason poll. The Wolves (8-3 last year) are No. 8 in the poll, while Hoover (10-3) is No. 4.
The game was to be the first for Dothan as a Class 7A program after years in Class 6A. Class 7A is the highest classification in the state.
The Hoover game was also the opener of the second season for the new school, which was consolidated from the old Dothan High and Northview in 2019.
Also cancelled Monday was Dothan's home opener on Aug. 28 against Park Crossing.
The Wolves will try to restart the season on Sept. 4 when it is scheduled to play rival and Class 7A, Region 2 foe Enterprise at Rip Hewes Stadium.
Following Monday's developments, Grider said he was working on trying to add another game to the schedule on Oct. 2, a current open date for the Wolves.
Dothan currently has eight games, including a recently added home contest versus Cairo (Ga.) on Sept. 25.
In the interim, Grider said coaches will resume Zoom meetings with players to keep them active with football-related information.
The Hoover and Park Crossing games were actually late changes to the Wolves' schedule after Dothan lost three games against Georgia teams following the Georgia High School Association's decision to move the schedule for all of its teams statewide back two weeks.
Hoover was added to the schedule and Park Crossing was pushed back a week after being originally scheduled as a jamboree.