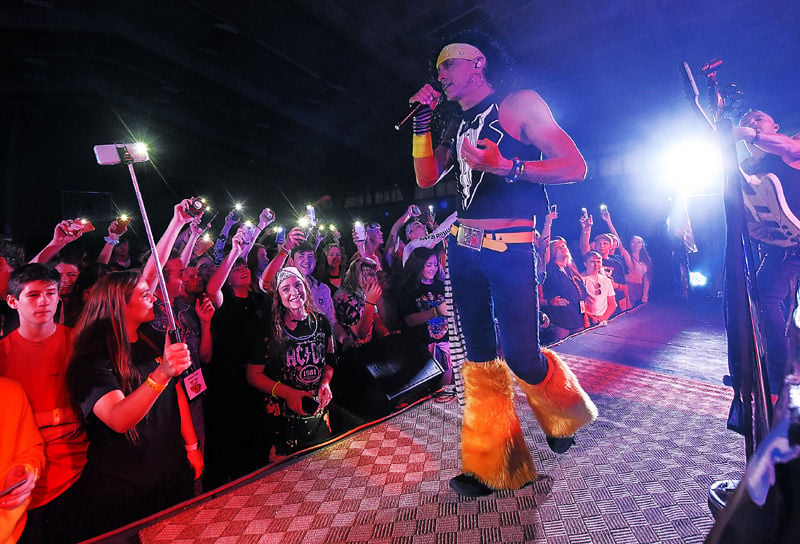 Business students at Geneva High School weren't sure exactly how they were going to put on a concert on short notice after their teacher told them about the fundraising project nine weeks ago.
Junior Nora Price said the experience was a bit chaotic and felt the pressure to learn about event planning and promotion while implementing the stages of putting on a concert on her school campus.
She and other Future Business Leaders of America members had to deal with struggles and setbacks of putting on a community event while meeting public expectations and getting the Velcro Pygmies, a prominent '80s rock cover band, to their auditorium.
"It's taught me to meet deadlines, take more responsibility, to have more confidence in myself when I speak, to embrace more learning experiences," Price said. "Also, I've learned that you can raise money for a fundraiser and have fun at the same time."
Reach and Teach, an Alabama-based educational nonprofit, facilitates an opportunity to plan, promote, and execute a concert on a school campus.
"All of their decisions in the program are completely real from start to finish," co-founder and executive director of the program April Clark said. "Their decisions determine the outcome of the event so they set goals, and how much money they want to raise, how effective their marketing strategies are going to be and how satisfied their attendees are going to be."
Through the program, students learn about event budgeting, target marketing, market segmentation, event planning and promotion, graphic design, social media marketing, logistics, production scheduling, photography, videography, stage management, salesmanship, advertising and soliciting sponsorships.
Reach and Teach, which was co-founded by Velcro Pygmy lead vocalist Cam Flener, provides learning materials, resources, one of four bands the student body can choose from, and support along the way.
Students learn about every aspect of bringing an event to fruition with classroom resources, and then use what they've learned to handle situations and setbacks with real stakes.
"We strive to let the teacher to give up control and let students take the lead; that's not always easy for teachers to do, but what we've seen is when they do truly allow students to take the lead and make those decisions – that's when they take ownership and take pride in their education and get excited about their education," Clark said.
"Even aside from content knowledge like the marketing aspect of it, they also learn how to shake hands, how to make eye contact, communication skills, problem-solving, and just those essential life skills that you can't get from a textbook."
Price said although she doesn't plan on going into the event planning industry, she believes the experience will translate to her chosen career path to be a veterinarian.
"I used to not have a lot of confidence in myself and be nervous and not know what to say…" Price said. "If I ever had to go to like a convention and speak about my career, I think I will be a lot better prepared now since I've spoken to the public so much."
She and others created tickets, design t-shirts, secure sponsorships, promote the event with fliers and social media, and organize a VIP Meet and Greet and luncheon shortly before the event.
Clark said she was impressed with the ownership Geneva High School students took over the project.
"This was their vision," she said. "The fact that they're learning about hospitality and how you should treat someone that's a guest is really encouraging to us. Ms. Metz has not only implemented the program but really taken it to the next level."
Wendy Metz, business teacher at GHS, said she has enjoyed watching many of her students blossom while working together toward a common goal.
"I would say it's a success whether we made any money or not that the students have learned a lot throughout the process," she said. "It's just fun and different. It's exciting!"
The concert was held Tuesday afternoon at the auditorium to coincide with the school's "Decades of Rock" theme day for homecoming week.
Reach and Teach is currently in its third year of providing the free program. It is presently working with 16 schools across the nation.
Be the first to know
Get local news delivered to your inbox!