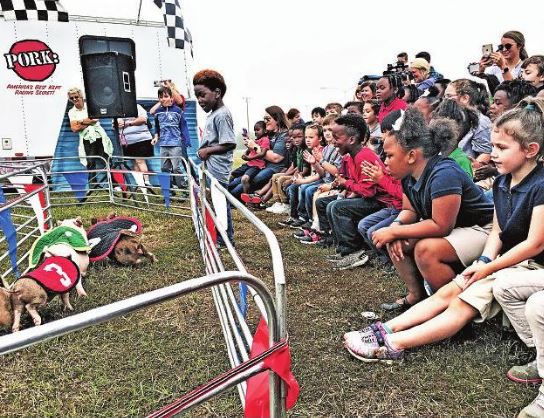 Though the National Peanut Festival has kicked off its 75th year in operation, some Wiregrass children are experiencing the magic the annual festival offers for the very first time.
Kindergarten Day at the festival was filled with endless learning opportunities about farming and agriculture, and attracted about 400 kindergarteners from schools far and wide to the grounds on Monday. Kids from as far Georgia and Florida attended the day's festivities alongside Alabama students, but no matter where they arrived from, the children shared tremendous excitement to see what the day had to offer.
Though everyone at the event could barely contain their anticipation, perhaps the kids and teachers most amazed with the experience were those from Dothan's Selma Street Elementary School.
Due to funding, the school has never before participated in Kindergarten Day, but because of a recent sponsorship from Houston County Farmer's Federation, the school had the chance to see what the festival and farming is all about.
Jennifer Campbell, a Bright Key Resource Coordinator at the school, said the day at the fair aligns with various lessons the students are currently learning as part of Selma Street's career readiness program.
"I think it is important for our students to learn about agriculture because so much of what we are finding is kids think their career options are just to be lawyers or doctors. So by doing this, we want them to learn about careers they normally wouldn't be exposed to but especially (careers related to) agriculture because that is the area in which we live," said Campbell.
Throughout the day the students were able to interact with farmers and their livestock at the petting zoo, watch an agricultural-inspired magic show, and cheer for their favorite pig at the pig races while hearing what it takes to raise award-winning swine.
Selma Street Kindergarten Teacher Juelie Harvin had just as much fun as her students while touring the grounds, and said learning about how farmers help the community each and every day is important for even the youngest of children to grasp.
"This is a great way for all of us to learn about what farmers do and how they help us. We are learning about agriculture in very fun ways today, and I hope these lessons resonate with the kids and show them to appreciate everything agriculture brings us," said Harvin.
Every turn provided a learning opportunity for the children in attendance, and National Peanut Festival President Beverly Lampkin said the uncontainable excitement from the students is what the festival is all about.
"The spirit of the peanut festival is always a deep appreciation of the opportunities in our area. From the oldest to the youngest of our visitors there is something for everyone here that reminds them of how special our region is," said Lampkin.
Be the first to know
Get local news delivered to your inbox!