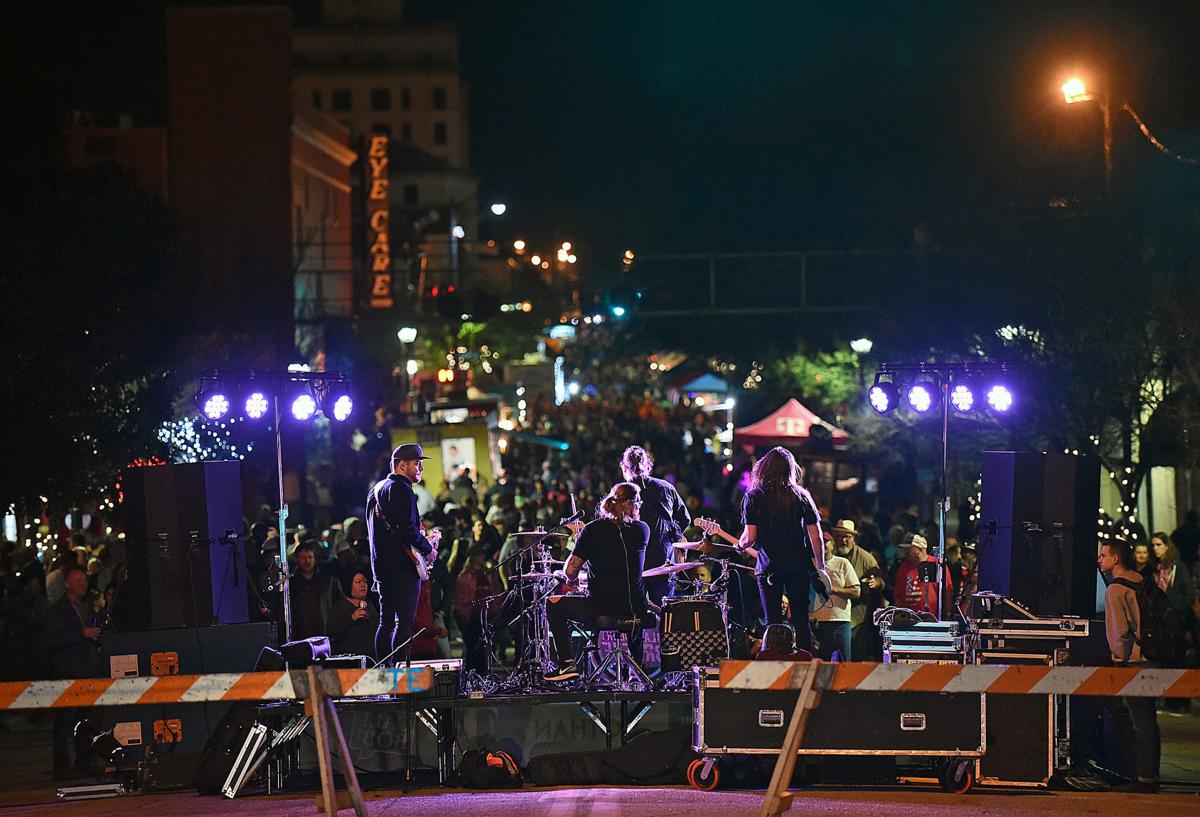 Dothan is considering amending its noise ordinance to create special parameters for downtown businesses to play outdoor music.
Proposed changes to the ordinance, which hasn't been amended since 1991, would require businesses in the downtown overlay district to "cease outdoor music where the volume levels produce sound audible from a distance of 100 feet away after 11 p.m. Sunday through Thursday and after 12 a.m. (midnight) on Friday and Saturday," according to a Planning and Development Department staff report.
The city also is proposing to regulate loud construction in or adjacent to residential neighborhoods, allowing work to proceed from 7 a.m. to 7 p.m.
The revisions were introduced to the Dothan City Commission at its Tuesday meeting.
City Manager Kevin Cowper said the city started dealing with a number of noise complaints starting a couple of months ago.
"As we are developing downtown and it's becoming more vibrant and energetic, there are invariably going to be conflicts between business operations — in particular late night clubs' entertainment activities — and residential uses," Cowper told the commission. "Our general vision for downtown is to have an environment that works for business for entertainment and residential living, so we're going to be facing these conflicts. It happens everywhere and it's a sign of success."
To find a middle ground, Planning and Development Director Todd McDonald worked with the Dothan Downtown Redevelopment Authority to bring together a group of people representing various downtown businesses as well as representatives developing future residential living spaces.
The current noise ordinance the city has in place is generally vague, Cowper noted.
According to the law, any sound emanating from radio, television, phonograph, musical instrument or similar device that produces sound, whether from a business or resident in a manner "plainly audible" to others at a distance of 50 feet or more, is considered unlawful and declared a public nuisance at any time of the day.
"This ordinance attempts to separate the downtown area out to say this is a special area; the rules are going to be different here. We want to be clear that music can occur, so we've set boundaries for when outdoor music has to stop," Cowper said.
The law would only apply to outdoor music, not other outdoor activities.
Timing issue
Commissioners David Crutchfield, Beth Kenward, and Kevin Dorsey shared concern that midnight may be too early to expect downtown venues with outdoor patios to stop playing music.
"Even though there's not a band going, there's speakers and music going that you could cut into their ability to have folks out there with music, which is what they built these decks for and that's why they're in the entertainment district," Crutchfield said. "I'd like to go back and look at the time again.… These folks coming in who are existing businesses who have already spent money and they have a good business going and Friday and Saturday nights are where they make a living."
Crutchfield, Kenward and Dorsey supported the idea to move the time to 1 a.m. to allow businesses more time to play music outdoors.
Cowper agreed to revisit that portion of the ordinance and do more research to ensure the amendment better accommodates downtown nightlife.
Construction limits
The second major addition to the noise law affects the time frame in which construction companies can perform tasks, including assembly, erection, demolition, alteration, repair or similar activity, or operate construction equipment attended by noise.
The proposed amendment would limit loud work before 7 a.m. and after 7 p.m. in any single-family neighborhoods or in any commercial or multi-family residential district adjacent to single-family neighborhoods. In commercial or multifamily residential districts not adjacent to single-family neighborhoods, loud construction may not occur before 6 a.m. and after 7 p.m.
The law would not affect public projects and has provisions to offer flexibility if required.
The ordinance is planned to be brought before the commission again at its Aug. 4 meeting for approval.
In other action, the City Commission:
» Approved the appointment of Linda B. Cunningham as equal employment opportunity and professional development training officer, at an annual salary of $75,000 effective July 27.
» Appointed Andrew W. Love as general services director, at an annual salary of $125,000 effective Aug. 10.
» Appropriated $15,000 to the ASF Foundation to assist with the 2020 Alabama State Games XXXVIII.
» Entered into a service agreement with Utility Associates Inc. for the "Body-Worn/In-Car Camera Video System" for the Police Department in the amount of $1.38 million over five years.
» Appointed Destiny Hosmer as a member of the museum board and re-appointed Mike Owen.
» Approved a damage claim to pay Patricia Peters $20,000 for a lawsuit concerning an April 2018 traffic accident involving a city of Dothan truck driven by an Environmental Services operator.
Be the first to know
Get local news delivered to your inbox!