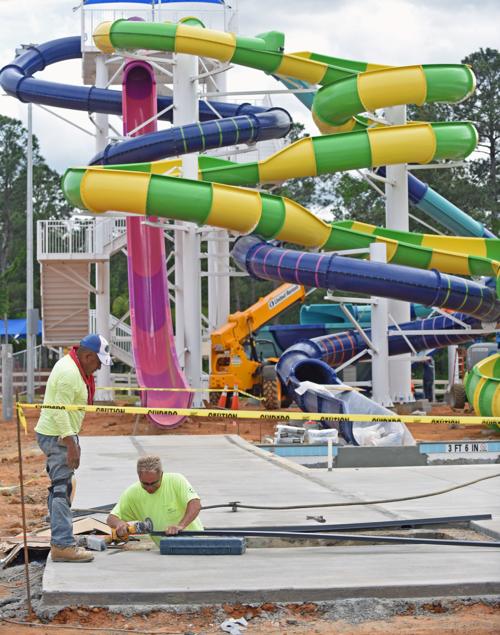 Water World officials recently announced the Dothan water park will open Saturday, June 27, for the 2020 season with virus-preventative policies in place.
The waterpark was originally planned to open on Memorial Day weekend with an elaborate 40th anniversary grand opening celebration underscoring new attractions that have been installed since its 2019 season.
Problems surrounding COVID-19, however, stalled construction and a delay of specific guidance from the state government concerning water parks deferred local officials' decision about when and how to reopen.
Aquatics Manager Kelly Carter said specific policies concerning capacity and social distancing measures will be in place before opening. Staff is also finalizing work to go live with online general admission sales prior to June 27.
Starting Monday, Water World will begin its preselling season passes for $50 per person.
Offices will be open Monday through Thursday from 3 to 4 p.m. and Fridays from 3 to 6:30 p.m. until June 26.
Installation of three new triple flume slides was completed in May, and workers are still completing a new Kid's Cove area.
Weekly hours for the park will be the following:
» Tuesday/Thursday — 10 a.m. to 8 p.m.
» Wednesday/Friday/Saturday — 10 a.m. to 5 p.m.
» Sunday — 1 p.m. to 5 p.m.
Other city-operated pools are scheduled to begin opening to the public next week.
Andrew Belle, Doug Tew, Walton Park, and Wiregrass Park pools will open to the public on Friday, June 12. The pools will be open through July on Fridays, Saturdays, and Sundays from 2 p.m. to 6 p.m.
The Westgate Competition Pool will open to the public on Tuesday, June 16. The competition pool will be open through July on Tuesdays, Wednesdays, and Thursdays from 2 p.m. to 6 p.m. Lap swim will be available for ages 15 and up at the competition pool from 6 a.m. to 8 a.m., 11 a.m. to 1 p.m., and from 6 p.m. to 7 p.m.
Each pool will have a capacity limit of 40 guests at a time during public swim. Lap swim will be limited to 12 swimmers at a time. There will be no swimming lessons this summer due to limited staffing and coronavirus-related restrictions.
Leisure Services staff will practice and encourage social distancing, as well as maintain a vigorous facility disinfection schedule.
The Aquacise program will have one six-week summer session from June 22 to July 31. Drive-up registration for this series of classes will be immediately in front of the Westgate Wellness Pool on June 15 and 16 from 9 a.m. to 1 p.m.
Dothan Dolphins Swim Team practices have resumed. The next tryout session for DDST will be on Tuesday, July 7 at 10 a.m.
Concerned about COVID-19?
Sign up now to get the most recent coronavirus headlines and other important local and national news sent to your email inbox daily.