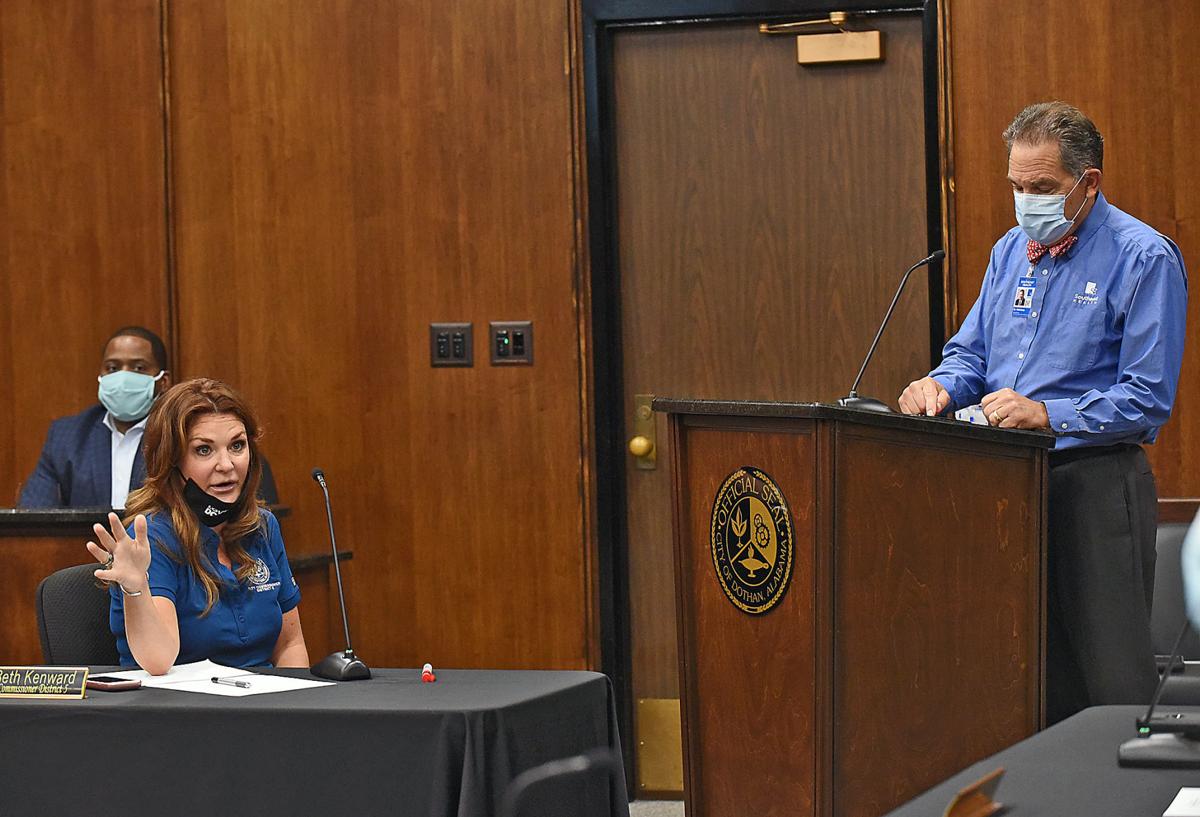 As confirmed COVID-19 cases continue to rise in the Wiregrass, both Dothan hospitals are on the verge of running out of space to put patients as hospitalizations reach all-time highs, local health officials said Thursday.
Dr. Charles Harkness, Southeast Health's chief medical officer, and Jeff Brannon, Flowers Hospital's chief executive officer, relayed the urgency of the situation at the Dothan City Commission work session.
"We are getting very close to saturation point," Harkness said. "That's a concern for us. How do we take care of everyone in our community with the limited resources we have at the two hospitals?"
As of Thursday morning, Southeast Health has 50 COVID-19 patients — up 10 from the day before. Flower's Hospital has 38 — 15 of whom are in the intensive care unit and six on ventilators.
Harkness encouraged city officials to seriously consider revamping an alternative site — like the Civic Center — into a makeshift hospital to care for COVID-19 patients not in critical condition, but maybe needing hospitalization.
Harkness said Southeast Health would not have enough personnel to help cover a separate location, but suggested calling in the National Guard as governments in New York and Atlanta did.
"I just think we're very close to needing one here, and I don't want to wait until we're both backed up in both ERs and we can't take care of the patients," Harkness said.
Commissioners Albert Kirkland and Beth Kenward suggested recreational facilities or seniors centers that are not being used might be good places to consider housing a makeshift medical unit.
Experience pays off
The mortality rate has dropped with the latest influx of cases, Harkness said, due to better knowledge. Instead of resorting to a ventilator straight away, hospital staffers put patients on their stomach for an extended period of time.
Certain comorbid conditions, obesity and immunity deficiencies have a higher chance of death, Harkness said.
He emphasized there is still no treatment for COVID-19, though he believes staff members are doing a better job of caring for patients with the virus.
So far, Southeast Health has had 38 deaths from the virus while Flowers Hospital reports 27.
The two hospital administrators' biggest concern is that despite dramatically increasing numbers of cases in the immediate area, people are still not taking the virus' spread seriously.
He urged the community members to wear masks, if not to protect themselves, then to protect others.
Since buckling down on requiring face coverings for patients and providers and requiring face shields for providers dealing with virus patients, the hospital has not seen any COVID-19 transmission occur inside the hospital.
Looming complication
Brannon said he is worried with people not taking personal responsibility as cases have soared over the last week.
Having a high number of COVID cases headed into the flu season poses increased risks to public health, they said.
"Our biggest fear going forward is we haven't seen a seasonality of COVID-19 yet. It's just everywhere, and it doesn't seem to matter what the climate is," Harkness said. "If it stays active, and now we get into the flu season on top of it, we could get a double whammy related to how sick people are."
Dothan Mayor Mark Saliba urged the commissioners to think of ways to spend COVID-related funding from the state government and said they should consider using it to fund a triage location, like Harkness suggested, and on educational information for the public.
Case count
On Thursday, the Alabama Department of Public Health reported significant increases in the number of cases in many Wiregrass counties, leading to higher 14-day averages in every county except Coffee and Geneva.
In Houston County, there have been 708 cases, 24 confirmed in 24 hours; Barbour, 444, 18 confirmed since Wednesday; Coffee, 483, up 10; Covington, 478, up 26; Dale, 454, up 16; Geneva, 113, up three; Henry, 167, up two; and Pike, 519, up 18.
Corey Kirkland, ADPH area assistant administrator, said that rapid testing could come to Houston County before July's end.
Concerned about COVID-19?
Sign up now to get the most recent coronavirus headlines and other important local and national news sent to your email inbox daily.